American Athletic Conference considers division alignment
Where to place the two Florida schools -- UCF and USF -- will be a key discussion about divisions during the American's spring meetings next week.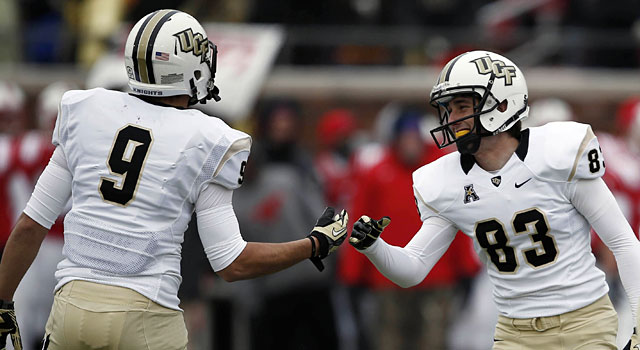 Where to place the American Athletic Conference's two Florida schools -- Central Florida and South Florida -- will be a key discussion next week at the league's spring meetings.
The American plans to go to six-team divisions in 2015 when Navy joins as a football-only member. The plan is to stage a conference championship game at a host school.
For now, the American is settled at eight conference games. It's looking at either a 5-3 scheduling model (five division opponents, three cross-division opponents) or a 5-2-1 model (five division, two cross-division, one permanent cross-division). Having a permanent opponent would likely be needed if UCF and USF are in opposite divisions.
"It's really important for this conference to cultivate rivalries," American commissioner Mike Aresco said. "That will create the type of cohesion and value we want. You do that by having your obvious rivals play."
Aresco said both scheduling models break down by east-west geography for divisions. The conference's teams in 2015 are: UCF, Cincinnati, Connecticut, Houston, Memphis, South Florida, SMU, Temple, East Carolina, Tulane, Tulsa and Navy. That's seven schools in the Eastern time zone.
An X-factor in the discussion is legislation submitted by the ACC and Big 12 to loosen the NCAA requirements to stage a conference championship game. Some conferences want more flexibility, such as playing without divisions and putting its top two teams in its championship game. The legislation will be discussed by the NCAA in August.
If the NCAA allows championship games without divisions, "we would at least look at that," Aresco said. "You could have the issue of a rematch and not be an ideal scenario. If the NCAA changes don't happen, we're going to move ahead with our plan for divisions."
The American's divisional alignment may not be decided next week.
Rutgers' offensive line challenged a local curling club to a match

These five teams have the best chance of being the Group of Five darling this coming year

Drevno had been running the Michigan offense for three seasons
Aaron was reportedly shot while trying to protect his girlfriend when a fight broke out at...

An assistant-by-assistant look at changes Saban made to the Tide's staff ahead of 2018

Find out when Nick Saban, Kirby Smart and the rest of the coaches will speak ahead of the...