Early football signing period (December) recommended
A long-discussed early signing period in football moved one step closer to reality over the weekend at the NCAA convention.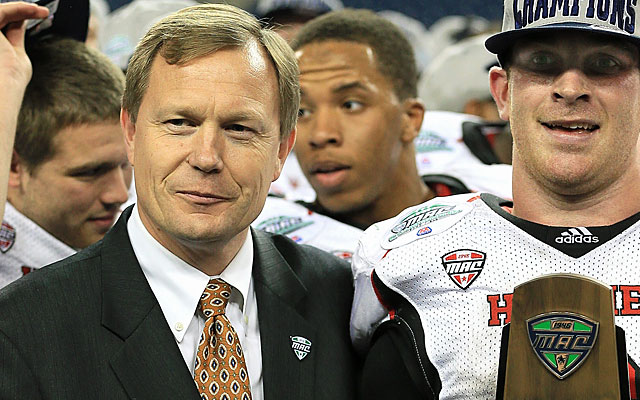 An early football signing period in December has been formally recommended, potentially ending more than a decade of sometimes divisive discussion of the subject, CBSSports.com learned on Monday.
If adopted, the sport's new initial signing period would be in place this year for the 2016 recruiting class. The new early date would begin Dec. 16 and last 72 hours. It would be in place for two years as an "experiment," before being reevaluated.
"There's an acknowledgement," said Big Ten associate commissioner Chad Hawley, a member of the 12-person committee that made the recommendation, "the reality is this becomes the new main signing date. If that's the case so be it, let's see what happens."
The Collegiate Commissioners Association will consider the measure during a spring/summer discussion period before any formal adoption. The CCA will formally vote on the recommendation at its annual meeting, this year in June in Asheville, N.C. The association -- the 32 commissioners of Division I -- oversee the National Letter of Intent program.
The early-period committee chaired by MAC commissioner Jon Steinbrecher made the recommendation over the weekend after meeting during the NCAA convention.
If approved by the CCA, the initial signing period would move up approximately 1½ months. Part of the rationale is to relieve pressure on the early February date. For better or worse, coaches and high school players have become part of a national college football holiday surrounding the date.
That isn't necessarily a positive. Some coaches are concerned that long-committed prospects can be "flipped" during the building hype of January. Players can conceivably be pressured into last-minute visits as the February signing date approaches.
The committee's research showed that 90 percent of prospects sign with the school they commit to. If that's the case, why not move the date up?
"There's an array of opinions on it," Steinbrecher said. "Clearly there was a strong groundswell in the coaching community and the administrative community. This is a drum that has been beating for more than a decade."
The ACC has supported an Aug. 1 signing date. The SEC last spring offered a recommendation for the first Monday after Thanksgiving. With a new early date, the overall recruiting calendar would remain the same. The early date coincides with the earliest date for junior-college transfers. Based on last year's calendar, an early period would conflict only with Texas high schools that conduct their playoffs well into December. Last year's playoffs ended on Dec. 20. 
"Mid-December has been the focus for a while for some," Greg Sankey, SEC executive associate commissioner told CBSSports.com's Jon Solomon last week. "We've, over time, observed concerns about that date. Those are still meaningful concerns. Our coaches -- five to six years ago -- did a really good job of creating thinking of what might be an alternative to the mid-December date. That's why we wanted the one day after Thanksgiving as a reasonable approach. We'll wait to see the outcomes and continue to provide feedback."
A number of SEC coaches were "comfortable" with the early date at the recently concluded American Football Coaches Association convention according to Susan Peal, director of the National Letter of Intent. 
In regard to other conferences' recommendations Steinbrecher said, "You can't do it [earlier] without changing recruiting rules. Plus, you're not sure whether there's going to be a coaching change. You're looking at six terms of [high school] academic work with an Aug. 1 signing date."
Basketball has long had an early signing period in November following by a final date in the spring. Eighty-five percent of prospects sign during that early period according to Peal.
" ... In men's basketball, the majority signed early," Sankey told Solomon. "That's a pattern you would probably see play out again. Whether that's more or less pressure [on a recruit], I'm not sure that's a prediction one can just make. There are any number of young people who would feel they want to end the decision and the fact it goes on adds pressure.
"We have to carefully consider a number of issues here if we're going to alter the signing date ... We need to be very cautious and very informed." 
The 12-person working group commissioned by CCA includes Hawley -- the Big Ten's chief compliance official -- Texas El-Paso AD Bob Stull, Texas Tech AD Kirby Hocutt, Georgia AD Greg McGarity, Stanford AD Bernard Muir as well as former coaches Rich Brooks (Oregon, Kentucky), Gene Chizik (Auburn, Iowa State) and Jim Grobe (Wake Forest).
A final document has not been formalized. Division I commissioners were notified of the recommendation on Friday via email. Coaches, ADs and administrators will have the spring to weigh in with their input.
--Jon Solomon contributed to this post
CBS Sports HQ Daily Newsletter
Get the best highlights and stories - yeah, just the good stuff handpicked by our team to start your day.
Please check the opt-in box to acknowledge that you would like to subscribe.
Thanks for signing up!
Keep an eye on your inbox for the latest sports news.
Sorry!
There was an error processing your subscription.
These coaches do everything completely above board, according to their peers

A former mob boss explains how to influence a college football game's final score with relative...

These QBs could be 2018's 'Next Big Thing'
Urban Meyer has been on paid administrative leave since Aug. 1

Ohio State players broke up the monotony of fall camp in a big way

Olson is a redshirt junior for the Trojans