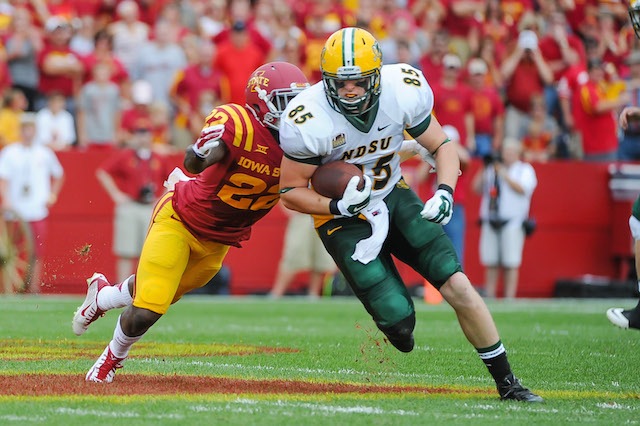 If you're an athletic director at an FBS school and your football team currently has a game scheduled against North Dakota State, cancel it. Cancel it as quickly as you can using any excuse you can think of. Tell them you have a wedding to go to that day, or that your grandma died, just do not play that game.
North Dakota State vs. FBS
Year
Opponent
Result
2007
at Minnesota
W, 27-21
2010
at Kansas
W, 6-3
2011
at Minnesota
W, 37-24
2012
at Colorado State
W, 22-7
2013
at Kansas State
W, 24-21
2014
at Iowa State
W, 34-14
For the fifth straight season the Bison beat an FBS opponent, knocking off Iowa State 34-14 on Saturday. It's reached the point where North Dakota State losing to an FBS team would be considered the upset, not the other way around.
To put this streak in perspective, Kansas (which NDSU beat in 2010) has six FBS wins in that same time span, and it's a member of the Big 12.
In 2010 the Bison knocked off Kansas 6-3, they beat Minnesota 37-24 in 2011, took down Colorado State 22-7 in 2012, edged Kansas State 24-21 last year and beat up on Iowa State Saturday. Oh, and NDSU also beat Minnesota 27-21 in 2007. 
When you see all of the FCS teams that have made the move to the FBS level in recent years you have to figure they aren't doing it for the money, but just to get away from North Dakota State.
Follow their example, schools of the FBS, or you'll be next on the hit list.