BERKELEY, Calif. -- Jared Goff runs a no-huddle offense called the Bear Raid, slings more than 40 passes a game and takes nearly every snap from the shotgun. But Cal's quarterback isn't just another overhyped college signal caller who puts up gaudy numbers against college defenses only to fail at the next level.
Goff, a 6-foot-4 junior, is built for the NFL.
"If you could design a quarterback," says Cal head coach Sonny Dykes, "it would look a lot like Jared Goff."
Since winning the starting job as a true freshman in the summer of 2013, Goff has started every single game for the Bears, completing nearly 62 percent of his passes for roughly 7,800 yards and 56 touchdowns. But in Goff's tenure as Cal's starter, his defense has been gouged for more than 40 points per game. In 25 starts, Goff has ran off the field a winner just seven times.
Despite that ugly fact, Goff might just be the top pick in the 2016 NFL Draft. Goff, like Aaron Rodgers before him, has a shot at superstardom.
"He's got that calmness," says Mazi Moayed, his former coach at Marin Catholic High School. "We'd say, 'Hey, he's got the Joe Coolness.' He has that gift."
But a gift is empty unless it's harnessed.
Start with the right system
Before examining the skills that make Goff a top prospect, it's important to understand the system that Goff has functioned within since debuting two years ago. Under the guidance of Dykes and offensive coordinator Tony Franklin, Cal runs a system nicknamed the Bear Raid, a modified version of the Air Raid.
The main difference between the Bear Raid and Air Raid -- systems that are both based out of the shotgun and frequently feature three to four wide receivers -- is the former's desire to run the football. Though he hasn't made it happen yet at Cal, Dykes maintains that he wants to establish a 50-50 run-pass balance. Dykes arrived at Cal at the same time as Goff, and in their first two seasons together, the Bears' run-pass ratio hovered around 43-57.
Regardless of the play calling, two aspects of the system remain true: It's fast and it's simple.
Instead of huddling, the offense turns to the sideline, where players and coaches signal each position group's role for the next play. By running no-huddle, Cal consistently tires out opposing defenses over the course of four quarters.
The simplicity of the system isn't so obvious. The easiest way to explain the Bear Raid is by calling it a progression-based system rooted in concepts. Translation: Goff is asked to read defenses on every snap.
"We go through our progression, we throw it to the guy who is open or we run the football," Franklin says.
At the core of the offense are nine passing concepts, five or six screen concepts and five or six running concepts.
"When you learn the concept, you understand the word," Franklin says. "So when you say 'sluggo,' immediately your brain says 'OK, sluggo means this. It means my eyes start here, there's a player going there and I'm bam, bam, bam, one, two, three.' So most of us, within a two-week period, can learn those concepts, they can master that in their brain."
That doesn't mean that Cal is running only 20 different plays throughout a game. Each concept can be tagged to add a slight variation. A tag, in the words of Franklin, is just a "word that changes something that somebody does." That something could be the route of a receiver or the protection scheme of the offensive line.
During our conversation, Franklin says that if I were his starting quarterback, I could learn the offense tomorrow. But when Franklin gives me a specific example to illustrate his use of concepts and tags, I begin to seriously doubt that.
"I could run 'north' and I could run 'sluggo X,'" Franklin says. "So in [Goff's] brain, if I said 'north sluggo,' he knows that it's a high-low read for him. It's a high-low and then to a checkdown. If I tag 'X' ... if I go 'sluggo X,' he knows now that his eyes have to start opposite of the X (receiver). He knows now that he's high, middle, low -- rather than high, low, middle.
"So take the same concept and I could go, 'north on pop sluggo X.' So now, I've added four words because I've changed the offensive line protection with my play call. So it could be as easy as 'north sluggo.' End of story. Or it could be 'north on pop sluggo X Z takeoff.' I could keep adding. But in his brain he still keeps going 'sluggo is a high-low concept.' It's a concept-based deal. So he learns a concept, then I can make an adjustment in a game that we might not have ever repped. If I tag it, he'll know it."
Got all that?
"It may look like to the defense that it's a different play," Franklin says. "To us it's the same play. It's just somebody did something a little different."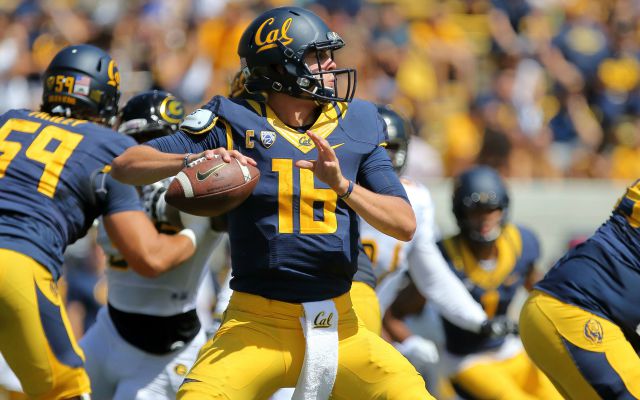 Evolving from guessing to knowing
Even on running plays, the quarterback is required to read defenses, regularly deciding pre-snap whether to hand the ball off or flip to a passing play. That decision, which is based on the alignment of the defense, is sometimes made at the exact moment the ball is snapped if the defense changes its look at the last second.
"I'll call an average of 85 plays per game," Franklin says. "And probably 75 to 80 of those plays will have multiple possibilities of what he can do."
Goff realized this as soon as he arrived on campus in the spring of 2013 and immersed himself in the offense.
"We run a lot of run/pass stuff, where we have a run play and a pass play on at the same time -- screens or outs on the backside of run plays," Goff says. "The most difficult part for me was deciding when to run and when to pass, because I had never done that before."
It didn't always go well. While Goff stopped short of saying he was guessing his first season, he acknowledged that he had difficulty learning how to read a defense. His teammate and friend, tight end Raymond Hudson, has a better way of framing Goff's initial struggles.
"He used to be very bad, even when we played Madden," Hudson says in between laughs. "He was just one of those guys. I'd do something and he'd have no clue what the coverage was or anything. He was always asking."
Franklin weighs Goff's decision making in terms of percentages, saying that Goff made the right decision probably 60 to 70 percent of the time in his freshman season. Last season, Franklin says Goff made the correct call 80 percent of the time. This year, Franklin expects Goff to be right about 90 to 95 percent of the time.
Goff also makes judgment calls once the play is already in motion. For instance, when the team runs a play called "four verticals" (Dykes once said they run four verticals 40 times a game), which is just a fancy way of saying "go long," some of Cal's receivers are allowed to break off their routes based on the coverage. If a wide receiver cuts off his streak mid-route, both Goff and his target have to be on the same page while the play unfolds.
Franklin attributes Goff's progress to game and practice reps, but it goes beyond that.
"Occasionally in class you'll see him peeking at his iPad, just watching some film. He's always got his head on football," Hudson says. "Now, he's got it all down. He knows everything."
Cut the QB loose
Goff's newfound knowledge of the game grants him the right to put that knowledge to use.
As a freshman, Goff could only make minor changes at the line of scrimmage. If he saw a particular coverage, he could modify a receiver's route, commonly known as a "hot route." Even last year, that was the full extent of Goff's freedom.
"All he had to do was run what I called," Franklin says. "And then his options were usually really simple, as to whether or not to hand it off to this guy or to throw it to that guy."
Now?
For the first time in his career, Goff can change anything and everything he wants at the line of scrimmage. From routes to the protection scheme, he can call whatever he wants.
"I trust him with my job," Franklin says. "When you're letting a guy do that, then you're putting it all in his hands."
About a week before Cal's season opener, I watched Goff at the line of scrimmage during practice, wondering if he had transformed into college football's Peyton Manning. It wasn't as demonstrative as that. Goff doesn't stand at the line and bark out signals for 20 seconds. His changes are much more subtle and infrequent, but when there are issues with the play, he recognizes them quickly and makes the necessary adjustments. 
On one specific play, just prior to the snap, the defensive line shifted to Goff's right. Goff responded by gesturing to his running back on his right. He called for the snap and almost immediately a free rusher shot up the A gap. But the running back, knowing full well where the rush was coming from, picked up the defender. Meanwhile, Goff, with his eyes still downfield, spotted the mismatch. He lofted a pass 30 yards down the right sideline. His receiver didn't break his stride.
"One thing that I like about him is he doesn't go overboard with it," says wide receiver Bryce Treggs. "Sometimes you give a quarterback some freedom and he'll just completely run his own offense and change the whole system. He doesn't abuse his authority. He stays within the scheme of our offense."
Focus on the feet, not the arm
Goff might not mirror Manning before a play begins, but once the ball is snapped, there's at least one aspect of Goff that might draw comparisons to the NFL's all-time touchdown leader. Arguably the strongest asset at Goff's disposal is his footwork, which resembles Manning's feet on Sundays.
"I try to pride myself in having really quick feet and being able to set up and throw balls in time," Goff says. "Having my feet be as good as I want them to be can get me out of a lot of problems when I'm in the pocket and stuff starts to break down. There's rarely ever a perfect pocket."
When Goff maneuvers inside the pocket, his feet bounce up and down off the turf. Franklin calls this "Peyton Manning feet," adding that they frequently watch film of Manning.
"We get our feet as hot as a typewriter," Franklin says. "We're always able to move and find a throwing lane because we're always having our feet hot like a typewriter."  
In the clip above, taken from the first game of Goff's sophomore season against Northwestern, you can see just how quick and short Goff's steps are, which is something that Franklin emphasizes because it allows Goff to release the football at a moment's notice.
"Manning will move from the A gap to the C gap feet -- feet hot, hot all the time, typing all the time. He can throw the ball back across the field because his body position is perfect," Franklin says. "Guys who step have to wait until the foot lands before they can throw the ball."
Though Goff is by no means a running quarterback, one of his most underrated qualities is his ability to extend plays behind the line of scrimmage, which is a skill that Franklin attributes to Goff's footwork.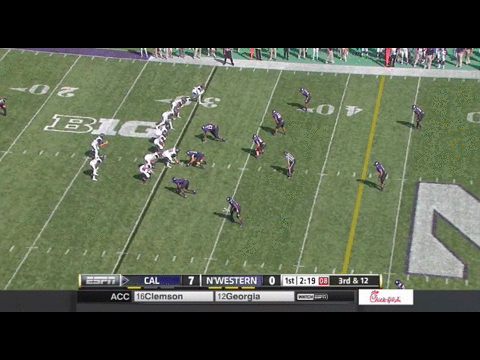 Franklin typically spends a portion of practice putting his quarterbacks through a series of footwork drills while the team works on kickoffs. There's one drill in particular that Franklin runs with his quarterbacks.
The six of them line up in rows of three, so that each quarterback is across from another, separated by no more than a few yards. One row of quarterbacks holds the footballs. Franklin then spews out verbiage that sounds like a foreign language to me. The quarterbacks nod.
"Hit!" Franklin commands.
The three quarterbacks holding the footballs toss them across to the other three, who put their feet to work, lightly bouncing around in each of their imaginary pockets, scanning a field filled with made-up targets and defenders. They repeat this drill over and over, with Franklin changing the play call every few reps and the quarterbacks adjusting their footwork and eye level to correspond with the call.
All six quarterbacks are quick on their feet, but Goff's reach another level.
"His feet and pocket presence are amazing," Treggs says. "Whenever he needs to throw the ball, he's ready. He doesn't need to set his feet. They're already ready to throw."
Be on time with one's weapons
Treggs and the coaches rave about Goff's footwork, but many of his receivers only see the final result of his footwork, leading some of them to conclude that Goff's accuracy is his strongest weapon.
"Man, that pinpoint accuracy that he's got is deadly," says wide receiver Kenny Lawler.
"You just turn your head and the ball is always right there," Hudson says. "We're never being thrown into hits, he's always leading us away ... He throws it to wherever they're not."
They're not wrong.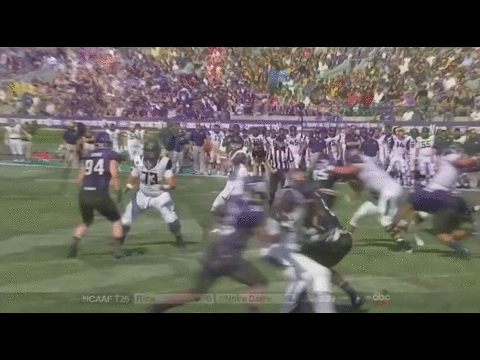 Two years ago, Goff completed 60 percent of his passes. Last year, that number rose to 62 percent. Both Goff and Franklin want his completion percentage to land somewhere in between 66 and 70 percent this season. Keep in mind that Goff often unloads deep bombs throughout the course of the game, which undoubtedly lowers his percentage.
A mainstay of Cal's offense is the fade. Receivers like Lawler, who Dykes nicknamed "Vicinity Kenny" due to his uncanny ability to make catches on balls thrown anywhere within his general vicinity, typically find a way to come up with catches in the corner of the end zone. While Cal's receivers garner their fair share of attention for the dozens of circus catches they've hauled in over the past couple seasons, Goff also deserves credit for seemingly always placing the ball in a spot that only his receivers can reach.
"People think I make it look easy," Lawler says. "But, man, it's really easy because of Goff. We have our timing down and he knows exactly where the ball needs to be at the exact right time."
Goff's timing didn't come immediately. According to Treggs, when Goff was a freshman, "a lot of his throws were late, overthrown and behind us." But when I asked Treggs about Goff's best attribute now, he pointed to his timing.
Cal QB Jared Goff is far from a finished product but the talent is there to work with. Impressive anticipation here. pic.twitter.com/k9w5xLStUO

— Kevin Weidl (@KevinW_ESPN) June 23, 2015
As for his arm strength, Goff is no John Elway when it comes to putting zip on the ball. But there's no doubt that Goff owns the arm necessary to succeed in the NFL. Franklin, who coached at Kentucky when former No. 1 overall pick Tim Couch played there, says Goff's arm is stronger than Couch's.
But more important than Goff's arm strength is his touch, which is evident on all of those fades.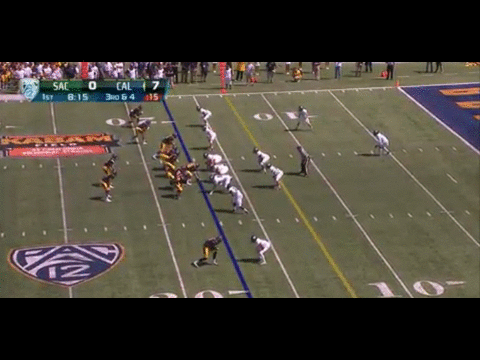 "He can make all the throws," Dykes says. "He's a guy that can throw the comeback and the cross-the field-routes, and all those things -- he's got that kind of arm."
Know your flaws
Goff isn't a finished product -- he's 6-foot-4 but could benefit from bulking up. He has his weaknesses, namely his impatience and decision making.
"Sometimes I try to force it," Goff says. "I try to do more than I can."
Against UCLA last season, Goff cost his team a win when he tried to force the issue. With less than a minute remaining in the game, the Bears trailed by just two and had the ball on UCLA's 36 yard line. On 2nd-and-7, Cal called "four verticals," hoping to target an inside receiver and pick up the 10 yards or so required to turn a long field goal attempt into a makeable kick. Instead, Goff was baited by UCLA cornerback Marcus Rios, who initially showed press coverage on Lawler on the outside but then backed away.
It worked. When Goff lobbed the ball down the sideline, Rios played the ball so well that he looked like Goff's intended receiver on the play. Rios picked off the pass and UCLA burned the final seconds remaining on the clock.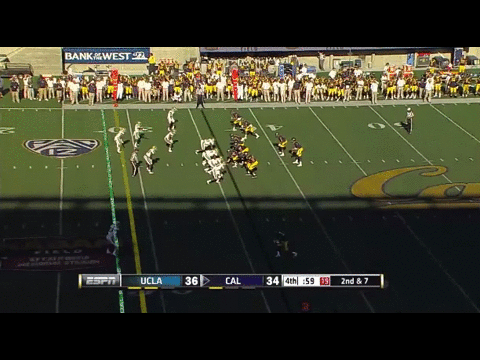 If Goff had simply thrown the ball away, the Bears would've had another shot at getting the yards needed to attempt a game-winning field goal.
Franklin frequently emphasizes a quarterback's touchdown-interception ratio. If Goff's ratio is 9-1, Franklin says they'll be a championship caliber team. If his ratio is 7-1, they'll be really good. If it's 5-1, they'll be slightly better than average. Any less than that and Cal will struggle to win.
Last year, Goff's ratio was exactly 5-1, as he tossed 35 touchdowns and seven picks. Cal went 5-7, missing out on a bowl game by just one win.
Answer the critics
Eventually, another issue will enter the conversation, as it does with every college quarterback coming out of a system other than a pro-style offense. It happened with Marcus Mariota this past year and it'll happen with Goff whenever he declares.
He never had to run a huddle. He never had to take a snap from under center.
Franklin thinks those concerns are stupid.
"Most little league coaches can teach it in about five minutes," Franklin says.
Furthermore, shotgun and spread concepts are utilized more and more in the NFL these days. This past May, Jared Dubin broke down just how much the NFL is transforming into a spread offense league. In the 2014 season, 80 percent of all snaps were taken in single and empty backfield formations, 59 percent of all snaps were taken with at least three wide receivers on the field, and 61 percent of all snaps were taken in the shotgun.
I'm not sure if Franklin read Dubin's article, but it sure sounded like he had.
"It's a joke," Franklin says of those criticisms. "All it is, honestly, it's for a bunch of guys that are NFL guys that want to talk about what it was like in 1931 when they played."
Dykes offered a similar answer.
"I don't how handing the ball off in the I-formation necessarily makes you a better quarterback at the next level," Dykes says. "But people seem to believe that for some reason."
Goff also dismissed the notion.
"I think that's overdone a little bit," Goff says. "I mean, Marcus Mariota was the second pick in the draft and plenty of people must have wanted him. And he was running the spread offense in college. There are plenty of examples. I could go on for days." 
Stay present before the college career sunsets
At this point, asking Goff if he's turning pro is pointless. When I pose the question toward the end of our interview, he gives me the kind of answer you'd expect.
"I'm not thinking about it at all," Goff says. "I want to leave Cal with a winning legacy. I don't want to be a quarterback that has all these stats but didn't win a lot of games."
Speaking with his coaches and teammates won't lead to any clear answers either. But when I ask Franklin about the freedom he now gives Goff at the line of scrimmage, he slips up.
"Next year," Franklin says, "whoever the quarterback is, probably won't be doing that because they will have had hardly any experience."
Wait, so does that mean you think Goff is leaving?
"I mean, obviously, we want what's best for him, whatever that is," Franklin says. "If he's the first pick in the draft, then he'd be crazy to hang around here." (Of note, our draft experts peg Goff as a top-5 pick in their latest mock drafts.)
Franklin's referring to Berkeley, where Goff made his college football debut two years ago under the lights of Memorial Stadium.
"I'll never forget the sunset that was going on," Goff says. "The sunset was just incredible that day. It was crazy. Berkeley always has those, but that day in particular."
That night, only the result of the game was at stake. Now, when Goff leads the Bears onto the field, it'll be more than just a win on the line. This fall, Goff begins his bid to be the first quarterback taken off draft boards this April. That is, if he opts to leave Cal for the NFL.
"Man," Lawler says after an evening of practice, grinning and shaking his head as he considers the possibility of playing his senior season without Goff. Directly in front of him, the sun begins to set over the stadium. "I hope not."