Jeff Lindquist will start Washington's opener against Hawaii
With Cyler Miles suspended, Washington has tabbed quarterback Jeff Lindquist to start its season opener against Hawaii.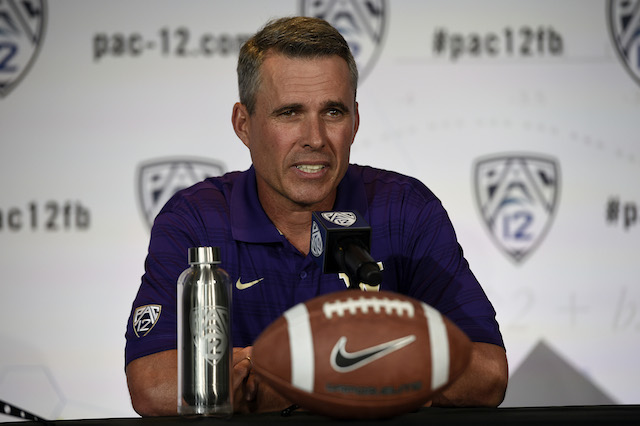 With Cyler Miles suspended for the season opener Washington needed to find an interim starter at quarterback, and new coach Chris Petersen has found his man. Petersen announced Friday that sophomore Jeff Lindquist will start the first game of the Petersen Era. 
"Jeff Lindquist will start. We'll go with him and see how he does," said Petersen. "He's done a great job from spring through now. I will say this: Troy Williams has done a really nice job, too. And I think we were splitting hairs trying to figure this out. Both have different skillsets they bring to the table, but at this point we feel like we need to give Jeff the nod and let him roll, let him get some things done and let him go from there."
Lindquist was a three-star recruit in Washington's 2012 class, the same class that netted Cyler Miles. While he's seen some time on the field, the first pass Lindquist throws against Hawaii will be the first attempt of his career.
Petersen also made sure to note that there's a possibility Lindquist could keep the job even after Miles' suspension is over, saying Washington would "reevaluate and see where we are" after the Hawaii game.
Miles was suspended for a game after allegedly assaulting a man following a Super Bowl party in February. Miles was never charged in the incident, though teammate Demore'ea Stringfellow was dismissed from the team for his role in it.
Locksley joined Alabama's staff in 2016

Saban reportedly wants to hire Freeze, but there may be things keeping that from happening

Florida State-Miami will be on Oct. 6, and the Seminoles will play Clemson on Oct. 27
Weis Jr. was an offensive assistant for the Atlanta Falcons in 2017

Lott is joined by three current athletic directors and will serve a three-year term

These are the top guys every school is still chasing