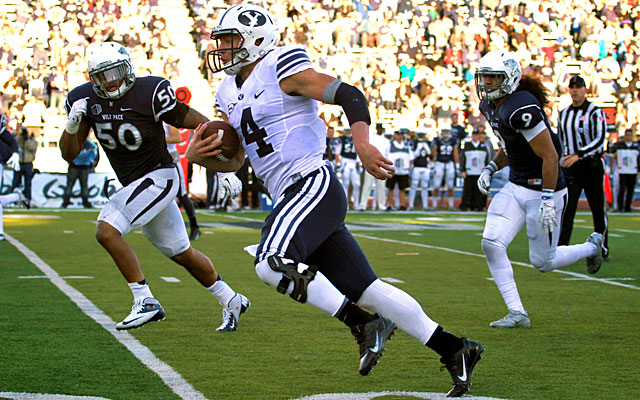 The Mountain West is evaluating its scheduling philosophy regarding BYU, commissioner Craig Thompson told CBSSports.com on Monday.
The MWC becomes the third conference to consider how it views the FBS independent in terms of scheduling following moves by the SEC and the ACC in the last month. The Mountain West evaluation isn't necessarily a negative for BYU because, Thompson said, the Cougars might bring schedule strength to certain schools in his conference.
But coming after the SEC and the ACC announced BYU would not count as a Big Five team in their new scheduling philosophies, such a move by BYU's old MWC mates is sure to heighten concerns in Provo.
"We talked -- in context of the SEC and ACC conversations -- what does it mean to schedule BYU? We really have to think about our scheduling," Thompson said.
League officials discussed BYU May 5-7 in conference meetings in Phoenix. That came just after the SEC announced it would not consider BYU a Big Five opponent and before the ACC made a similar announcement last week.
Mountain West schools play BYU 20 times in the next six years, an average of 3.33 per season beginning in 2014. In addition, the Cougars will face a Mountain West opponent in the 2016 and 2018 Poinsettia bowls.
The philosophies don't mean BYU can't be scheduled by teams from the SEC and ACC. Instead, it means the Cougars won't be considered meeting those leagues' new stipulation that each team play a non-conference opponent from one of the other Big Five conferences (ACC, SEC, Big 12, Pac-12, Big Ten).
That at least creates the perception that BYU could negatively impact schedule strength in those leagues in the playoff era.
A school official from one of the 28 members in the ACC and SEC told CBSSports.com last week that he had stopped work on a series with BYU because of the scheduling philosophy.
"We're playing them more out of history, geography and convenience than schedule strength," Thompson said of BYU. "Now that will bite me in the [backside] but you know what I'm saying. We have a history with them."
To show the wide variance in how the Mountain West considers BYU, one source at a league school said there was informal mention of the Cougars re-joining the league in Phoenix. BYU was a charter Mountain West member from 1999 until going independent in 2011.
"It was mentioned, if that's informal," the source said. "It was mentioned in one of the meetings but it was nothing. It was just brought up. Nothing to move on."
However, the source also said, "from my perspective hearing what's going on with BYU, they need a place to land."
Thompson and BYU AD Tom Holmoe were in Phoenix for different reasons that week but did not meet.
"First of all, we have not had any formal conversations with BYU," Thompson said. "Secondly, if they were to do that [admit the Cougars] then … that's a whole bunch more losses for somebody potentially."
That was the logic put forward in the SEC and ACC staying at eight conference games. Adding a ninth league game would have assured seven additional losses to the league – one each for the losers of that additional game.
"I don't get any indication -- I know they changed presidents -- that their [conference] perspective has changed at all," Thompson said of BYU.
One lasting connection with BYU's old conference: In an officiating consortium between the Big 12 and Mountain West, those leagues assign football officials for Cougars' home games.
During the haze of conference realignment, the Big 12 did not invite BYU -- in part -- because of concerns about geography. The league had just lost Colorado to the Pac-12 and Big 12 members would have been flying farther west to get to BYU.
The Mountain West is entering its second year in a 12-team, two-team configuration. Meanwhile, BYU is entering the fourth year of a partnership with ESPN to televise the school's home games. ESPN also became a scheduling partner to aid BYU's independence.
Troubled in part with the Mountain West's TV visibility, BYU announced the ESPN deal in 2010 to go independent. The cable giant reportedly pays BYU between $800,00-$1.3 million per home game. On the high end, that's as much as the school was earning per season in the Mountain West.
The current situation has become an unintended consequence of conferences trying to develop schedule strength to impress the selection committee in the upcoming College Football Playoff era. 
For example, beginning in 2015 BYU has the same access to the playoff as lowly-regarded Army. Fellow independent Notre Dame begins a scheduling partnership with, and access to, bowls in the ACC this year. Navy is joining the American Athletic Conference in 2015.
The Mountain West is among those seeking to position itself for the one automatic berth given to the so-called Group of Five in the CFP era. Beginning this year, the highest-rated team among the MAC, Mountain West, Sun Belt, American and Conference USA is guaranteed a spot New Year's Six bowls. (Cotton, Peach, Fiesta, Orange, Fiesta, Rose). The only way such a team would play in the Rose or Sugar is if those bowls were rotating through as national semifinals and the qualifier was ranked in the top four.
"They're position is to get one of four [playoff] spots," Thompson said of the Big Five. "Our position is win that [automatic spot]."
The MWC and American consider themselves having the best annual chance at that automatic berth. Mountain West teams finished in the top six of the old BCS standings three times (TCU, No. 4 in 2009; Utah, No. 6 in both 2004 and 2008).  Neither of those schools remains in the league. In the current configuration, Boise State and Hawaii have played in BCS bowls.
In the American's current configuration, Central Florida, Connecticut and Cincinnati all played in BCS bowls. Cincinnati was the highest ranked at No. 3 in 2009 playing in the old Big East.
At issue for the moment is whether scheduling BYU helps or hurts the Mountain West. The answer varies from school to school. Fresno State plays USC and Nebraska this season. The Bulldogs probably would have had no interest in adding BYU.
"That was the context [in Phoenix] about scheduling," Thompson said. "Are we playing them enough, too much? What are we going to do as a league?"
The genesis of the current BYU discussion probably goes back to 1996. That season BYU became the first major-college team to win 14 games. The Cougars finished No. 5 after knocking off Kansas State in the Cotton Bowl. No. 7 Penn State, No. 20 Texas and No. 10 Virginia Tech all went to bigger bowls than BYU.
Then-WAC commissioner Karl Benson then lobbied Congress for BYU's inclusion into the major-bowl postseason. The BCS started two years later in 1998. Playing in the MWC from 1999-2010 BYU won at least 10 games five times but never appeared in a BCS bowl.
"Because of the regionality and the history, we played them a lot and have played them a lot for 100 years," Thompson said. "We will continue to play them a lot."
Holmoe told CBSSports.com his program is still scheduling games against the ACC and SEC.
"Basically I'm just trying to get them to let us play the games," Holmoe said, "and that they would not make a big deal about it. We're still scheduling games against those schools."
Holmoe added that he has contacted SEC commissioner Mike Slive and ACC commissioner John Swofford about how those leagues consider BYU. He said in the next seven seasons BYU has 21 games scheduled with 14 Big Five schools. Virginia and Georgia Tech were on the 2013 schedule.
According to Holmoe's research, since 1972 BYU is 87-95 against schools currently in the Big Five conferences. That includes a winning record against the Pac-12 (55-51) and .500 records against the Big 12 (14-14) and SEC (4-4).
"I think they think of us as an aside," Holmoe said. "I don't' think they considered the fact we're playing a lot of their conferences right now."