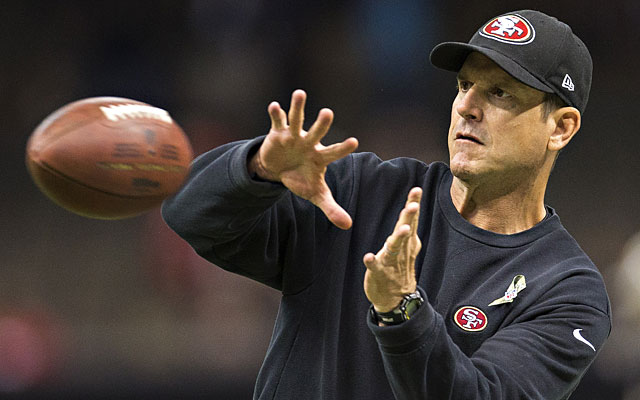 The Detroit Free Press and the Detroit News each reported Monday night that Jim Harbaugh has signed his contract to become the new coach of the Michigan Wolverines.
After parting ways with the San Francisco 49ers on Sunday, Harbaugh flew to Ann Arbor Monday, first landing in Detroit on Monday evening. He is expected to be introduced at a press conference Tuesday, according to multiple reports.
Reports throughout Sunday claimed Harbaugh had agreed to become the Wolverines' new coach, replacing the fired Brady Hoke, though NFL teams may have been attempting to change Harbaugh's mind as late as Monday morning.
Unconfirmed reports set Michigan's offer for Harbaugh's services as high as $48 million over six years, a salary that would make him college football's highest-paid coach.
Hoke was dismissed Dec. 2 after a four-season tenure that saw Michigan's record decline all four seasons, bottoming out in a 5-7 mark in 2014.
Harbaugh quarterbacked the Wolverines under legendary coach Bo Schembecler from 1983 to 1986, finishing third in the Heisman Trophy balloting as a senior.
His deep Michigan ties and coaching track record made him the runaway favorite to replace Hoke among Wolverines fans, and interim athletic director Jim Hackett never appeared to seriously pursue a second candidate.