Team USA women's basketball vs. Nigeria score, Tokyo Olympics: U.S. women pick up 50th straight Olympic win
Team USA has been flawless in Olympic play since the 1992 Summer Games
The USA women's basketball team got off to a positive start at the Tokyo Olympics with an 81-72 win over Nigeria in their first game of the tournament. It certainly wasn't always pretty, but they got the job done and ran their Olympics winning streak to an incredible 50 games in the process.
Nigeria's full-court press and tenacity on the defensive end seemed to catch Team USA off guard early in the game. At the end of the first quarter, Nigeria led 20-17 and had forced eight American turnovers. Eventually, however, Team USA was able to adapt to the pressure, started working the ball inside and took full control. At one point in the second quarter, they ripped off a 23-0 run and built a double-digit lead at the break. While they got a little lackadaisical towards the end of the fourth quarter, Team USA was in full control for the entire second half, and was never in danger of losing the game.
Las Vegas Aces star A'ja Wilson led the way for Team USA with 19 points, 13 rebounds, two steals and two blocks in a dominant interior performance. Her frontcourt partner Brittney Griner added a double-double of her own with 13 points and 10 rebounds. Diana Taurasi was the only other player in double digits with 10 points.
Here are four key takeaways from the game:
1. 50 straight Olympic wins
Dynasties are usually thought of in terms of club teams, but if you expand the discussion to the international level then there's no question the USA women's basketball team is one of the greatest of all time -- in any sport, men or women's. With their win over Nigeria on Tuesday, they extended their Olympics winning streak to an incredible 50 games. 
It dates back to the bronze medal game of the 1992 Olympics, when they defeated Cuba. Since then, they've won six straight gold medals without dropping a single game, and are going for No. 7 in a row in Tokyo. If they get there, they'll tie the USA men's basketball team's record of seven straight gold medals from 1936-1968. 
2. Too many turnovers
Earlier this month, Team USA suffered a shocking defeat in a pre-Olympics exhibition game against Australia. One of the main reasons for the loss was that they couldn't take care of the ball. They coughed it up 18 times, which led to 14 points for the Australians. 
While they got the win over Nigeria on Tuesday, turnovers were once again an issue. Nigeria's relentless pressure up and down the court flustered Team USA, especially early on as they forced eight American turnovers in the first quarter alone. Team USA eventually adapted and figured some things out, but they were still far too careless with the ball for most of the game.
In the end, Team USA finished with a whopping 25 turnovers, which is a big reason why Nigeria had 16 more shot attempts. It didn't end up mattering because Team USA's talent won out, but they won't be able to get away with that against better competition later in the tournament. 
3. Wilson and Griner dominate inside
As by far the most talented team in the world, Team USA has advantages all over the court. But perhaps the most obvious is in the paint, where they are too big and too talented for every other country in the world -- especially now that Australia is without Liz Cambage.
That was certainly true against Nigeria, as Team USA won the rebounding battle by a wide margin, 61-41, and scored 36 points in the paint. Just take a look at this shot chart of each team's made baskets and you'll quickly get the idea. Team USA made 29 field goals, and 18 of them were in the paint.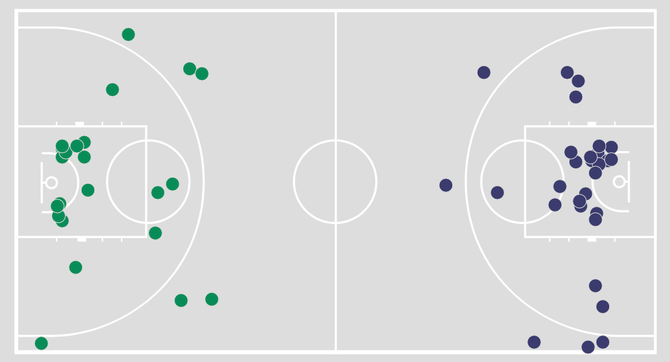 Leading the way were reigning WNBA MVP A'ja Wilson and Brittney Griner. That duo each put up a double-double, and combined for 32 points, 23 rebounds, four assists, three steals and four blocks. And that doesn't even take into account the number of shots they altered, which for Griner in particular was significant. 
Nigeria simply had no answer for either of them down low, and it was apparent once Team USA was able to consistently get them the ball. Those two should continue to feast as the tournament goes along. Next up in group play is Japan, who doesn't have a single player taller than 6-foot-1. 
4. Bird runs the show
Sue Bird went 0-for-6 from the field and didn't score in this game, yet she was one of Team USA's most important players on the night. While she finished with zero points, she also finished with 13 assists, and Team USA was plus-20 while she was on the court. Single-game plus-minus isn't always the best tool, but it accurately tells the story here. 
On a night where Team USA struggled to deal with Nigeria's defensive pressure and got sloppy with the ball, Bird was her usual composed self. Only two of the team's 25 turnovers came from her, and it was her playmaking that jumpstarted the key 23-0 run in the second quarter that turned the game around. During that stretch, Bird assisted on five of Team USA's nine baskets. 
Still one of the best point guards around, Bird -- who reached 100 Olympic assists in this game -- has won four straight gold medals, and is going for a fifth here in Tokyo along with Diana Taurasi. If Team USA wins it all, those two will become the first basketball players ever to win five gold medals. 
See New Posts
Pinned
team usa settled down and are pulling away once again. this one is just about over
Pinned
team usa getting sloppy and nigeria has gone on a run here late in the fourth quarter. all of a sudden it's a single digit game with 3:19 left
Pinned
umm taurasi just caught a pass on the wing and whipped the ball into the corner to no one without looking. guess she thought someone was going to be there lol
Pinned
team usa getting a little lackadaisical here but still up by 17 with just 6:43 left
Pinned
jewell loyd down after trying to fight through a screen. hopefully just got the wind knocked out of her
Pinned
70-50 team usa at the end of the third quarter. the americans are in full control and should pick up their 50th straight olympic win. a'ja wilson with 14 points to lead team usa, while brittney griner has 13 points
Pinned
team usa has switched to a zone and are daring nigeria to beat them from outside. pretty wise strategy considering nigeria are 4-25 from three point land
Pinned
this game has been a lesson in the difference between wnba and fiba officiating. a lot more contact allowed on defense and the refs are super eager to call offensive fouls
Pinned
Pinned
at one point in the second quarter it was 25-20 nigeria. it's now 58-36 team usa with 6 min left in the third. just an incredible turnaround on both ends
Pinned
griner has been terrific on both sides of the floor tonight. she's up to 11 points and 8 rebounds, and has been causing all sorts of havoc on the defensive end
Pinned
team usa going right back inside and have already drawn three fouls in the first few minutes
Pinned
Pinned
okay we're back here for the second half. will team usa be able to pick up where they left off?
Pinned
Pinned
44-32 team usa at the half. after a slow start, the americans adapted to the pressure from the nigerians, stopped turning the ball over and took over in the second quarter. they won the frame 27-12, and at one point ripped off a 23-0 run to seize control of the game. diana taurasi with 10 points to lead all scorers. brittney griner and a'ja wilson have each chipped in 7
Pinned
and nigeria finally scores to end a 23-0 run
Pinned
team usa working the ball inside relentlessly now and are just dominating
Pinned
Pinned
tina charles with a baseline jumper and all of a sudden team usa is up 37-25. they're on a 17-0 run. the massive talent discrepancy has been on display the last few minutes. nigeria just can't get anything going offensively
Pinned
nigeria has been keeping multiple players down near the basket and are trapping/contesting every outlet pass. americans just keep getting flustered by it
Pinned
diana taurasi with a three in transition and the american's have jumped back in front
Pinned
a'ja wilson with two quick buckets inside. team usa needs more of that. nigeria doesn't have the size inside to deal with the likes of wilson, griner, fowles and charles
Pinned
nigeria deserves a lot of credit for their intensity and effort on defense, but a lot of this is team usa simply making poor decisions with the ball
Pinned
Pinned
20-17 nigeria after the first quarter. shocking start for the americans, who are looking for their 50th straight olympic win. ify ibekwe with 7 points to lead nigeria. team usa is shooting 5-15 and has turned the ball over eight times already.
Pinned
team usa has really cooled off after that nice run in the middle of the quarter. shooting poorly and not taking care of the ball
Pinned
nigeria takes the lead here late in the first, 18-17. they've been getting to the line early and often. already 8-10 from the stripe
Pinned
aaaaannd then loyd bricks a corner three of the side of the backboard lol
Pinned
a couple of really nice jumpers on the move from jewell loyd. team usa has really picked it up after those slow first few minutes
See More