Five for Sunday: Bears D braces for Peterson with plenty on the line
The Bears porous run defense must find a way to slow down Adrian Peterson, the Reggie Wayne-less Colts are struggling and three more key storylines.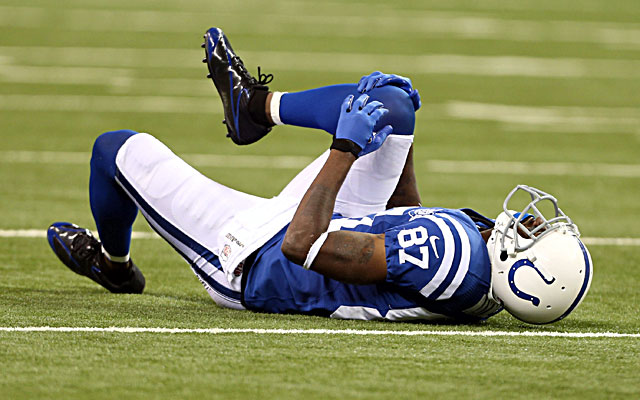 It's all about the matchup
The Chicago Bears are fighting for their playoff lives and have to go on the road against the 2-8-1 Minnesota Vikings , a team they already beat earlier this year. Sounds like a win for the Bears until you dig into the matchup. The Bears run defense is in bad shape, already giving up 1,597 yards on the ground -- or 145 yards per game -- which doesn't even tell the real story right now. In the last two games, Chicago's D has surrendered 432 yards and four rushing touchdowns to Baltimore (No. 26 in rushing offense) and St. Louis (ranked 15th in rushing offense). Adrian Peterson already for 100 yards in the 31-30 loss earlier this year and could be ready for a 200-yard day and an upset win over the Bears.
Life without No. 87
The Indianapolis Colts are still in first place, but they have lost two of the last three games -- and now the Tennessee Titans are coming to town and breathing down their necks. A Titans win would put them a game behind the Colts with four to play. When Reggie Wayne was on the field, the Colts beat the San Francisco 49ers , Seattle Seahawks and Denver Broncos . Since his departure, they have lost to St. Louis, Arizona and barely beat Tennessee. Three weeks ago Indianapolis rallied to beat Tennessee, but Andrew Luck didn't throw a single touchdown pass. Luck has played the Titans three times and has only thrown two touchdown passes in 108 passes. Reggie Wayne caught 13 passes and one of those touchdowns in the two wins. Luck has also been sacked nine times since Wayne left the lineup. This will be a tough game for the Wayne-less Colts.
The Seahawks secondary
The New Orleans Saints are coming to Seattle with one of the great passing attacks in the NFL and the Seahawks will be down to their third-string cornerback as a starter and the fourth as the nickel back. Pete Carroll told me he has great faith in Jeremy Lane and Byron Maxwell to replace Brandon Browner and Walter Thurmond. Lane has three career starts with no interceptions or passes defended, but the team won all three games. Maxwell has no career starts or interceptions, but he has defended five passes. Drew Brees will waste little time checking out the backup corners in this game. Richard Sherman will probably draw Marques Colston , and Cam Chancelor covers Jimmy Graham -- leaving the Seattle backups to cover Lance Moore and Kenny Stills . Home field throughout the playoffs is probably on the line in this game.
Week 13 will rattle the top 10 teams
The Seahawks play the Saints, the Broncos visit the Kansas City Chiefs , and the upstart Arizona Cardinals bring their four-game winning streak into Philadelphia, which has won three straight. Both the Cardinals and Philadelphia Eagles defenses have given up 49 points each in their winning streaks. The winner should crack the top 10.
Is Russell Wilson the best sophomore?
A year ago, the rookie quarterbacks were ranked Luck or Robert Griffin III at the top with Russell Wilson a distant third. Ryan Tannehill was in the discussion as the fourth best. Luck has pulled away from RG3, but now it may be time to discuss Wilson vs. Luck for the top spot. Wilson and Luck have big games this week and the conversation about No. 1 is starting to unfold. Wilson comes into this week with a 22-7 career record and 48 touchdown passes, 17 interceptions and 69 sacks. He has also run 181 times for 1,025 yards and six touchdowns. He has 43 runs more than 10 yards. Luck is 18-10 with 38 touchdown passes (10 less), 26 interceptions (nine more) and 68 sacks (one less). When it comes to running, Luck has 109 rushes for 552 yards and nine touchdowns (three more). Luck has 17 runs more than 10 yards (26 less). Let's see what this weekend brings from these two great young signal callers. Wilson needs seven more touchdown passes in his last five games to pass Peyton Manning for the most touchdown passes in the first two years of a career.
Show Comments
Hide Comments
The Raiders have some special plans for the draft that fans in Oakland might not like

She's not a huge fan of the Hall of Fame defensive lineman

Follow along as we track all the rumors as the 2017 NFL Draft approaches
The Eagles QB is representing his city

A report Thursday afternoon indicates that Myles Garrett will be the first overall pick in...

Mitchell Trubisky will not be the top overall pick after all