John Calipari Q&A: Not about UK program; 'It's about the player'
John Calipari runs Kentucky's 'program,' but insists it's 'about the player' He also addresses NBA rumors and the pitfalls of being the boss at UK.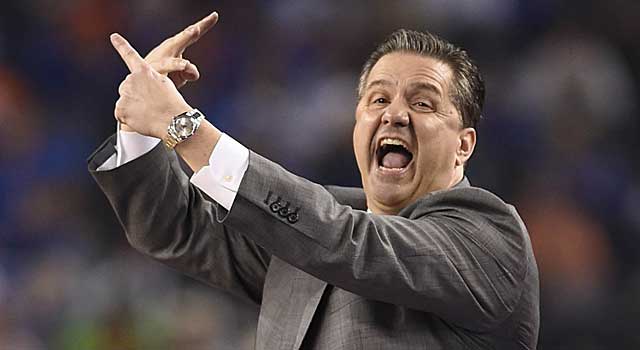 More on hoops: Super early Top 25 (and one) | Latest hoops news
John Calipari has turned Kentucky's program into an empire. Since his arrival in Lexington in 2009, Calipari has led the Wildcats to three Final Four appearances, winning the national title in 2012. After losing in last season's NCAA championship game to UConn, Kentucky returns the bulk of its core and adds several talented freshmen. CBS Sports Network and CBSSports.com's Jon Rothstein sat down with Calipari to discuss the Wildcats' depth, the Harrison twins, and the hardest parts of coaching at Kentucky.
Jon Rothstein, CBSSports.com: Now that you've had a little time to reflect on the roller coaster that was last season, what will the legacy of the 2013-14 team be in your mind?
John Calipari: You know it's funny, people here put together some highlight tapes as we get ready to go into prospect's homes and what I wanted for everyone to see on those tapes was the South Carolina game and the Arkansas games from last season. We were struggling and people were talking about us struggling. It talks about the tweak, etc. and then you just see us go. And you see the excitement of the team. And it kind of got emotional with the guys in there, because what we went through was ridiculous. People ask about that final game versus UConn. First off, we should have gotten beat by 20. We just were in awe of the moment for the first time of the year. The Michigan State game early in the year -- we weren't in awe of the moment -- we just weren't ready for the onslaught. But we came back and gave ourselves a chance to win. We should have lost that game by 20. We never got out of the awe of the moment. I think people will look at what that team was able to do -- five freshmen, your second-highest potential draft pick in Willie Cauley-Stein is not playing and now you're playing Marcus Lee -- another freshman. Dominique Hawkins, another freshman is playing, too, and you're in the final game? That's why after the game a couple of guys cried and I said, 'Stop the crying.' I did. I just said stop. I asked them, 'Do you know what you guys just did?' I just told them we didn't have it in the tank.
CBSSports.com: You lost two first-round draft picks -- Julius Randle (No. 7 to the Lakers) and James Young (No. 17 to the Celtics) -- as well as a top assistant in Orlando Antigua (new coach at South Florida). Your program has done a good job adapting to change. Will that round of change be any different because you have so many returning players from last season?
Calipari: I think we still haven't figured out how we're going to play. The 40-year old model of the program -- it's about the program, it's about the system, no names on the back of the jerseys -- we've flipped it. Now it's about the player. It's about his development. It's about him learning about certain leadership traits. Playing more for his teammate than himself and being his brother's keeper. It then becomes about growth in these areas academically as a person. Then it becomes basically, how do we play with this group? Do we press? Do we play back? Do we push the ball up? Do we trap the post or do we not? Offensively, I know we're going to run and space [the floor]. But what's the best way to play with these guys? Every year it's been different and that's what's hard. And you know what, until you get into some rough games you can't figure that out. At times we as coaches try to shove guys as square pegs into round holes and keep hammering away. That's been the 40-year old model. Now this is all centered on them. Not me. Not the program. The wins they take care of -- not me. If they want to go win a national title, they'll win it. If we do right by them and bring them together and that's what their drive is, they'll do it. If their drive is to be angry at me and not trusting me to let go of the rope, then we won't do it. That's what we're doing differently. Now, I don't mind publicly saying it because I wrote a book about it. If more coaches want to do it this way then it's better for the kids. It's hard. The coaches who want to take kids and then in one year they go pro -- hey, have at it. I got no problem with that because I think it's good for the kids.
CBSSports.com: You were mentioned in connection with a couple of NBA jobs (Lakers, Cavs), did the fact that you had so many returning players make it easy to come back to Kentucky because of the team you knew you were going to have?
Calipari: It's not that, you've got it backwards. The thing is this. You had four guys that I thought would leave. Alex [Poythress], Willie, and the twins [Andrew and Aaron Harrison]. Alex would probably go late first [round], the twins would probably go late-first, Willie would probably go [top] 15 or so. I thought we were going to lose six guys and have four to five in the first round. And we would have. Four of those guys come back. Again, we have five-minute meetings about this at the end of the year. Willie came in one day real quick and just said, 'I'm staying.' I said, 'What?' And then I knew that he and Alex were so tight that Alex would stay too. And then the twins -- until the moment where they told me they were staying, I was convinced that they were leaving. I told them I was going to help with whatever they did. I told them that if they came back that it was going to be hard. I told them they were going to be in better shape. I told them what questions the NBA had about them and we had to answer those questions. That's our whole thing. If they decided to go pro, I would do everything I could to help them. We had a five-minute meeting which ended up being a two-minute meeting and then that day they said they were coming back. So I had all 12 guys in my office and I said, 'Did you come back for me or this program?' They all laughed, because their choice to come back had nothing to do with me or the state of Kentucky. It had to do with me getting them more prepared. So now you have four kids who said they need us and me to prepare them for the rest of their lives. If I came back after that and left, it's a tough move. That was solely the reason. Now people are saying that I'll never leave here. You know what, maybe I won't. Maybe I'll be in this position every year. I'll be happy as hell if that happens, because that means my team comes back. And then when you have guys say that I'm going to leave, my thing is, 'If you were offered X amount of dollars, would you leave?' And I stayed.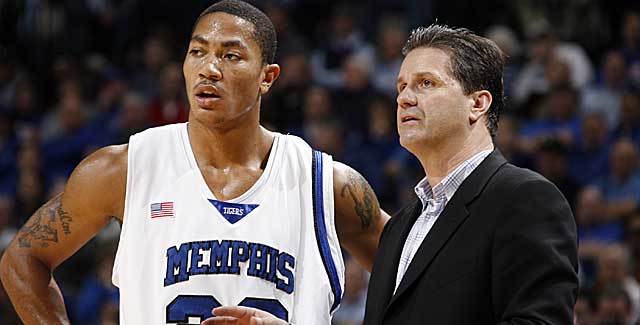 CBSSports.com: Do you still have a curiosity about coaching in the NBA?
Calipari: When it came down to that, what happens is this. There wasn't just one team that called. So what it comes back to then is what we've done here for five years. What happens if another five years takes place? Now all of a sudden, we're talking about a run of -- what if we have 40 guys taken in a 10-year period? You're talking about 15 percent of the league coming from us. That's not even talking about stuff like, is Derrick Rose still playing? Is Tyreke Evans still playing? Is Chris Douglas-Roberts still playing? So that appeals to me. That does. And people say I only want guys in the NBA. Well, let's see. We've won more games than everybody, we've went to three Final Fours, we've went to two final games, we could have won three national titles. I hate to tell you but we could have won four, because my first year was my most talented team. We weren't an execution team, though. If that team in 2010 was an execution team we would have lost no games. But we weren't. We started too many young guys who didn't have enough experience to be able to do that. But this is unique. I'm not sure anybody has ever been in this type of position to help these many kids doing it this way.
CBSSports.com: You have another heralded freshman class coming in [Karl Towns, Trey Lyles, Tyler Ulis and Devin Booker], but there are also seven players on your roster right now who played significant minutes during last year's NCAA Tournament. What is your approach for managing that volume of talent and where does this potentially rank in terms of the deepest teams you've ever coached at the college level?
Calipari: Well, I had a deep team at UMass. The year I had Lou Roe and Marcus Camby, we had nine. And that year we played nine and went to the Elite Eight. The next year we had six and we went to the Final Four. Again, if you make it about them, it just works. As long as I stay focused on them, it works. I'll give you an example. Last year, Marcus Lee is starting for us at the beginning of the year. His energy is unbelievable. Then he gets sick. He loses weight and it takes him a month and a half to recover to get back to near where he was. By that time, Dakari [Johnson] and Willie became confident and took up those minutes, and now Marcus wasn't in position to get many minutes. But we continued to coach him like he was a starter. That's why against Michigan, he was ready to go in and play. And he did. So a lot of times, it's not just minutes. It's making sure you're doing everything you're supposed to do to develop them. That's why I don't look at anybody like they're a backup. There are no backups. Everybody is a starter.
CBSSports.com: Are you almost part-psychologist/part coach because you're going to have to do that with so many guys this year?
Calipari: No. It's more just about being honest. Are you speaking the truth? Are you keeping it real? Every kid will tell you that they want you to be real, but that's until you keep it real with them. Then they don't want it real. I think that again it will come down to trust. The clutter these days that coaches have to deal with -- the social media, the draft lists, the parents reading the draft lists, the uncle, the AAU coach. It never stops. Everybody is concerned with either Kentucky or their kid. And they may not be concerned about Kentucky. They'd like us to win and do well but they're more concerned with their kid. And every kid is hearing that. And their futures are right in front of them. And some of them are dealing with generational poverty. To them, this is their one shot. I don't take that lightly. I don't make it about this program. This program is going to be fine. This program hasn't suffered one bit with what I've tried to do here and the way I've tried to do it. Not one bit. Now people get upset with me and say I don't worry about the program enough. But I haven't been transparent about it. I said it at my opening press conference. This program will be about players first. This thing is the way it is because of guys like Dan Issel and people like that. That's why this place is the way it is.
CBSSports.com: The Harrison twins seemed to come of age before our eyes in the tournament. What kind of growth do you expect from them this season?
Calipari: More consistency. More consistent skill. More consistent decision-making, and it's going to come with maturity. You think of those two in a two-hour practice, they have to make about 100 decisions, and so far 80 percent of them are right. They're still going to do some things that aren't right at the time, but now they have the experience and understanding of what it takes to play through things. They've been through a year of college basketball and that's huge.
CBSSports.com: There's a surplus of players on your roster who stand 6-8 or taller. You've always been a man-to-man coach defensively but could you experiment with some zone in an effort to get your best players on the floor?
Calipari: We're going to do some stuff over the next few weeks where we have a "zone" day. It may be when we practice twice, so I can teach it in the morning and do stuff and then come back and work on zone offense after that. And then I may say that we're in zone the whole time. It may be that specific zone or it may be a zone press. But Willie changes things because of how he protects the rim and he's not out there right now. So we're going to have to figure it out over time.
CBSSports.com: You've played Louisville in two of the last three NCAA Tournaments and it would be hard to argue against Kentucky-Louisville as the best rivalry in college basketball right now. You have a number of high-profile non-conference games, but how much meaning will you put behind the result of that Dec. 27th game in Louisville?
Calipari: My kids aren't from Kentucky, so I don't think they see it different than any of our other big non-conference games. A couple of the Kentucky kids will see it that way. The others don't see it that way. Our fans, now? Wow. And that makes me feel more anxiety for the game because I know what it means for these people. But for my players? They tell me that I tighten things up that week. But I'm not changing what I do and they have a great program too. They were in two Final Fours and won a national title. They did exactly what we did. Not really, but almost.
CBSSports.com: What's been the hardest part of being the head basketball coach at Kentucky?
Calipari: Probably the pace of this. I see my picture five years ago from that press conference and I've aged 10 years since then. Minimum. All I know is there's a reason that I look the way I do now and five years ago I didn't look this way. Look, it took me 20 years to get a job like this. Other guys have had these jobs for 20-25 years. It took me 20 years to get a job like this. Coaching at UMass and Memphis -- I loved the opportunities I had there but I'm not sure there are other guys that would say, 'Yeah, I'd like to coach there.' They'd rather be where they were for 25 years. That's why I'm no hurry to run or leave it. It's unique and it's hard but every job is hard in its own way.
Corruption was inherent in the creation of college basketball, now it's out in the open

Gatto is accused of helping funnel approximately $100K to the family of a high school All-...

What you need to know as college basketball coaches and an Adidas executive face bribery c...
Emanuel 'Book' Richardson, Chuck Person, Lamont Evans and Tony Bland have been arrested

The UConn women's basketball coach stepped in to offer up a solution in an education budget...

Duke and North Carolina players will skip ACC Operation Basketball because of new NCAA pol...