BCS ratings: Kansas State passes Oregon
Kansas State passed Oregon for No. 3 in the BCS standings this week, but the Ducks poll position remains solid.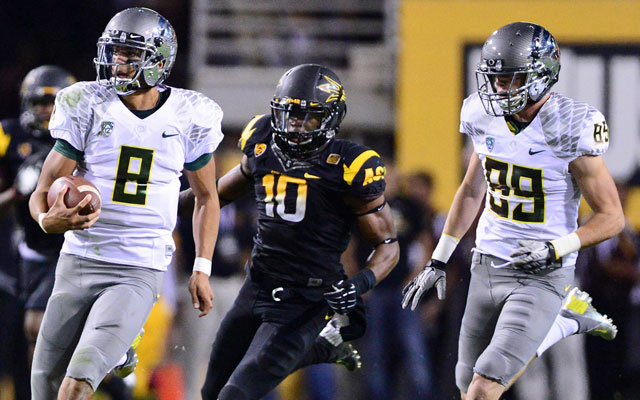 Oregon was passed by Kansas State in the BCS rankings, but their poll position remains strong. (US Presswire)
As I projected earlier, Kansas State passed Oregon for the third spot in this week's BCS ratings on the strength of a win over West Virginia. 
The Ducks moved up a smidge in the computer rankings this week after beating Arizona State, but the Wildcats got more of a boost. 
As close as they were last week, that was enough to move KSU to No. 3.
However, Oregon's poll position remains strong, and as I said last week, that is still the most important factor. 
The Ducks lead poll No. 3 Florida by 105 points in the Harris poll and 74 in the coaches' poll. 
Those are very comfortable margins. 
Oregon has nothing to worry about unless those numbers get much smaller.
Boise State didn't make much headway in the rankings this week, moving up only one spot to 21st.  The Broncos are right behind West Virginia and Texas A&M, but also has Michigan nipping at their heels.  Remember, Boise can automatically qualify if it is in the top 16 and ahead of an automatic qualifying conference champion.  If all six AQ champs are ahead of them though, they must finish in the top 12 to qualify themselves.
Among the top one-loss teams are LSU and Georgia, both of which control their own destinies in the SEC.  If the SEC produces a one-loss champion, there is a possibility the league would not be represented in the BCS title game since 2005, when USC and Texas played for the title.  If there are two major undefeated teams still at the end, the SEC would get aced out.
Weinke was injured when Florida State lost to Tennessee in the 1999 BCS title game

It was one of the busiest offseasons for the assistant coaching ranks

Oliver's star has already been born, but 2018 is when it will truly be recognized
Craig Kuligowski is reportedly leaving Miami to take the same job with Alabama

BT Potter is about to be very popular in the Clemson locker room

McElwain will coach receivers and help coordinate the offense for the Wolverines