The Military Bowl is buying a 290-acre property on the Eastern Shore of Maryland as a retreat for military troops. Returning and wounded veterans, along with their caretakers, will be able to hunt, crab and fish on site, participate in water sports, use an art studio for therapy, and consider what's next in their lives.
It's a rare instance of a bowl purchasing property for charitable efforts. The DC Bowl Committee, which runs the Military Bowl, is paying $2.3 million for the Patriot Point site located outside Cambridge, Maryland, said Steve Beck, Military Bowl president and executive director.
"I have never heard anything like it and I am so proud of Steve Beck and his bowl and what they're doing," said Wright Waters, Football Bowl Association executive director. "Those types of projects are happening to some degree all over the bowl system, but I haven't heard of something like this."
Funding to buy the land is coming largely from Stuart Plank, a member of the DC Touchdown Club Committee, and the Taishoff Family Foundation. The state of Maryland approved a $500,000 bond bill for Patriot Point and the Military Bowl is continuing to raise more funds. USO of Metropolitan Washington-Baltimore is helping to identify veterans to use the retreat.
The existing property has two houses -- one with six bedrooms and one with four. A caretaker lives on the property as well. Operational costs for the first year will be about $250,000, including the hiring of a project manager. The DC Bowl Committee has committed $100,000 a year and the DC Touchdown Club, which is operated by the bowl committee, has committed $50,000 a year, Beck said.
"Yes, it is a big undertaking," Beck said. "The excitement generating from this project is truly overwhelming. It gives us a personal touch. It's nice to write checks and donate money to charities. This is something we can all get personally involved in and host wounded servicemen and women and be part of the rehabilitation process."
The property was previously owned by James Bugg, who has since died. Bugg was involved in philanthropy and served as the chairman of the Yellow Ribbon Fund. He used to informally host wounded and recovering service members at the property. 
"I live not far from Walter Reed Hospital," said Plank, whose brother Kevin runs Under Armour. "You see some of those guys about town. This is truly a mission where they've earned it, man. They've earned it. I don't really view it as a charity, more as a thank you. I've toured the amputee ward at Walter Reed. You see these young men, they're kids. They haven't even started their lives and here they are, you know?"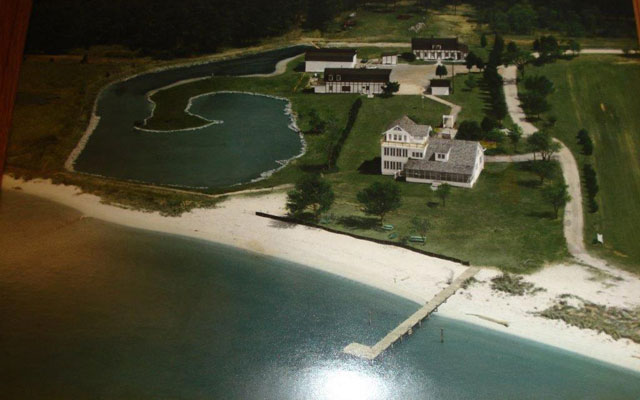 The plan is for the property, which has 2.3 miles of waterfront, to be used this summer before a grand opening in September. Guests will stay between one to three nights.
"We have some veterans who have been in the Washington area for so many years, and this has been a tough time for all of our military," said Elaine Rogers, president and chief executive officer for USO-Metro. "There are those who want to find out what they want to do for the next phase of their life. Whether it's fishing or art therapy, this is an opportunity for them to find out what path they want to go down. We've never had a location we know we can go to all the time and take folks to."
To run the retreat, Patriot Point LLC has been created as a single-member LLC of the DC Bowl Committee. For tax purposes, Patriot Point LLC has the same tax identification as the DC Bowl Committee, Beck said. On its 2014-15 nonprofit tax form, the DC Bowl Committee reported $4.1 million in total revenue, $4 million in expenses, and $400,000 in net assets at the end of the reporting year.
The Military Bowl started in 2008 as the EagleBank Bowl. Northrop Grumman, a leading global security company, is now the title sponsor of the game, which has conference tie-ins with the ACC and American Athletic Conference. In recent years, the game moved from Washington D.C. to Annapolis, Maryland, and had an announced crowd of 36,352 for Navy-Pittsburgh last season at Navy's home stadium.
The purchase of Patriot Point comes at a time when the number of bowl games in college football has been questioned. Military Bowl officials said their game's long-term viability is not why they bought the property. 
This week, the NCAA announced a three-year ban on the creation of new bowls, leaving college football with 40 bowls until at least 2019. 
"I think it's appropriate at this time," Beck said. "See what the future holds with the next cycle coming in 2019. We've been very, very lucky over the last three years with the selections we got. I don't know how we get better than Navy and Pitt."
Increasingly, there are questions within the bowl community about what the purpose of bowls is for college football. Are they a reward for a good season and/or cheap TV programming over the holidays? Are they a way to attract tourism in December and/or provide some exposure for teams and 15 extra practices? Are they an interesting experience for the players and/or a way for them to collect bowl gifts since they can't be paid?
Many bowls do philanthropic work by giving back to their communities. These efforts also help to justify many bowls' non-profit status. No one, however, can recall a bowl spending $2.3 million for a property that it will pay to operate for charitable purposes.
"I'm not going to hold us out there as a model for other people to follow," Beck said. "We have a laser-focus mission to support our men and women in uniform, and our secondary missionary is substantial economic impact in the area we hold a game. This falls right into that main mission. People are coming forward and offering to help. When people see good projects, they really want to get behind it. I would say this isn't just a model for bowl games, but this is what our country is built on."
Follow and read more from Jon Solomon on Facebook and Twitter.