Johnny Manziel picks bad time for worst performance of career
LSU harassed Johnny Manziel into a terrible outing, likely damaging his Heisman hopes beyond repair.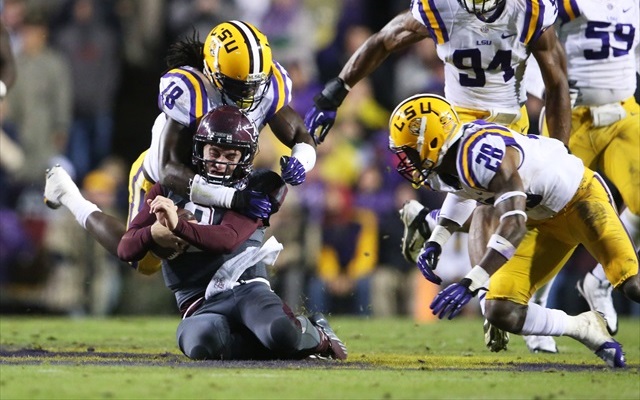 Read 'em and weep, Johnny Manziel supporters: 16 completions in 41 attempts, 39 percent. 224 yards, 5.46 yards an attempt. 1 touchdown, 2 interceptions. 54 rushing yards on 12 attempts, no touchdowns. And just 10 points on the final scoreboard. 
Of the 23 games "Johnny Football" has started at Texas A&M , those 10 points represent the lowest total for his Aggies by a full touchdown -- and the previous benchmark, the 17 points scored against Florida in 2012, was Manziel's career debut. It was his worst completion percentage. His second-worst yards per-attempt. His second-worst mark in total offense. And -- most importantly -- the worst defeat for his team in a game he had started, by 17 clear points.
It was, in short, the worst performance of Johnny Manziel's career. And it came at the worst possible time for his chances of repeating as the Heisman Trophy winner. The LSU game was nationally televised, against a big-name top-25 opponent, on the second-to-last Saturday of the regular season. For many voters, this was their last chance to get a glimpse of last year's Heisman winner before turning in their ballots. And the impression left was of a player rattled in a hostile environment and overwhelmed by the combination of LSU's speed at defensive end and in the secondary. 
That doesn't mean that's a fair impression, of course; John Chavis's defense isn't any faster (though it might be more aggressive) than Alabama's -- who Manziel shredded -- and until Saturday Manziel's track record away from College Station was at least as good as what he'd done at home. (Again, ask Alabama about that.) 
It will also work in Manziel's favor that Saturday wasn't a great one for any of the Heisman frontrunners. Marcus Mariota threw his first interceptions of the season in an ugly loss at Arizona; whether fair or not, Jameis Winston's performance vs. Idaho (which is Idaho) was overshadowed by continued off-the-field headlines; AJ McCarron played well, but also played Chattanooga. (Potentially the biggest Heisman move was made by Boston College's late-charging Andre Williams, whose 263 yards in a win over Maryland took him over 2,000 for the season.)
Still, having won the award in 2012 means that Manziel needed to be a clear cut above his competitors in 2013. And whether or not he has been for most of this season, he certainly wasn't Saturday. What he was Saturday was just another quarterback struggling against LSU in Death Valley -- and one who inescapably looked like one whose Heisman hopes were washing away.
CBS Sports HQ Daily Newsletter
Get the best highlights and stories - yeah, just the good stuff handpicked by our team to start your day.
Please check the opt-in box to acknowledge that you would like to subscribe.
Thanks for signing up!
Keep an eye on your inbox for the latest sports news.
Sorry!
There was an error processing your subscription.
Purdue knocked Ohio State out of the College Football Playoff, and rival Michigan is happy...

The Buckeyes got stomped by Purdue, and now that's all anyone will talk about for the next...

Purdue turned in its most impressive win of the year, and honored Trent with a "cancer sucks"...
The Big Ten's biggest fear may just be starting to come true

NCAA football scores, highlights and updates from Week 8 all Saturday long

Projecting the new AP Top 25 college football rankings after a busy Week 8