No (F)BS: 'FCS' North Dakota State is FBS Top 25 caliber
North Dakota State has won two straight FCS national titles, but Craig Bohl's Bison play big boy football (ask K-State); they just prefer life outside the FBS penthouse.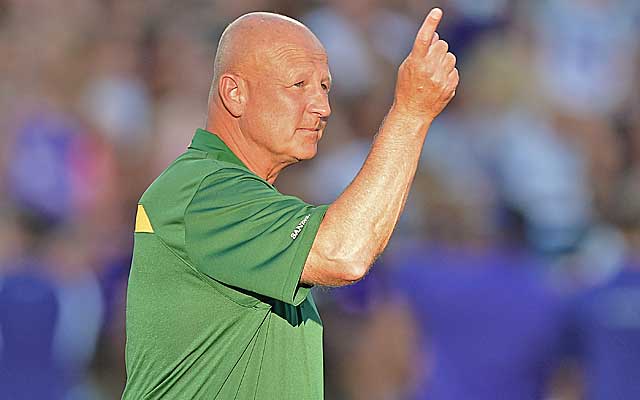 The last thing you expect from the nation's most unlikely top 25 team is confidence bordering on cockiness. For all the niceties that have been broadcast and written about North Dakota State, no one expected this ...
"That victory was not about Kansas State screwing up," Bison coach Craig Bohl said of a season-opening 24-21 win over the defending Big 12 champions that remains one of the biggest upsets of the season. "We were the better team that day."
"Coach, we know Kansas State is good," one of Bohl's players told him before the game, "but it's not like we have to tackle Adrian Peterson. We're pretty good too."
What do they say: It's not bragging if it's true? The Bison could compete favorably in the middle of most any BCS-level conference. They have essentially the same amount of scholarship players as NCAA-sanctioned Penn State and USC.
The line between the top of the Football Championship Subdivision (formerly Division I-AA) and the mid- to lower-level of the Football Bowl Subdivision (Division I-A) has always been blurred. Remember Appalachian State over Michigan six years ago? Sure, but we usually move on with our lives. Big boy football regains our attention.
North Dakota State is a pigskin anomaly. At the moment, and maybe going forward, it deserves top 25 consideration -- in the AP and coaches' polls. There's no rule against it. The Bison have been ranked in this site's Power Poll since beating K-State.
The Bison have won consecutive FCS national championships, 17 games in a row overall. They have beaten an FBS team four consecutive years.
This has been an especially blurred-line season for those types of results. Among the eight FCS-over-FBS decisions during opening week, Eastern Washington became the fourth FCS program to beat a ranked FBS team (Oregon State). McNeese State set a record for points by an FCS team (53) against an FBS opponent (South Florida).
But the Bison's Aug. 30 win at Kansas State was a rarity. It came on the road against a defending BCS conference champion. On the same day that a Bill Snyder statue was dedicated outside a new stadium addition in Manhattan, the Bison tore down some myths.
"While the win at Kansas State was gratifying, it didn't surprise our players or me," Bohl said.
Not exactly small potatoes
Even with 22 fewer scholarships (FCS allows a max of 63), North Dakota State conducts itself in every way like an FBS program. First-class travel, fan support. It even has a walk-on from Hawaii.
The winning drive against Kansas State took almost the final nine minutes off the clock. Quarterback Brock Jensen scored with 28 seconds left. It was old school, it was clinical.
During the streak they have won big (nine times by at least two touchdowns) and they've won small (six times by six or fewer points). The point is, they've won. In Division I (FBS or FCS), only Ohio State has a longer winning streak.
The style and the program are not going away. Bohl, a former defensive back under Tom Osborne and an assistant under Osborne and Frank Solich, likes to run the ball and play defense. That philosophy is the antithesis of modern college football with its up-tempo, zone-read offenses.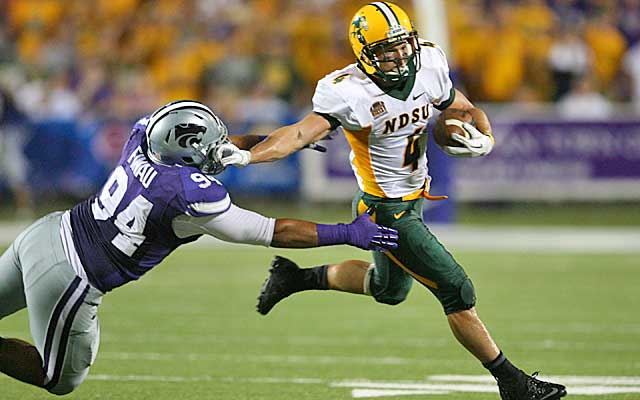 "College football has changed a great deal," Bohl said. "We have tried to be flexible but there are certain principles that come into play ... we're taking the opposite approach. Time of possession is really important to us."
Imagine that. A national cable network moved its pregame show to Fargo for a weekend. The Bison have been ranked No. 1 in FCS since the beginning of the season but the real story has been hidden: North Dakota State is a top 25 program, and not only in FCS.
At the highest level.
"When you start talking about [comparing us] Ohio State or a couple of the other teams, I get that," Bohl said. "But when you're talking about the middle of the pack of the top FCS schools, you're looking at schools that would be in the middle of the pack of most BCS leagues."
It's been that way for years. But few know, or care. There are few potential NFL draft picks to obsess over. (A guy like Joe Flacco from Delaware is the exception.) There are few major markets in FCS. Even fewer story lines. The pride of Fargo, N.D., is a nice story for a week on GameDay but the buzz soon dies.
The reason goes back 35 years. FCS has been around since 1978 when Division I subdivided into I-A and I-AA. Back then Harvard played in the same division as Michigan. Promised money and their own playoff, those I-AA schools gladly accepted being cut out of the herd.
The playoff provided a road map for FBS, which had resisted one for so many years. I-AA/FCS has not been profitable. The schools were separated from the billions that eventually flowed to the BCS conferences. That was the unstated intent of the I-A schools.
Booming in FCS
There is "not a lot" of talk about moving up, according to NDSU AD Gene Taylor. There's something to be said for knowing your limitations. But six years after that upset of Michigan, Appalachian State cannot resist. Figuring it has accomplished all it can in FCS, the Mountaineers are transitioning to FBS.
"Be careful what you wish for," said Patty Viverito, football commissioner of the Bison's conference, the Missouri Valley. "You have an equal chance of being the next UMass."
UMass is in its second year of full FBS membership after spending 74 years at lower levels. The Minutemen play in the New England Patriots' decidedly non-collegiate stadium 40 miles from campus. Most significant, the program is, well, competitively challenged.
UMass is 2-19 since moving up.
There are five such schools transitioning to FBS this season according to the NCAA -- Old Dominion, Georgia Southern, Texas-San Antonio, App State and Georgia State. Any similarity between those programs and Alabama is in label only.
Those schools' presidents know they are in for a money-losing venture. But having "FBS" slapped on your football program brands you as a big time.
"Bingo," Viverito said.
North Dakota State has no such aspirations, being that it is big time in its corner of the world. Taylor's athletic budget ($17 million) is one-fourth that of Kansas State's ($68 million). The Bison play in the city-owned Fargo Dome before rabid crowds who will camp out overnight for tickets.
The North Dakota economy is booming. If athletic success follows money, the Dakotas could be the next Texas. The Bakken Formation has made the state the second-largest oil-producing state after Texas.
If the Bison meet Sam Houston State (located in Huntsville, Texas) for a third consecutive year in the FCS title game, it could be a symbolic meeting of the past and future of college football itself.
Hey, if Lubbock and College Station can have championship dreams, why can't Fargo? The only difference at this point in any of them may be a label.
"Even when they're dominant they're so much fun," Viverito said of the Bison. "How can you not like them?"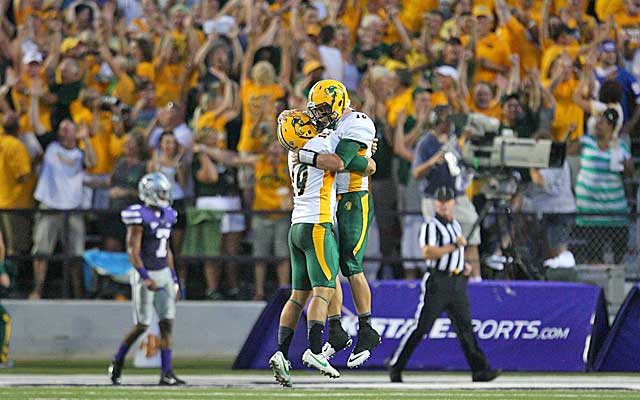 At this level, the radio guy doubles as the operations guy. Jeremy Jorgenson flies out to road games early to make sure the hotel is set, team meals are arranged and the buses are on time. He's also in charge of the 19-city affiliate network and sells advertising.
"There is no entitlement," Jorgenson said.
He was talking about the players, but he might as well have been talking about the whole Bison vibe. Viverito and the Valley presidents had their reservations when North Dakota State was moving up from Division II and inquired about membership.
The Valley was a bus league, provincial. A league of friends and familiar faces.
"By the time they were ready to join, they were already proven," Viverito said.
Proven as loyal Valley members who were willing to laugh at themselves. After the 2011 national title, the NCAA mailed the championship banner to the University of North Dakota. Think of Duke getting North Carolina's championship banner.
"We wrote a letter to the NCAA saying it shouldn't happen, 'You're better than that,'" Taylor said.
After their team has won it in consecutive years, the FBS title game is now a moveable feast for Bison fans in Frisco, Texas.
"They run out of beer wherever their fans go," Viverito said.
A pep rally at nearby Dr. Pepper Ballpark was filled to capacity, 10,000 fans. There was one stipulation: They couldn't go on the field. After buying up a load of merchandise -- and beer -- a stadium official promised they could have the run of the place the next time.
"We've never experienced such friendly drunks," Viverito recalled being told by one of those officials.
Two years ago, she ventured to Fargo for a December playoff game. Taylor had invited some neighbors who brought some of their home brew, Wood Chipper Beer. If you have to ask the meaning, you don't know why Fargo is famous for another reason.
"They play hard, they work hard," Viverito said. "They're kind of humble folks. I really do liken them to [St. Louis] Cardinals fans. They're really proud of who they are, but that doesn't get in the way."
And the Bison aren't going to stop tormenting FBS schools. Maybe Conference USA and Sun Belt schools won't schedule them -- too dangerous -- but ...
"If you're a BCS school -- Oklahoma or Missouri -- they should be confident enough [to play us]," Taylor said. "We bring a lot of fans. We help pay for the guarantee, which helps a little bit."
Bohl has spent 11 seasons creating a program in the image of Osborne's old Nebraska powerhouses. Most of the roster is from the Dakotas and Minnesota. They don't look especially big or fast at first glance, but they were big and fast enough to beat Kansas State. Before that, FBS schools Colorado State (2012), Minnesota (2007, 2011) and Kansas (2010) went down.
Bohl is 5-2 playing "up." That leads to the next logical conclusion. He should be on a lot of FBS Ads' short lists.
"A couple of schools, if they called, I'd be nervous," Taylor said. "Where he is financially, it would take a special job."
Bohl, 57, signed an eight-year extension that takes him through the 2021 season. His yearly salary is reported at $205,000, but records show he earned $367,000 in fiscal 2012-13. That's tip money on Nick Saban's tax return.
There's a lot less pressure earning a $2,500 bonus for winning the Missouri Valley than coping with the episode he endured at Nebraska. The Husker native son was run out of Lincoln in 2002, fired as defensive coordinator by Solich.
Both coaches have reinvented themselves away from Nebraska -- Solich at Ohio, Bohl in Fargo. The difference is North Dakota State probably would be favored today if the teams met on a neutral field. "I chose to say, 'You know what? Put a whistle around my neck,'" Bohl said. "This is my 11th year here. I'm not bitter at all."
"Craig Bohl is definitely a legend," Jorgenson said. "Whether he stays or not, he will have lifelong legendary status. People love him."
And that's reason enough -- for Bohl to stay in Fargo, and for NDSU to stay in FCS.
Playing like it belongs in FBS.
College football bowl games were all announced on Sunday, and you can check out the entire...

SportsLine simulated every bowl game 10,000 times for pick'em leagues and confidence pools

Everything you need to know to watch and pick the Las Vegas Bowl on Saturday
Everything you need to know to watch and pick the Camellia Bowl on Dec. 16

Everything you need to know to watch and pick the New Mexico Bowl on Dec. 16

Everything you need to know to watch and pick the Cure Bowl on Saturday