Northwestern coach Pat Fitzgerald testifies against player union
Northwestern coach Pat Fitzgerald spoke to the National Labor Relations Board in Chicago on Friday.
• 1 min read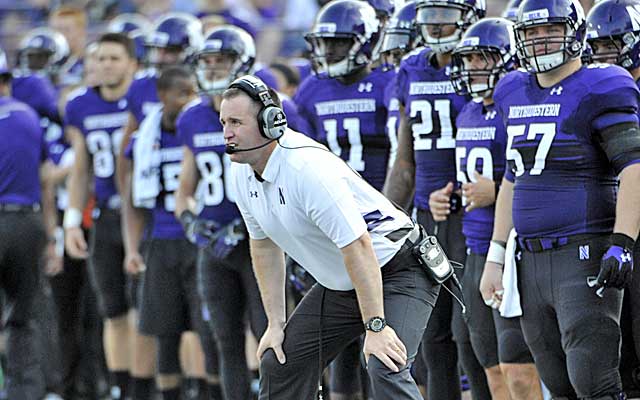 The hearings in Chicago regarding the efforts of Northwestern players to unionize continued on Friday with a testimony from Wildcats head coach Pat Fitzgerald. 
Fitzgerald's testimony is considered a key point for the National Labor Relations Board, as it will help the group determine if the Northwestern players are in an employer-employee relationship as a member of the football program.
One argument from the College Athletes Players Association (CAPA), one of the groups supporting former quarterback Kain Colter and the unnamed Northwestern players who signed union cards on Jan. 26, is that coaches control the players' "compensation" with their ability to pull a scholarship.
The players are hoping that unionization will give them bargaining rights and a voice in matters of sports-related medical expenses and the guarantee of a scholarship; the "compensation" for student-athletes.
Fitzgerald told the NLRB that "it's not our practice" to pull scholarships, and he cited times when players have been excused from practice to focus on their studies as an example of Northwestern putting academics before athletics. 
Fitzgerald told Barbour that he believes the student-athlete experience is all-encompassing — the athletic endeavors or an athlete are mixed with their academic and social endeavors. He said he believes in the ideal of the student-athlete, and that his players are not employees.

However, CAPA lawyer Gary Kohlman pointed out that in a Chicago Sun-Times article last year that Fitzgerald — who initially denied this sentiment — called being a student-athlete a "full-time job." The question was related to increasing player stipends, which Fitzgerald supports. He clarified his stance after reading his quote.

"It's a full-time job from a responsibility standpoint," he said.
The hearings are scheduled to continue on Tuesday, after which the NLRB regional director will review the case and make a decision. 
The CAPA is not expected to stop with Northwestern, in fact Notre Dame finance professor Richard Sheehan told CBSSports.com that a private school like Rice or Duke could be the next target for unionization. 
SportsLine's Barrett Sallee has gone 29-14 against the spread the last two weeks and loves...

Gary Danielson previews the SEC on CBS Game of the Week, Tennessee at Alabama

Dennis Dodd tells Chip and Barton why the Pac-12 is in trouble after upset weekend
USC may be the Pac-12's last chance to get in the College Football Playoff this year

Four top-10 teams fall on one of the biggest shake up weekends of the 2017 season

Jerry Palm breaks down his 14 remaining contenders along with our SportsLine projections