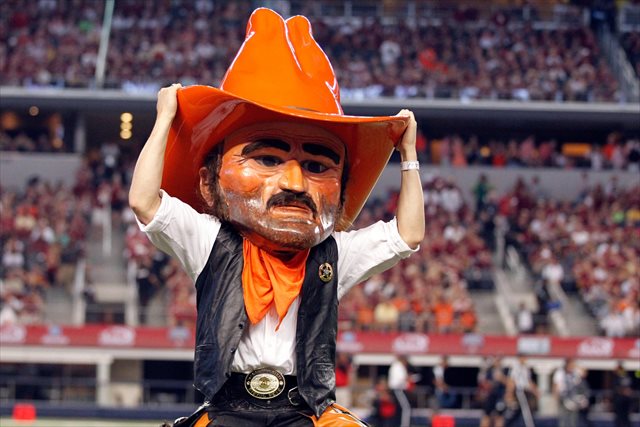 Oklahoma State has filed a lawsuit against New Mexico State over the Aggies' use of a gunfighting mascot OSU claims is "confusingly similar" to the Cowboys' "Pistol Pete."
According to Albuquerque's KRQE, the suit accuses New Mexico State of plagiarizing the mascot and says Oklahoma State has asked NMSU to "cease and desist from its infringement, but it has failed and refused to do so."
Both schools' mascots are based on the same late-1800s real-life cowboy and gunfighter, a man named Frank Eaton, with storied ties to Oklahoma and New Mexico, respectively. Borrowing Eaton's "Pistol Pete" nickname, the Cowboys began using the mascot in the 1920s, per a statement, with NMSU adopting an extremely similar mascot -- currently known officially as "Classic Aggie," though still called "Pete" on this NMSU athletics page -- in the 1960s.
The school moved away from its original "Pistol Pete" logo towards its current version in 2004. According to this PDF history of the New Mexico State logo hosted by NMSU's official site, NSMU originally paid the Cowboys a royalty in exchange for using the Eaton-based mascot. 
New Mexico State issued a statement in response to the suit Tuesday:
We have just learned that OSU has filed a lawsuit claiming it has exclusive rights to the character some call Pistol Pete and which we here at NMSU call Classic Aggie. The basic character has served as mascots for both schools — OSU and NMSU — for many decades.  We were surprised that OSU took this step, but are in communication with its legal and academic representatives and are confident that good sense will prevail and that this court action will lead to an agreement that will allow both schools to carry on their respective uses of characters that are part of their academic and athletic traditions.
For its part, OSU also issued a statement in which it says "the university is strongly opposed to any effort to infringe upon its trademarks and will take the necessary steps to protect its rights to the Pistol Pete marks."
It seems a bit odd that this strong opposition has only developed in 2014 after some 50 years of more-or-less shared use of "Pistol Pete" -- and some 10 years after the logo change -- but given the current climate for vigorous college athletics trademark protection, it also doesn't seem like a surprise.