Power and water shut off, Huskers' Bell paid bills with bartender gig
Nebraska wide receiver Kenny Bell couldn't come up with the cash to pay his utility bills. So the senior started slinging drinks at a Lincoln watering hole on top of his training as an elite college athlete.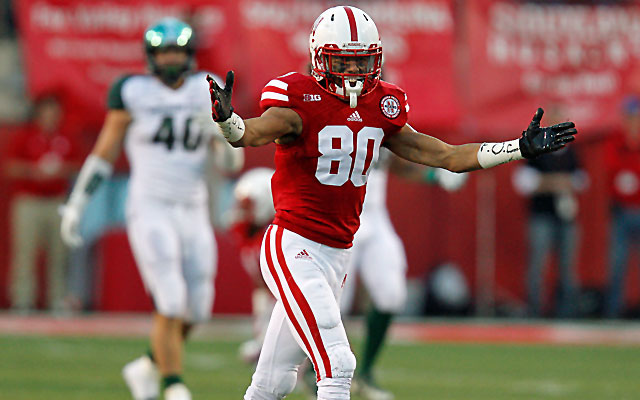 Conference previews: ACC | Big Ten | Big 12 | SEC | Group of Five/Independents
When the lights went out and the faucets went dry, it finally hit Kenny Bell.
He had to get a job.
"I didn't have a choice," said Bell, Nebraska's senior receiver from Boulder, Colo.
"At one point I came home and I had no power in my house and my water wasn't running. I hadn't paid my bills."
And he had no immediate prospects as to how to pay those bills. He was out of money. This was last summer in the drudgery of workouts. After some time off, he had returned to the residence he shared with defensive tackle Tobi Okuyemi. The utilities had taken their own bye week. Actually more.
"I went without power for like a week and half," Bell said. "I didn't go home. I stayed up at the stadium until I would go to sleep because I couldn't do anything at my house.
"All the lights were off. It was terrible."
So Bell -- an ethnic studies major carrying a double minor (history, sociology) -- hit the bricks. He snagged a job as a bartender at Lincoln watering hole The Bar.
In that sense, Bell was the typical college kid. Backed into a financial corner, he slung beers, mixed Jack and Cokes. Bell periodically worked double shifts -- 3 p.m. to 3 a.m. -- sometimes totaling 30 hours a week.
Some in that situation would have at least called home to get the power turned back on. A young adult balancing football, books and a dark house made an admirable decision.
"What kind of 22-year old man, is like, 'Hey Mom [I need money]'?" Bell said. "I want to say, 'I'm a man. I take care of myself.'"
And so he did. Bell enters 2014 having led the Huskers three straight years in receiving. He could leave the program as the all-time leader in receptions and yards. Fans love his old-style Afro. Dude definitely has a sense of style.
His story -- that of the modern college athlete -- has the most vitality. While the NCAA allows it, for any major-college player to hold a job of lasting substance is thought to be a near impossibility. Everyone pretty much agrees that athletes go beyond the NCAA-mandated 20-hour work limit for their sport.
"People don't understand we're at the stadium from 7 in the morning to 9:30 at night. They have no idea," Bell said. "They see us play on Saturday and score a touchdown and how much fun we have. That looks fun. Yeah, that's fun except I've been training the last nine months to do it."
And within that training has emerged a tale that speaks to the current state of that modern college athlete. Not all of them have their power turned off. Few of them are able to hold jobs. But at one extreme of a widespread nationwide argument are situations like Bell's.
Sure, they get a free scholarship. Sure, they get the best of everything. But athletes are also asked to put their bodies on the line, study into the wee hours. Then do it all over again.
Football overwhelms. But get a job? Ridiculous, unless the lights went out and it was impossible to shower. Bell has scores of allies out there.
"I've got, I think, $15 in my bank account right now," Iowa State center Tom Farniok said this summer. "I couldn't get a job this summer."
That needs to be qualified. Farniok was lucky. He had an unpaid internship in the athletic department this summer that could help him toward his goal of being a strength coach.
Still, Farniok makes a point:
"Until regular people understand we're not regular people, they're not going to get it," he added. "We sacrifice a lot to try to put a good product out on the field for them. They flat out do not know what it's like to live that lifestyle."
Bell dived right in as a bartender. Tobi worked the door. At closing time Bell kept his head down and retreated to the back to wash dishes. No sense in a Huskers football player getting mixed up in ushering drunk knuckleheads onto the street.
Think of that visual: A star receiver at a Big Ten football factory taking drink orders.
"Let's start with how blessed we are and how lucky we are," Bell said. "We get an opportunity. We get an education. We get more connections than anyone could ever ask for, which is all fantastic.
"But when you talk about capitalism, people use the word 'exploited' because we're athletes. People don't come to the game to watch the coaches on the sideline. They come to watch the players play the game.
"The fact that guys barely have enough money to pay their bills, get gas, can't really take their girlfriends out for a movie very often. It's a tough thing when you talk about multibillion-dollar TV contracts."
Bell isn't necessarily complaining. He doesn't have all the answers. Growing up in Boulder, he was good friends with former Northwestern quarterback/union provocateur Kain Colter.
Bell probably didn't need that free scholarship. The son of a former NFL player (Kenny Bell Sr.) is also the loving stepson to a successful computer software security salesman (Dan Campbell).
"I'm from affluence," Bell said. "They could give me money if I needed it, but that's embarrassing, you know?"
Scores of other players do need that scholarship. It's the only way they can matriculate through school. The national argument has revolved this year around player compensation. The stakeholders have decided it's better to compensate athletes than to worry about any competitive advantage.
A recent study showed the variance in cost of attendance from $1,580 per athlete to $5,660.
Bell will be out of eligibility before that cost of attendance can be implemented in 2015. The same for gathering earnings from a post-eligibility trust fund made possible by the O'Bannon ruling.
He'll be out of school before players see any benefits from a union. Meanwhile, he's still struggling.
Bell broke it down: Because he lives off campus, there is a monthly scholarship check totaling about $800. There's $400-$500 for rent, maybe $100 for utilities. Fill the gas tank. That leaves maybe $150 spending money for the month.
"And they wonder why people sell memorabilia, or tickets?" Bell said. "Guys that play college football work just as hard, if not a lot harder, than people in college at that time. People don't realize that we wake up in the summer every day at 5:30 to go work out. That's not their fault."
The last time he slept past six, not counting Sundays and a few brief days off during the year?
"High school," Bell said.
Those who don't realize the situation aren't ignorant, per se, but "ignorant in that they don't know. They're not aware of what's going on. They don't realize the dedication that goes into the game."
"I'm all for equality and trying to treat people equally but let's be realistic here," Bell added. "What do you think the city of Lincoln makes on a Saturday in the fall? I'm not talking ticket sales, I'm talking concessions, parking, hotels, restaurants.
"Ten million? I think it's safe to say."
All over the college universe, perhaps light bulbs are clicking on.
Guice was ruled out for Saturday but convinced Ed Orgeron to let him play in a limited rol...

Greg Huegel suffered a knee injury during Wednesday's practice

The Wildcats and Utes open conference play on Friday night
Eichorst's firing on Thursday sets Riley's seat ablaze, even if a decision won't be made i...

Eichorst had been at Nebraska since 2012

Three straight titles makes it seem like 'Alabama and everybody else' in the SEC