Quick Hits: No. 9 Texas A&M 59, Missouri 29
Johnny Manziel made his final Heisman statement by leading the Aggies to a blowout of their old Big 12 rivals.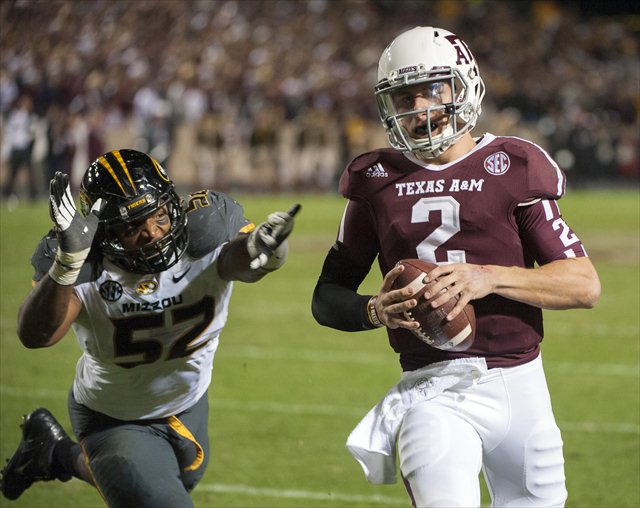 Missouri tried everythign but couldn't contain Johnny Manziel (AP)
TEXAS A&M WON. The battle of who would adapt more quickly to the SEC had long since been decided in Texas A&M's favor over Missouri, but the Aggies and Johnny Manziel put an exclamation point in that little head-to-head debate by throttling the James Franklin-less Tigers from start to finish. With 3:30 to go in the first half A&M was leading 42-0 and had already outgained the Tigers 436-70, ending any chance of the upset that would have sent Missouri to their seventh straight bowl. Instead it was yet another highlight-show performance for Johnny Manziel, who did nothing to hurt his Heisman chances by hitting 32-of-44 for 372 yards and 3 touchdowns and adding 67 yards and two more scores on the ground.
WHY TEXAS A&M WON. That Manziel kid had a lot to do with it, and it wasn't just the eye-popping stats in the box score--it was his efficiency and steadiness, too, as shown by connecting on all 8 of his first 8 third-down throws for 8 first downs. As he has all season, Manziel made the spectacular plays -- most notably two more of his patented "break tackles and scramble around for long enough to brew and drink a cup of coffee before throwing for a score on goal-to-go" touchdowns -- but he made plenty more of the routine plays that kept the chains moving and played an even bigger role in the Aggies' ginormous lead.
But some credit is due the A&M defense, too, which took advantage of Corbin Berkstresser's struggles under center to hold the Tigers to a grand total of three first downs on their first five possessions. While Kevin Sumlin has gotten plenty of plaudits for his handling of Manziel and the Aggie offense, his hire of Mark Snyder to overhaul a defense that wasn't putting together stops like that of virtually anyone under Mike Sherman  -- quarterback-starved Missouri offenses probably included -- has been no less key to their weekly, decisive bolts out of the gate.
WHEN TEXAS A&M WON. Oh, let's say the fifth Aggie touchdown to start the game, Manziel's 12-second scramble and toss to Mike Evans for a 35-0 lead with 7:23 to play in the second quarter. The Aggies haven't been good at putting teams away even under Sumlin, but even they were never going to be in danger of throwing away a 35-point advantage. 
WHAT TEXAS A&M WON. The Aggies were eliminated from the SEC title race with LSU's win Friday, but going 10-2 a year after Sherman somehow pulled a 6-6 season from the jaws of  9-3 is awfully sweet all the same. The victory (and Manziel's obvious allure) won't hurt their standing in the SEC's bowl pecking order, either. 
WHAT MISSOURI LOST.  The end of the bowl streak stings, but what might be even worse is seeing exactly how much work remains to do to become a contender in the SEC. Not only did the Tigers finish 2-6, but their four games against the league's 2012 upper crust -- Georgia, Alabama, South Carolina, and A&M all ended in blowouts, and only the Week 2 loss to the suspension-ridden Bulldogs was even competitive at halftime. The good news is that the Aggies' transformation suggests it's possible to go from SEC also-ran to major SEC factor in a major hurry; the bad news for Gary Pinkel is that it took a coaching change to make it happen.  
Nick Saban reportedly wants to hire Freeze, but there may be things keeping that from happ...

Florida State-Miami will be on Oct. 6, and the Seminoles will play Clemson on Oct. 27

Weis Jr. was an offensive assistant for the Atlanta Falcons in 2017
Lott is joined by three current athletic directors and will serve a three-year term

These are the top guys every school is still chasing

College football lost a ton of star power, but these players are studs going into next fal...