Who is the best coach in the Power Five conferences? It was a simple question with a rather easy answer for us here at the CBS Sports, but what began as a light debate turned into a rather heavy one once someone finally asked, "How would you rank all the Power Five coaches?"
So that's what we did.
We treated it just like we would treat a top 25 poll with six voters turning in separate ballots of all 65 coaches (we included Brian Kelly of Notre Dame). Those votes were compiled into one final poll. Our six voters were Matthew Coca, Dennis Dodd, Robby Kalland, Chip Patterson, Jon Solomon, and of course myself, Tom Fornelli.
There were no set parameters for how we would rank the coaches. We simply ranked which ones we felt were the best in the business based on what we think makes a coach good or great.
For instance, in my ballot, I kept new coaches that haven't actually led a team yet at the bottom of my poll. I might think Kirby Smart will be successful at Georgia, but he hasn't actually coached a game yet, so until he does, he and the other assistants stepping up for the first time were kept at the bottom of my poll. While the other voters didn't follow this as strictly as I did, it did seem to be a theme.
One note: Unlike last year, we did not include BYU in these rankings, which are down to 65 teams instead of 66 teams.
Be sure to check out the first half of our rankings, 65-26.
Let's get to the top 25.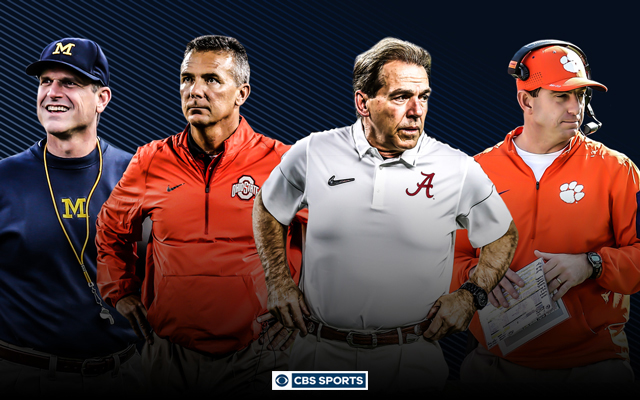 25. Bobby Petrino, Louisville (Last year: 19): We open the top 25 with Petrino, who fell six spots from last year's ranking after an 8-5 season. I can't help but point out, however, that Louisville was a much stronger team at the end of the season than it was the beginning, and if that improvement carries to 2016, Petrino will climb a few spots next year.
24. Rich Rodriguez, Arizona (23): Arizona took a step back, but it didn't have a large impact on how we feel about RichRod. If the Wildcats don't improve in 2016, though, odds are he'll fall out of the top 25.
23. Kyle Whittingham, Utah (30): Whittingham had built Utah into a power in the Mountain West, but the transition to the Pac-12 was proving difficult. Now, after a 10-3 record last season, the Utes have won 19 games the last two years, which is enough to vault Whittingham into the top 25.
22. Bret Bielema, Arkansas (18): While Bielema's personality isn't for everybody, it's hard to argue with what he's done as a coach at Wisconsin and now at Arkansas. Not only did the Hogs have their best season under Bielema, winning eight games, but after winning only two conference games in Bielema's first two SEC seasons, the Razorbacks won five last year. That's a major step forward in a very difficult division.
21. Hugh Freeze, Ole Miss (31): Freeze has won a lot of games at Ole Miss, but the 2016 season could be make-or-break for his reputation. A lot of the big-time recruits Freeze first brought to Oxford heard their names called at the NFL Draft last week. Now we learn if Freeze can maintain the momentum he's built, or if the Rebels will take a step back without that stellar recruiting class. Oh, and the NCAA might play a role in that outcome, too.
20. Mike Gundy, Oklahoma State (24): Oklahoma State was one of the most pleasant surprises in the Big 12 last season as the Cowboys won 10 games and earned a spot in the Sugar Bowl. While that game didn't go very well, it still marked the end of the fourth 10-win season Gundy has had in the last six seasons.
19. Kirk Ferentz, Iowa (36): Ferentz had been quite successful for some time at Iowa, but before the 2015 season, things had been pretty average for five straight years as the Hawkeyes averaged 6.8 wins and only managed to finish higher than fourth in the division once. Well, a 12-2 season and a Rose Bowl berth go a long way to restoring some of your reputation.
18. Mark Richt, Miami (7): Richt takes a big step back in the rankings, falling 11 spots. This is no doubt a result of a third-straight season of failing to live up to high expectations at Georgia, especially in a season in which the SEC East was so very winnable. Now Richt has moved on to Miami where we'll see if a fresh start is enough to get him back into the top 10.
17. Bill Snyder, Kansas State (16): Snyder and his Wildcats had a down season compared to what we're used to seeing, but given the strength of Snyder's overall resume and just how hard of a job Kansas State is to win at consistently, there was no way we could knock him down further than one spot.
16. Mark Helfrich, Oregon (14): After winning 24 games in his first two seasons at Oregon, Helfrich found life without Marcus Mariota a bit more difficult. It didn't hurt his ranking too badly, but if Oregon finishes with eight or nine wins again this season, Helfrich won't plummet but will likely be closer to falling out of the top 25 than climbing to the top 10.
15. David Cutcliffe, Duke (32): Cutcliffe has won 27 games the last three seasons at Duke. Let me repeat that with some added emphasis: David Cutcliffe has won 27 games the last three seasons at Duke. So even if the Blue Devils took a small step back, the fact they were able to win at least eight games for the third straight season at Duke only boosts Cutcliffe's stock.
14. Chris Petersen, Washington (12): Petersen was definitely considered a top-10 coach while at Boise State, but he's gone only 15-12 in two seasons at Washington. That's definitely hurt his stock, though Washington was a young team in 2015 and it handled itself rather well considering its lack of experience. If Petersen is still the coach we thought he was while at Boise State, the Huskies could be poised to make a big step in 2016, which would no doubt boost Petersen back to the top 10.
13. Gus Malzahn, Auburn (10): Malzahn falls out of the top 10 and only drops three spots, but he's on the precipice of falling much further. Things started out magnificently when Auburn won 12 games and played for a national title in his first season, but the Tigers have won only 15 games the last two years, and they severely underperformed compared to their expectations in 2015. Another down season will see Malzahn's stock plummet ... and possibly seeking new employment.
12. Brian Kelly, Notre Dame (13): Notre Dame is coming off its best season since 2012, when it last played for a national title. The Irish went 10-3 as Brian Kelly proved that he wasn't just a one-hit wonder in South Bend; he can continue building a storied program. Can he do it again, though? That's the question that's keeping him out of the top 10.
11. Art Briles, Baylor (11): While I can't speak for all six of us, in my mind, the only thing that is keeping Briles out of the top 10 is the lack of postseason success. His teams have torn it up in the regular season but fallen short in both the Fiesta and Cotton Bowls. Still, if you look at how Briles basically re-invented his offense last year after his team was ravaged by injuries, it's clear that he is one of the best coaches in the country. He just needs to knock off some big schools from outside the Big 12 in major games before he finally makes that final leap.
10. Jim Harbaugh, Michigan (9): If these rankings were based on the amount of attention the coaches receive, Harbaugh would be No. 1 by miles. Being No. 10 isn't that bad, though. He showed up in Ann Arbor and took a Michigan program that had struggled in previous seasons and posted 10 wins right out the gate. Simply put, Michigan looked like Michigan again last year, and it's been a long time since we could say that. Without Harbaugh, we wouldn't be.
9. David Shaw, Stanford (20): Then there's the man who replaced Harbaugh at Stanford. Shaw was ranked No. 20 last year because, after winning 34 games his first three seasons, Stanford fell to 8-5 in 2014 and the doubts began to creep in. Was Shaw living off what Harbaugh had built before him, and was that foundation crumbling? Not according to the 2015 results, he wasn't! The Cardinal went 12-2 last year, won the Pac-12 and then destroyed Iowa in the Rose Bowl, and the result is David Shaw is now one of the 10 best coaches in the country.
8. Dabo Swinney, Clemson (22): Dabo brought his own guts and brought out the best of his players last season, leading Clemson all the way to the national title game against Alabama. He was probably undervalued in these rankings last year and now we're correcting our mistake with the man who has now won 56 games in the last five seasons.
7. Les Miles, LSU (4): Miles was almost fired after last season, and depending on whom you want to believe, the only reason he wasn't was that the school couldn't afford to do it. While the last two years have not been up to the standards Miles has helped set at LSU, he's still ranked this high because he does still have that national championship and two SEC titles under his belt. 
6. Jimbo Fisher, Florida State (8): It says an awful lot about Fisher that a 10-3 season at Florida State last season counts as a "down" year. Yes, the Noles took a small step back last season, but they were also replacing a lot of key players and were a young team. This is a team that's mostly back intact in 2016 and is poised to compete for another ACC title and playoff berth. That's what Fisher has built in Tallahassee, and that's why he's creeping up on the top 5.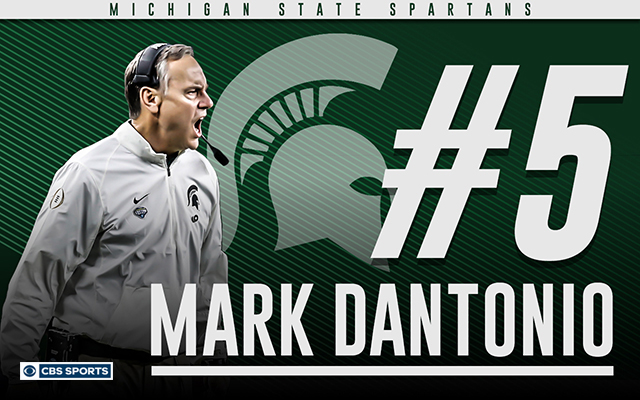 5. Mark Dantonio, Michigan State (15): I'm sorry, Mark, but you can no longer claim we are disrespecting you with our rankings. We probably were last year, we'll admit it. No. 15 was a bit too low. That's our bad. Posting your fifth season with at least 11 wins in the last six years, and winning your third Big Ten title in that span, was finally enough for us to see the light.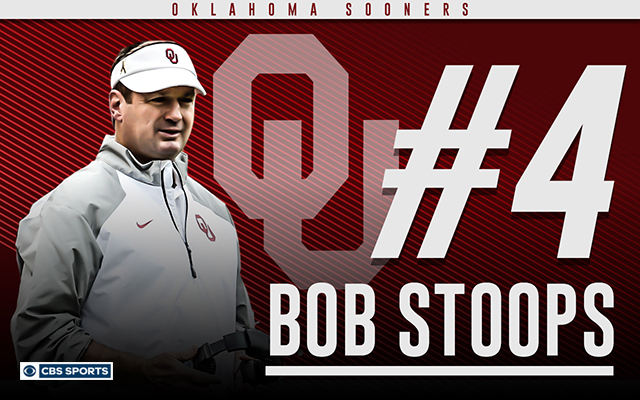 4. Bob Stoops, Oklahoma (3): We received a lot of grief last year when we had Stoops at No. 3 because the Sooners were coming off an 8-5 season. In the minds of many, one bad year was enough to erase eight conference titles and a national title. The Sooners then responded by getting Stoops his ninth conference title and a berth in the College Football Playoff. Now I'm sure we'll people will tell us we're idiots to rank Stoops this high because Oklahoma lost to Clemson in the Orange Bowl. And that's fine. We're more than OK with you being wrong about Stoops.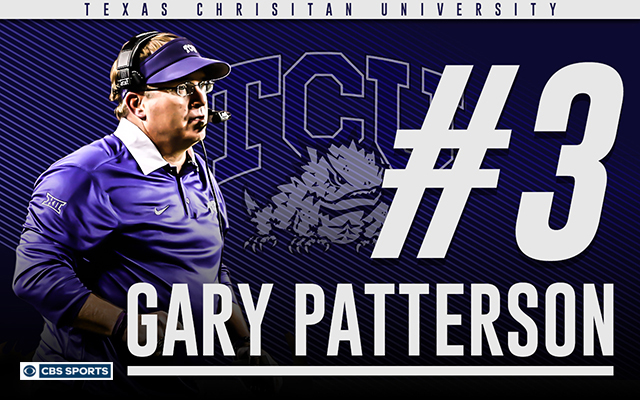 3. Gary Patterson, TCU (5): The first two years in the Big 12 were rough for Patterson and the Horned Frogs, but things are back in order the last two seasons. TCU has gone 23-3 the last two years, winning a Peach Bowl and putting together a comeback for the ages against Oregon in the Alamo Bowl. What's most impressive to me about last year, however, was how TCU nearly beat Oklahoma in Norman at the end of the season without Trevone Boykin or Josh Doctson. In my mind, that just helped prove that Patterson is one of the best coaches in the country, and he's done so at a school that isn't exactly considered a power player.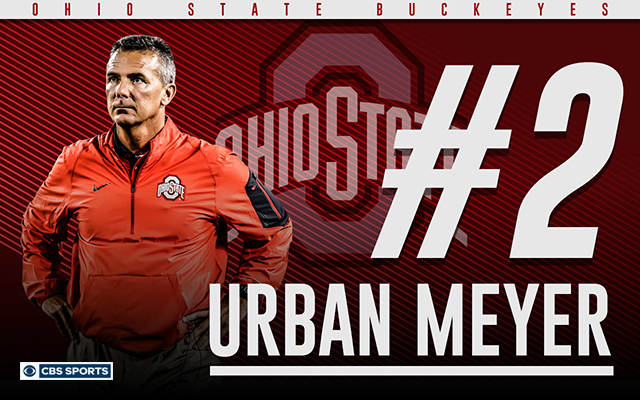 2. Urban Meyer, Ohio State (2): Last year was a disaster for Meyer at Ohio State. By disaster, we mean Ohio State lost a regular season conference game. It was the first time it ever happened under Meyer in Columbus. Still, even after that disappointment, arguing against what Meyer has built with the Buckeyes is a fool's errand. Just look at how many players the Buckeyes had selected in last week's NFL Draft and realize that, despite losing all that talent, the Buckeyes will head into 2016 as the favorite to win the Big Ten and a definite contender for Meyer's fourth national title.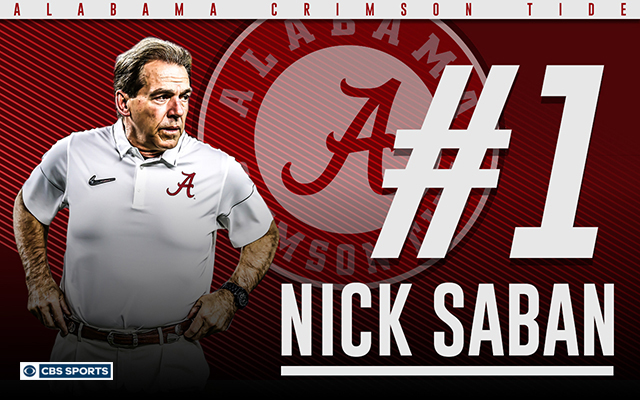 1. Nick Saban, Alabama (1): Listen, Saban was No. 1 last year ... and then he went out and won his fifth national title. He was our unanimous choice as No. 1 (Meyer was a unanimous No. 2 as well) because, honestly, who else are we going to put here? He's been at Alabama the last nine seasons, and the only time he failed to win at least 10 games was in his very first season. Alabama has become the most dominant college football program in the country because of Nick Saban, and until he decides to hang it up, it's going to be hard to pass him in these rankings.