Report: FSU looking to stop sale of Jesus-themed Jameis Winston shirts
Jameis Winston is dubbed The Chosen One, on a new Florida State T-shirt that uses his likeness. The school issued a cease and desist letter, according to TMZ.
• 1 min read
Florida State's athletic department has issued a cease and desist letter to a fan selling T-shirts depicting redshirt freshman quarterback Jameis Winston as Jesus Christ, according to TMZ.
The fan told TMZ that 100 of the "Chosen One" shirts were sold for $20 each last weekend. The school is looking to avoid any potential NCAA issue by putting an end to the sale of Winston's likeness. It is not an uncommon occurrence for schools, particularly one with the visibility of Florida State, to deal with such issues. The comparison to Jesus is what has raised the interest of TMZ and others.
Check out a photo of the design below, via TMZ.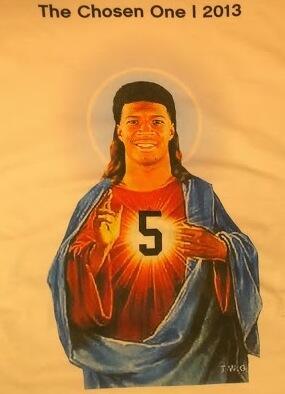 Air Force was forced to cancel 11 athletic events because of the 69-hour government shutdo...

Olson has a lot of the tools offensive coordinators want in a quarterback

The Tigers have a wealth of talent at their biggest position
Pineiro received the award for stopping an attack the morning of Oct. 15, 2017

The first opening weekend lines for college football in 2018 have been posted

A year-end wrap-up of college football statistics you need to know from 2017