Report: SEC lists $314.5M in revenues on 2012-13 tax return
The SEC's federal tax return, reviewed by USA Today, shows even more revenue than the league projected last summer.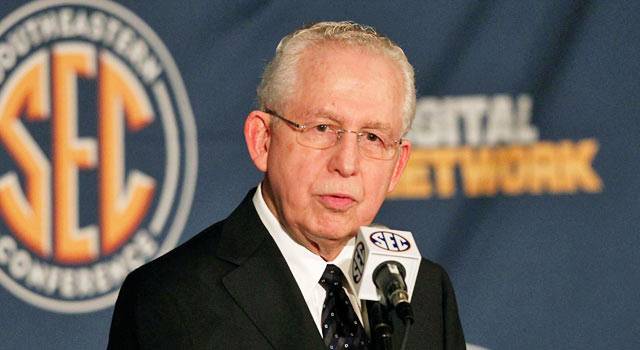 The SEC's federal tax return showed revenues of more than $314 million for the fiscal year 2012-2013 -- a record figure for the league and some $24 million than the conference itself projected last spring. But it's not quite enough to match the Big Ten ... yet.
USA Today's Wednesday review of the league's 2012-2013 return showed a distribution of "around $21 million" per school for the 12 universities other than newcomers Missouri and Texas A&M. Those schools received $19.5 million, an increase of some $7 million apiece from their 2011-2012 distributions in the Big 12.
USA Today also reported that Mike Slive's "base compensation" for the 2012-2013 fiscal year was set at just under $1.2 million. Though that represents a 25 percent raise over his previous year's salary, it still left Slive's base pay behind the ACC's John Swofford, the Pac-12's Larry Scott, and the Big Ten's Jim Delany.
When the SEC announced distributions of $20.7 million per team at the end of its 2013 spring meetings, those figures lagged behind those reported for the Big Ten (which set the per-school distribution at $25.7 million). And the $314 million in total revenue for the SEC in 2012-2013 trailed the $315 million reported by the Big Ten for its 2011-2012 return. 
So the SEC still has a bit of a gap to close where the Big Ten is concerned, and likely still will when it releases its figures for the 2013-2014 fiscal year. But the SEC Network kicks off this August -- meaning that 2014-2015 is the year when the revenues arms race will truly be one worth watching.
College football bowl games were all announced on Sunday, and you can check out the entire...

SportsLine simulated every bowl game 10,000 times for pick'em leagues and confidence pools

Everything you need to know to watch and pick the Las Vegas Bowl on Saturday
Everything you need to know to watch and pick the Camellia Bowl on Dec. 16

Everything you need to know to watch and pick the New Mexico Bowl on Dec. 16

Everything you need to know to watch and pick the Cure Bowl on Saturday