Revenge Week begins with Bama denying there is a Revenge Week
It's all about payback for Alabama, whose only loss last year was to Texas A&M.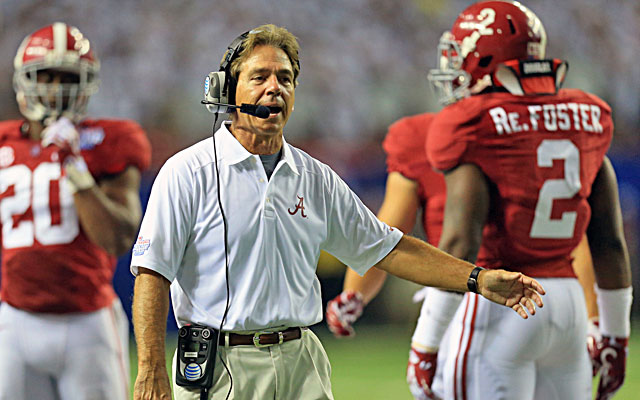 TUSCALOOSA , Ala. – There was a moment Monday – almost indiscernible – when Nick Saban rubbed his fingers together similar to the "cash money" gesture made famous by a certain Texas A&M quarterback.
"If you take care of the cents," Alabama's coach said as A&M week dawned on the world, "the dollars can add up."
A good analogy, perhaps, for the Tide's disciplined march toward a possible third consecutive national championship. Not the best choice of words considering the polarizing gesture is Johnny Manziel's and how it can be interpreted. Unless you've lived under rock for the past year here at the capstone it's hard to explain to those … who have lived under a rock.
"What's he [Manziel] done wrong?" Bama receiver Amari Cooper asked, stone-faced.
Either these Alabama players have been been coached up to clam up or they're really that isolated in Saban's system here in the Mal M. Moore Athletic Facility. Maybe a little bit of both.
The building serves as college football's ultimate production line. Excellence in, excellence out. Meanwhile, the outside world can go stand over there in a corner somewhere. This is where players are recruited, molded, strengthened and refined. Don't bother them with storylines going into the biggest game of the season -- No. 1 Alabama at No. 6 Texas A&M.
So when Cooper is filled in on Manziel being investigated by the NCAA and getting booted from the Manning Passing Academy – just to name two of his offseason headlines – the receiver really is clueless.
"I heard it but I really didn't get in-depth with it," Cooper said.
Neither, apparently, have the rest of the Tide. At least that's the scripted word out of the Moore building. It's about what they do this week. And what they do is impressive, starting with Saban who is 15-2 in so-called "revenge games" since coming to the SEC.
You may have noticed his paybacks are a witch. 
"To me it's just not a revenge thing," Cooper said. "If we wanted to get revenge, we'd have to play that same team last year with the same team we had last year. If you lose a fight to someone, you don't get revenge by fighting someone else."
Nice try, Amari. This A&M game is all about making up for that hiccup that disrupted the Crimson Tide continuum. In fact, it is something bigger. The Manziel brand took off that day. He was trending most days in the offseason. It's possible that, this week, good guys wear Crimson. No matter what your opinion of Alabama, the world view on Saturday just may be it is an upright citizen's brigade coming in to spank a petulant child.
OK, so cheesier metaphors have seldom been used. Still, you can't spell avengement without A&M.
The Aggies had the temerity to walk into Bryant-Denny Stadium last November and shock the Tide 29-24. The game served as a jumping off point for both Manziel's Heisman run and – strangely -- Alabama's second consecutive national championship.
You assumed the former the day, last November 10. You/me/all of Alabama should have been shocked at the latter. They tell you not to lose late. Bama did, at home, to a 15th-ranked team with two losses. 
"Going down 20-0 in the first quarter, that was a first for me …," linebacker C.J. Mosley recalled of the A&M game. "I thought, 'Man, this is not going to happen two times in a row.'"
But it did. An undefeated Bama lost in November for the second consecutive year, but somehow survived to win a championship. The program is taking the latest threat to its throne predictably. Saban had the screens in the weight room programmed to show 2013 opponents' film in the offseason.
When the A&M game came up, it had the desired effect.
"I watched every minute of it," Mosley said. "For a defensive player, it was a smack in the face, especially that first quarter. Fans and word around town was that it was going to be a revenge game. But what's the point of playing for revenge? It's all about playing to our standard."
Saban's Bama isn't much for excuses from that game 10 months ago but some are readily available. The Tide were drained physically and mentally from the previous week's last-minute win at LSU. For one of the few times in the Saban era, Bama had to be a comeback team that night. 
"It was exhaustion, really," quarterback AJ McCarron said. "It was a long game, a full 60-minute game. Playing there, takes a lot out of you. [But] we have no excuses. We came in here the next week and lost."
Monday, then, was one of those days around the Moore building, which is to say it was like every other day. The players kept bulletin boards everywhere blank. Saban talked of subjects like "undisciplined eye control" and keeping Johnny Football in the pocket.
But really, it is all about the Tide. This should be their moment win or lose. That's the story. This should be all or nothing. No team inthe BCS era has lost in first three weeks and still won the national championship.
The Tide have been in bigger games, frequently. Alabama has played six No. 1 vs. No. 2 games since 2008. 
It should be Revenge Week but somehow it doesn't feel like it. And if it does deep inside the Mal M. Moore Athletic Facilities they're keeping it too themselves. 
"People who get emotional," Saban said, "sometimes don't make the best decisions." 
Will Michigan put a dent in Penn State's magic season and Saquon Barkley's Heisman campaig...

Alabama covered a spread of over five touchdowns at home in a rout of Tennessee

Bolu Olorunfunmi jumped onto and over an Oregon defender on a 22-yard run
Keeping tabs on the biggest scores and highlights from Week 8 of the 2017 NCAA football se...

Smith was cited after being stopped at a DUI checkpoint

The Cowboys somehow move to 3-1 in the Big 12 after holding off the Longhorns in OT