Rutgers AD Julie Hermann: would be 'great' if local paper 'died'
Controversial Rutgers athletic director Julie Hermann has courted contrvoersy again, telling journalism students she hopes the local Star-Ledger goes out of business.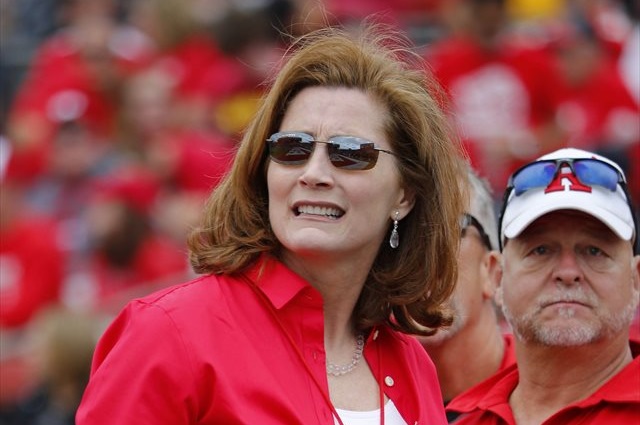 The controversial nature of Julie Hermann's hire as Rutgers athletic director amid the fallout of the Mike Rice abuse scandal -- a hiring made despite allegations that Hermann herself verbally and emotionally abused players as Tennessee's volleyball coach in 1997 -- meant that many would have advised Hermann to carefully avoid making any potentially negative headlines for the forseeable future.
But 10 months into her tenure, Hermann is back in the news for reasons that have nothing to do with Scarlet Knights' athletics. New Jersey Star-Ledger columnist Steve Politi reported Monday that Hermann recently told a class of Rutgers journalism students it would be "great" if the Star-Ledger went out of business.
From Politi's column, a transcript of the exchange:
"If they're not writing headlines that are getting our attention, they're not selling ads – and they die," Hermann told the Media Ethics and Law class. "And the Ledger almost died in June, right?"

"They might die again next month," a student said.

"That would be great," she replied. "I'm going to do all I can to not give them a headline to keep them alive."
The comments will have particularly stung in the Star-Ledger offices, where 167 employees were laid off last week. Asked for comment, Rutgers issued a statement saying that Hermann had no knowledge of the forthcoming layoffs, and was commenting "in an informal way and out of the glare of the media spotlight."
If there's an issue with Hermann's comments, it's not the opinion itself they expressed; she's entitled to that opinion, and after the Star-Ledger broke the story regarding her alleged abuse at Tennessee that led many to call for her dismissal, it would be stunning to learn that Hermann wasn't holding something of a grudge. 
The issue is electing to express that opinion in public. However popular or unpopular the Star-Ledger may be with Rutgers fans, openly hoping that a local business that employs hundreds "dies" is never going to be the politically savvy move -- and expecting that a conversation with an entire classroom of journalism students (many of which might have envisioned themselves working for the Star-Ledger someday) would somehow remain private doesn't seem like the shrewdest reading of the situation, either. That the Star-Ledger gave Hermann a chance to at least partially back away from her comments -- to specify, for instance, she wouldn't be happy to see dozens of New Jerseyites out of work -- and she apparently did not won't win her any points with those sympathetic to the paper's situation, either.
Again: whatever Hermann thinks of the Star-Ledger in private is absolutely her business. But making what she thinks of the paper public (inadvertently or not) is a miscalculation that takes the focus off of her achievements as an athletic administrator -- and again reorients them towards whether she can remain composed enough, perceptive enough, to effectively lead the Rutgers' ailing athletic department.
The Alabama QB has a new look after the Tide claimed another national title

Young was injured during Miami's Orange Bowl loss to Wisconsin

The movie will zero in on former Penn State coach Joe Paterno during the Jerry Sandusky sc...
Bidding for Salaam's trophy, which the auction house says was obtained legally, ends Satur...

Locksley has been the offensive coordinator at Illinois and Maryland during his coaching c...

Many NFL-eligible juniors ignore advice provided by the league and risk going undrafted each...