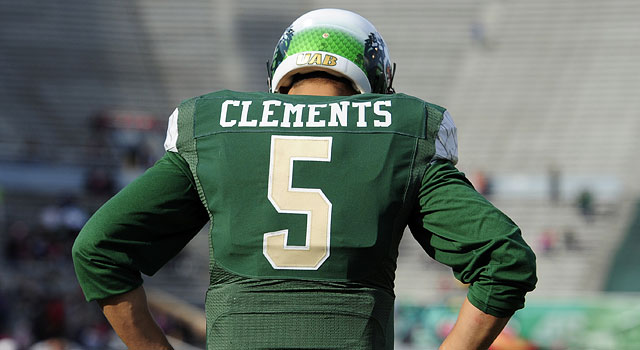 UAB football will be shut down after the 2014-15 season, the school confirmed on Tuesday. 
The announcement comes after weeks of rumors, protest and growing concern about the program's future following a department-wide analysis of all sports. At the conclusion of the review, the school determined that 2014-15 would be the final academic year the school sponsors football, bowling and rifle.
"The fiscal realities we face — both from an operating and a capital investment standpoint — are starker than ever and demand that we take decisive action for the greater good of the athletic department and UAB," UAB president Ray Watts said. "As we look at the evolving landscape of NCAA football, we see expenses only continuing to increase. When considering a model that best protects the financial future and prominence of the athletic department, football is simply not sustainable."
UAB is the first Football Bowl Subdivision/Division I-A school to drop football since Pacific in 1995.
UAB football players leave in tears after meeting with president. pic.twitter.com/FSQXI99db5

— Jon Solomon (@JonSolomonCBS) December 2, 2014
In 2014, Bill Clark's first year as head coach, the Blazers finished 6-6 to become bowl eligible for the first time since 2004, the year of the program's only bowl appearance. However, with more bowl eligible teams than bowl bids and the current Conference USA bowl ties, it is not guaranteed that UAB will be invited to a bowl game.
Multiple reports released Sunday noted that athletic director Brian Mackin was on the verge of being fired and the football program could be shut down. As a result, UAB students protested the school's potential decision to shut down the program, chanting and carrying signs at a rally held Monday.
Concern about the future of the program began when UAB's president and athletic director released noncommittal statements regarding a strategic study of the school's athletic department. UAB's football boosters are concerned, as Clark's contract does not extend beyond 2016 and the Blazers have no non-conference games scheduled beyond 2016, either.
CBSSports.com's Jon Solomon wrote extensively about the issues with UAB's facilities, Clark's plans for the future, and what could have been in store for the program should UAB commit to its future. Administrators have raised concerns given the money lost by the athletic department, but Solomon wrote last week that there are 26 athletic departments at public universities in the Group of Five conferences that reported a larger deficit than UAB in the 2012-13 year.