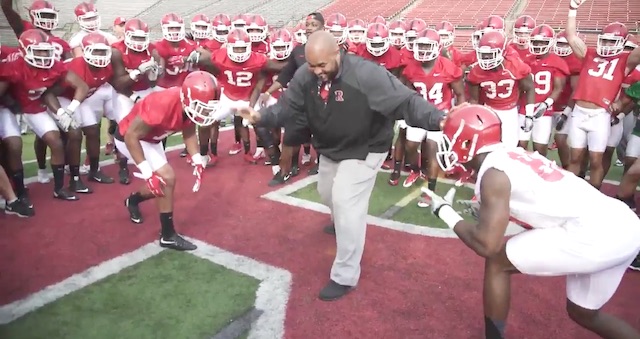 Football practice can become monotonous, particularly in the spring when there isn't an actual game you're building toward at the end of the week. 
So it's important to make sure that practice doesn't become an endless slog toward the end of a session by finding ways to have fun. A lot of times the most fun thing that happens in practice is the Oklahoma drill -- or similar drills in which teammates lock horns and go one-on-one as the rest of the team watches.
At Rutgers, the Knights have their Ring of Honor drill, though it's a bit different than what you'd expect to see on the practice field.
The Ring of Honor... Gone wrong! pic.twitter.com/PI9Vi0c7HS

— Chris Ash (@CoachChrisAsh) April 22, 2016
That's probably the same dance members of the Rutgers athletic department did when they read about the Big Ten's reported television deal.