COLLEGE PARK, Md. -- The best kicker in college football booted the ball and then stopped his routine to look at himself on an iPad.
Maryland's Brad Craddock wasn't suddenly distracted. He needed instant feedback after his field goal attempt at practice. Did his jab step and left arm function properly? Was his hip making the correct movement? Had any bad habits developed that he could immediately fix instead of wasting 30 practice kicks with poor technique?
There were no coaches at Byrd Stadium on this late-August morning. They had more pressing duties with the rest of the Terrapins team on nearby practice fields. That meant Craddock was in charge -- as he always is -- to script the routines of Maryland's kickers, punters and long snappers while they waited for those rare moments when the entire team needed them in practice.
"I'm going to see if the snappers can lift now. What do you think?" Nate Adams, the Terps' long snapper on punts, asked Craddock. Craddock advised Adams to wait since they have team conditioning in a little bit, even though Craddock acknowledged Adams' frustration that it's "annoying" not to lift during dead time.
"Brad sort of takes charge," backup kicker Adam Greene explained. "A lot of coaches out there aren't exactly kicking coaches. We all hold each other accountable."
This scene at Maryland plays out in college football programs around the country. No position requires more precision than kickers, punters and long snappers. Yet, they're largely on their own to learn their skill, adjust to technique problems, properly communicate with coaches about training, and cope with the pressure attached to positions in which perfection is viewed as the only option.
Where else in the regimented world of college football would coaches allow a whole group of players to go off on their own to learn their craft? Craddock, who won college football's Lou Groza Award in 2014, arrived from Australia in 2012 and couldn't believe how hands off college coaches are with kickers.
"That was a big surprise when I came over here," said Craddock, who learned to kick by playing Australian rules football. "Kickers win games. They're the highest scorers on the team. It's weird for me, but that's how it is. A lot of kickers have different techniques so say you have a specialized coach and he can't adapt to you. It could really mess with you. It's a tough one to really talk about. A lot of kickers need coaching. Obviously I need it, and I go somewhere else to get it."
After Craddock endured a rough freshman season (two missed extra points, 10 of 16 on field goals), he asked independent kicking coach Michael Husted, a retired nine-year NFL kicker, to help. But Husted lives in California, so he recommended former 19-year NFL kicker Matt Stover, who lives in Maryland and taught Craddock how to own being a kicker.
"I don't think a lot of college coaching staffs know how to prepare the specialists so they're healthy and fresh and they know when the ball is in their hand or on their foot they have the utmost confidence to perform," Stover said. "That's what it comes down to -- the ability for that player to know he has done everything he can to perform at the highest level he possibly can."
Maybe there's so little proper specialist training on campus because so few college coaches have kicking or punting expertise. CBS Sports reviewed the backgrounds of every special teams coach at a Power Five conference team and found only two who used to be a punter or kicker. Texas A&M special teams coordinator/tight ends coach Jeff Banks was twice named an All-Pac-10 punter at Washington State, and he kicked in junior college. Kansas State associate head coach/special teams coordinator Sean Snyder was an All-American punter at Kansas State.
"That's interesting. I had no idea," Snyder said. "I don't know that there's an intent or reasoning behind it. There's probably not too many kickers and punters who want to get into the coaching world, but certainly it helps if you have that knowledge as a coach. It can be unforgiving when you're a kicker or punter."
How Craddock learned to be a kicker
Craddock is a perfectionist. This is a requirement as a specialist.
He can't recall the kicks he makes, but he can remember the misses with precise details. The misses never totally go away, such as Craddock's 54-yard miss against Rutgers last season that ended his streak of 24 straight conversions, tying a Big Ten record. That miss was Craddock's last field goal attempt of the season so he had to sit on it all offseason.
"Left hash, wind going right to left a little bit," he recalled. "It was right on my distance. I aimed two yards inside the left upright because I knew if I aimed too far to the right I'd hit the crossbar or come up short. Hit the thing dead pure and missed by two inches to the left. That's kicking. No one's perfect. I just wish I would have been."
Craddock's frustration likely increased after Week 1, when he missed an extra point and a 28-yard field goal attempt. After the PAT miss, Craddock tossed his helmet on the sideline. Terrapins coach Randy Edsall remarked to reporters after the game that everyone learned Craddock was human after all.
At a practice in August, Craddock's perfectionism was on display. He planned to kick about 28 to 36 balls that day given that there was a scrimmage the next day. Instead, Craddock kicked about 40 because Edsall caught him off guard by calling for a few more kicks with the team.
How many times Craddock kicks in practice is huge. Even if he's having a bad day, he will stop at the maximum number in his head.
"The best way of looking at it is like a pitcher in baseball," Craddock said. "If you throw him the day before a game, he's not going to be good come game day. You hit 30 or 40 more balls and you really don't need more than that, and if you do, you're just messing with technique and you're tired."
Craddock had never been a place-kicker before Maryland switched him from punter to kicker two weeks before his freshman season started. "Yeah, that was a fun year," he said dryly.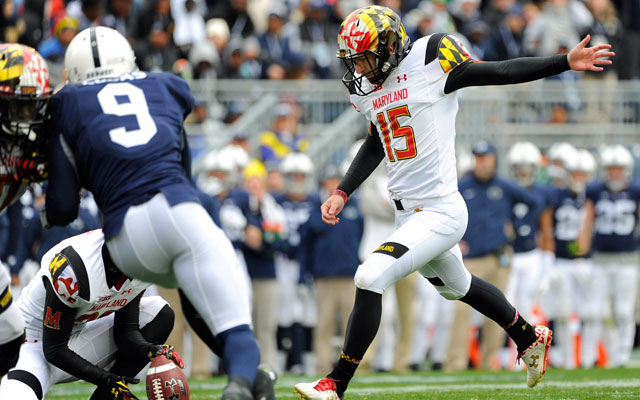 Stover retooled Craddock by working on his technique, of course. But the most significant lesson Craddock learned from Stover was to devise a plan for everything associated with kicking. Details matter -- all of them.
Having a plan meant Craddock had to understand how to dissect his own mistakes on the field since Stover can't be on the Maryland sideline during a game. In turn, understanding his mistakes allowed Craddock to teach teammates.
"It's kind of the most important thing," Craddock said. "Being able to coach other people really helps you understand what you're doing. It's the same like if you're studying for an exam, and if you can teach people what's going to be on the exam, then you're going to do pretty well. If you can't teach it, then the understanding probably isn't that great."
Having a plan meant Craddock had to train and eat properly. Craddock initially weighed about 185 pounds, bulked up to 197, but felt chunky and stiff so he reduced his weight to 192. Stover doesn't believe added strength creates a more powerful kicker. His philosophy is to train for durability so the muscles will hold upon contact with the ball.
Having a plan meant Craddock had to learn negotiation skills with coaches about his needs as a kicker. During his sophomore year in 2013, he thought some lifting routines required by Maryland coaches weren't helping so he had a sit-down with Edsall and strength and conditioning director Drew Wilson. Craddock said Edsall and Wilson fully supported changing his regimen to more endurance lifting in order to keep his leg fresher later in the year.
"I was really nervous going to have those conversations because you don't know how a coach is going to react, especially when you haven't been here very long and they don't really know you that well, either," Craddock said. "I don't know if it happens without the backing of someone like Matt. I was preaching what he was preaching, not just what I thought. I had evidence behind what I was saying and the coaches listened to me."
Edsall welcomed the input and told Craddock and Stover that they're the experts on kicking, not him.
"I've never had a guy like Brad," Edsall said. "He's one of a kind with his leadership. I empower Brad a lot on what he wants to do during the week. People on the team don't look at him like here's our kicker; they look at him like he's a football player. He knows better than me. He's a coach."
The hands-off approach by Edsall works beautifully for Craddock, who this year is trying to improve his kickoffs with a new technique. He gets his help on the side from Stover about once a month. Learning to coach himself and others could be a valuable tool next year when Craddock tries to kick in the NFL.
But the question still remains: Given how much specialists can make or break games, why do these players have to learn on their own in the first place?
Staff sizes, culture prevent college kicking coaches
The most common answer to this question: It's a numbers game. The NCAA allows nine on-field assistants (more staffers are permitted to help behind the scenes), there are only a handful of kickers, punters and long snappers per team, and coaches historically leave these players on their own so they don't think it's necessary.
Stover estimates that half of college kickers use a personal kicking coach. Husted and Stover plan to soon take online presentations to college coaching staffs to train them on kicking. "It's kind of funny how a lot of these colleges think they know it. They don't know," Stover said. "It's like the difference between someone who plays golf and someone who plays in a tournament."
The lack of kicking/punting experts on college staffs is predominantly due to staff size restrictions and budget issues, "but there's a culture issue as well," Stover said. "There's not that importance because college coaches feel the kicker should know already. What they don't get is the kicker is 18, 19, 20 years old. When I had a young kicker compete against me in the NFL, I loved it. I already knew how to prepare and stay fresh. The kid thought he knew, but he didn't know and he always ended up in the training room with a sore quad."
Alabama defensive coordinator Kirby Smart, who will likely be a head coach one day, said the problem is a kicking coach might have no expertise handling the other 10 special teams players on the field at the time.
"Kicking and punting is an important role, I agree, and you'd like to have an expert in that area," Smart said. "But most people who are an expert in that area aren't experts in the other 10 people covering the kick. So you don't want to put all your eggs in that basket and have nobody to cover the actual coverage. That's a tough sell to hire someone to just do that."
Maryland does not have a special teams coordinator. Andre Powell, who served in that role  in addition to coaching running backs, joined Pittsburgh's staff last January. After Powell left, Edsall decided to split special teams duties among several assistants instead of having one coordinator.
"Coach Powell was an unbelievable special teams coach -- by formation, he knew punt inside out, he knew kickoff and kickoff return inside out," Maryland long snapper Christian Carpenter said. "What he didn't know was kicking, snapping or punting. He'd just be like, 'Snap and kind of do that. Is that hard?' I'm like, 'Well, it's not really that.' He'd say, 'Just kick the ball. See, watch.' And he'd kick it like two yards."
The Terrapins are hardly alone in leaving specialists on their own. Among teams in Power Five conferences, Kentucky, Virginia Tech, Purdue, Maryland, Indiana, Northwestern, Baylor, Oklahoma State and Iowa State don't list a special teams coach or coordinator on their roster.
Nine Power Five teams use a special teams coach who doesn't work with another position: South Carolina, Michigan, Wisconsin, Nebraska, Kansas State, Colorado, Washington State, Stanford and California. For special teams coaches who have divided duties, the most common extra position they coach is tight end (40 percent), followed by fullback/running back (23 percent), linebacker (19 percent) and defensive backs (13 percent).
Where did Power Five special teams coaches play during their career? The No. 1 answer is defensive back (22 percent), followed by running back/fullback (17 percent), linebacker (15 percent) and wide receiver (12 percent). The lack of punting and kicking expertise somewhat surprised Sean Snyder, a former punter who is Kansas State's associate head coach and special teams coordinator.
Because kickers are punters are rare breeds, Snyder leaves them alone at times to work on their craft. In that sense, Snyder views them like a golfer or a baseball hitter working on their swing. But Snyder is also there to watch film and offer critiques rooted in his own expertise.
"People don't realize that a kicker and punter may wind up kicking 200 balls a game with warm-ups and everything else, and maybe only put three or four on the field," Snyder said. "There's a lot of things they need coaching wise that when there's not someone at that place that really has some knowledge, it's tough."
Will true kicking/punting coaches ever gain steam in college football? Most coaches think it would happen only if the NCAA allows 10 full-time coaches on the field -- a topic advocated by some coaches for years but frowned upon by lower-resourced schools who can't afford extra staff.
"That would alleviate the problem," Edsall said. "Ideally, you need to have one more full-time coach to be able to staff it the way you'd want to staff it."
Do specialists even want a regular coach? Maryland's kickers, punters and long snappers pondered that question during a long break at practice in late August. They had completed their heavy work before the rest of the team arrived and, sort of like bullpen relievers, there was time to kill.
"I think relying on each other makes us better than if we had a coach," said Carpenter, the field goal long snapper. "If I have a bad day, I'd rather talk to (fellow long snapper) Nate (Adams) or Brad than any kind of coach."
"But what if you actually had a guy who knew what he was doing and he was an expert at it?" asked Greene, Maryland's backup kicker and who also works with Stover. "If you really need some help, you go on to YouTube and look at a video and you're like, 'All right, let's learn about kicking,' or you go find a book about it. Eventually, you find another kicker who has had a trainer and it's almost passed on from generation to generation."
Danny Sutton, another Terps kicker and a recent Towson transfer, added this: "Every special teams coach I've ever worked with, they really don't know much about kicking and the techniques of it, and then they tell you stuff, and honestly, it kind of makes it worse because you're not going to disobey them. I don't know why all Division I teams don't hire kicking coaches."
Shortly after the dialogue, Craddock pulled Greene aside and they watched in slow motion on an iPad a missed practice kick by Craddock. Greene pointed out to Craddock that because of his shoulder placement, his hip got blocked and caused the ball to be pushed high and right.
There was no coach to help. There were two kickers coaching each other, passing on whatever knowledge they possess within the isolated world they inhabit.
Follow and read more from Jon Solomon on Facebook and Twitter.