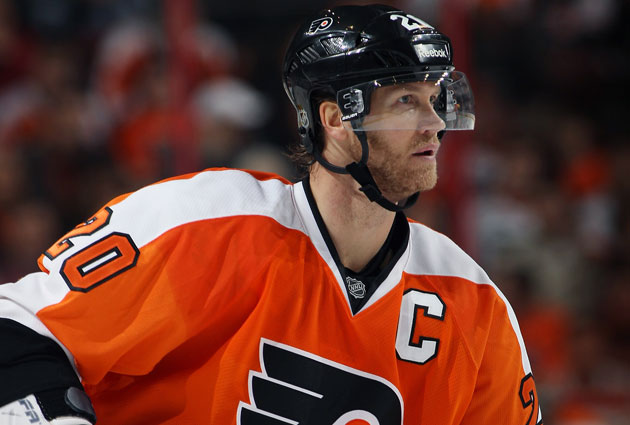 More NHL: Scores | Standings | Odds | Fight-O-Meter | League Leaders | Rumors
It has been well over a year since Chris Pronger last played for the Philadelphia Flyers. While he hasn't officially announced his retirement, it's a sure bet that his career is done after he took a stick to the eye and suffered a concussion.
He has been visible around the Flyers, but he has remained quiet. That was until now.
Sportsnet's Dan Murphy interviewed Pronger, which will air in two parts starting Wednesday night. There are some snippets of that interview that have come out early, and they paint a scary picture.
"What happened was, I had 30-year-old eyes. I got hit and the doctor told me I had 60-year-old eyes," Pronger said. "I don't have very good peripheral vision. That so-called sixth sense? I used to have a really good one. Now, I couldn't feel anyone coming around a corner. My kids scare me all the time.

"That used to be what I was known for: knowing where everybody was; having a feel for who was around me. Now I don't have that."
Yikes!  It's not just the hockey-playing part of that that's intriguing; it's the personal part.
The timing of this is rather bizarre. The interview is going to be aired just a day after Rangers defenseman Marc Staal took a puck to the eye in a scene that was somewhat reminiscent of what happened to Pronger.
Pronger is still on the Flyers' salary cap. Of course, he'd be on the cap regardless because he signed a 35-plus deal, which means it remains on the cap whether the player retires or not. However, don't expect him to return.
At this point, his day-to-day activities are still returning to normal.
"It's gotten a little bit better. I can leave the house, go do the stuff," he said of the symptoms that followed a stick in the eye, Oct. 24, 2011, and a subsequent head trauma in a game about three weeks later. "If I do too much I may get a headache. Occasionally, if I start to feel a bit better I do a bit more, and I get nauseous."
It's certainly not a storybook ending for Pronger, who will go down as one of the premier defensemen. Like him or not -- and many don't -- you have to respect his ability on the ice, which was always as good as it gets.
For more hockey news, rumors and analysis, follow @EyeOnHockey and @StubitsCBS on Twitter, subscribe to our YouTube account and like us on Facebook.