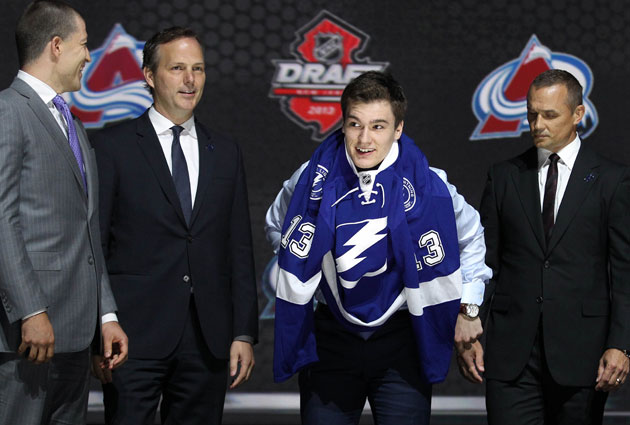 More NHL offseason: Rumors | Top 50 Free Agents | Top 50 Prospects | Mock Draft   
With the third overall pick in the 2013 NHL Draft, the Tampa Bay Lightning selected forward Jonathan Drouin.
There was a shakeup before the Lightning's selection at No. 3 when the Florida Panthers passed on Seth Jones. It looked like the Bolts were considering trading down but instead kept the pick and took Drouin, a dynamic, playmaking forward from the Halifax Mooseheads of the QMJHL.
Drouin is a bit undersized but that is nothing new for the Lightning. They have had plenty of players prosper who were small before, such as Martin St. Louis. He skates very well and is probably the best stick-handler in this draft. He has a lot of skill and the potential to be a big-time player in the NHL.
It seemed like the Lightning might select Seth Jones given he was surprisingly still there when they picked No. 3 and that they always seem to have a glaring need at defense, but they stuck with what was surely their plan coming into the draft and took Drouin. It's tough to pass on Jones but it's not like they made a reach with Drouin at all.
Pre-Draft report by Chris Peters
It's not all that often two of the first three picks at the NHL Draft come from the same line on the same team. But in all likelihood, it's about to happen Sunday. Jonathan Drouin is expected to join Halifax Mooseheads linemate and projected first-overall pick Nathan MacKinnon at the top of Sunday's draft.
While Drouin has been somewhat overshadowed, there was a period of time this year when some wondered if he might be even better than MacKinnon (some of us still think that). What makes Drouin special is his ability to handle the puck. He might be the best stickhandling forward in the draft since Patrick Kane, whom Chicago took first overall in 2007.
The wing was a pretty solid Robin to MacKinnon's Batman when they were out on the ice together. Though Drouin is an elite playmaker and distributor, he scored 41 goals this season.
Drouin says his favorite player is Pavel Datsyuk, and it's not hard to see why. As you'll notice in the video below, Drouin is somewhat of a human highlight reel, like his idol. Without comparing him to Datsyuk, because that would be inaccurate in terms of projections, Drouin has some similarities to the Detroit Red Wings forward when the puck is on his stick.
MacKinnon is the better rounded of the two. But when it comes to offense, it's hard to ignore what Drouin can do.
It seems the Tampa Bay Lightning, owners of the No. 3 overall pick, would be an ideal landing spot for Drouin. Perhaps one day soon he'll be setting up Steven Stamkos for one of those patented one-timers. We'll find out Sunday.
The Jonathan Drouin File
Position: Left Wing
Height: 5-10 Weight: 186
Team: Halifax Mooseheads (QMJHL)
Hometown: Ste-Agath, Quebec
Stats: 49 GP, 41-64—105, 32 PIM
Rankings*:
CBS: 2; CSS: 3; ISS: 3, HP: 1, TSN: 3
Led the Halifax Mooseheads to a 58-6-1 record and Quebec Major Junior Hockey League regular-season and postseason championships.
Ranked second in the QMJHL with 105 points. It was his first full season in the league after joining Halifax halfway through the 2011-12 campaign.
Was the first draft-eligible player to win the Canadian Hockey League's player of the year award since some fella named Sidney Crosby. Drouin was also named the QMJHL's MVP, best pro prospect and personality of the year.
Helped the Mooseheads claim the 2013 Memorial Cup with five assists in the championship game against the Portland Winterhawks. He had nine points in four games during the tournament.
One of just two 1995-born players named to Team Canada for the 2013 IIHF World Junior Championship in Ufa, Russia. Drouin had four points in six games and at one point was elevated to the team's top line.
Peters' Scouting Report: Though overshadowed by his goal-scoring linemate, Drouin is the best forward available in the entire draft. He has incredible hockey sense, elite vision and some of the best puck skills, if not the best, in the draft. His creativity and ability to make his teammates better when he hits the ice gives him the edge. He is still growing into his frame and, though a wing, impacts the game almost every shift. Because of his hockey sense and already-immense puck skills, I have Drouin's upside graded higher than MacKinnon's by a slight margin, and that's just enough to put him over for me.
Best Highlight: Drouin's spectacular shift from February was an Internet sensation among hockey fans soon after it made it to YouTube. The video even got some love on this blog. Watch as he stickhandles through everyone, including you, probably.
*Rankings key: CBS = Eye on Hockey Big Board, CSS = NHL Central Scouting Services, ISS = International Scouting Services, HP = Hockey Prospectus, TSN = Bob McKenzie's final draft rankings.