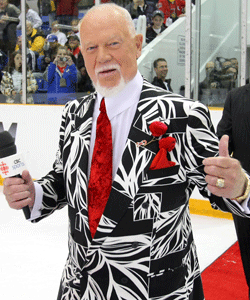 Don Cherry isn't happy with Nail Yakupov, or the fact he played in the CHL. (Getty Images)
Nothing gets you ready for international hockey competition like a back-and-forth between Russian players and Canadian hockey icon Don Cherry.
That is exactly what is kicking off the 2013 World Junior Championship, which began Wednesday in Ufa, Russia.
Actually, it all started on Tuesday when Russia's Nail Yakupov accused team Canada of playing dirty and how he will have to keep his composure during the tournament in order to not be provoked. Speaking with rt.com, Yakupov said "I understand that I will have to keep a cool head and ignore provocation, especially against the Canadians. These guys play dirty. We got used to that, we played a few games in North America, so our team is ready."
Scandalous! Well, not really, but naturally his comment, and the suggestion that Canada plays dirty, did not go over well with Cherry, whose opinions on Canadian and Russian players have been well documented over the years.
In response, Cherry took to Twitter and went off on Yakupov as well as the fact that the Canadian Hockey League even allowed him to play hockey for them (Yakupov played his junior hockey for the Sarnia Sting of the Ontario Hockey League) and take a spot away from a Canadian player.
"I see where Nail Yakupov said Canadian hockey players are dirty. Let me see. We let him take a Canadian kid's spot in the Canadian Hockey League, let him learn his hockey in our program, treat him royally, give him great coaching so he can go number one overall and he calls us dirty. Canadian people are not naïve, no let me change that word to dumb. We love everybody and everybody hates us. Like I said, when you hear Russians cheering for Germans you have to wonder. And the kid Yakupov is just being honest as that's how he feels about us. I could care less what Nail thinks of us, what bugs me, he took a Canadian kid's spot in the Canadian Hockey League."
In case you're wondering Canada and Russia are scheduled to play in group play on Dec. 31.
Yakupov was the No. 1 overall pick in the 2012 draft by the Edmonton Oilers, and it's a good bet that whenever he has the opportunity, Cherry is going to be sure to bring this comment up when talking about Yakupov throughout his career.
For more hockey news, rumors and analysis, follow @EyeOnHockey and @agretz on Twitter and like us on Facebook.