NHL rumors: Gillis says Roberto Luongo's contract won't hinder deal
Roberto Luongo remains a member of the Vancouver Canucks, but GM Mike Gillis says it has nothing to do with Luongo's contract.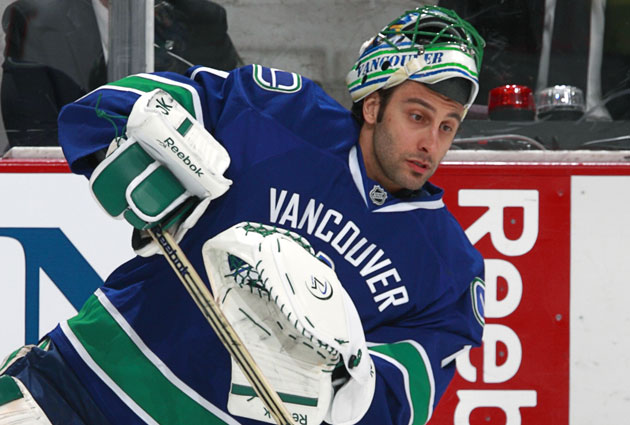 Luongo had a .919 save percentage, 2.41 GAA last season. (Getty Images)
Now that the NHL is back open for business and has been for a little more than a day, GMs are free to wheel and deal. A lot of people thought we'd actually see a frenzy, led by the seemingly inevitable trade of Roberto Luongo out of Vancouver.
Except it hasn't really happened, unless you consider an Anthony Stewart-for-Kevin Westgarth swap to be a big one. All those reports about deals for Luongo being set and simply awaiting the end of the lockout haven't come to fruition.
That has Vancouver GM Mike Gillis now expounding upon the virtues of Luongo's contract -- the one with 10 more seasons at $5.3 million per season (per Cap Geek). No, really.
Here's what Gillis had to say, courtesy of Monte Stewart of the Canadian Press:
"There's always been interest, and there's been a lot more interest than people wanted to recognize because [of] the presumption that the contract was onerous or difficult," said Gillis. "[The difficulty of the contract] has never been mentioned to me by one team.

"I know some people like to make a big deal of that, but it's a very friendly contract for a lot of reasons. One of the reasons is the new collective agreement. You can't sign these types of [front-loaded] contracts [anymore] because they are favourable. So the contract's not an issue."
I see what you're doing there, Gillis. It's like he's almost saying any team would be lucky to have a contract like that on their roster.
From a pure money/salary cap standpoint, no, the Luongo deal isn't horrible -- $5.3 million for a player of his caliber isn't outrageous. But taking a contract that extends into Luongo's 40s is not an incredibly friendly deal, especially with the new rules about retiring players counting against the cap.
Really, though, Gillis is in a good spot. He doesn't have to trade Luongo which means the Canucks would have two excellent goaltenders. There are worse things.
Maybe the issue of Luongo's contract hasn't come up to Gillis, but it surely has come up for teams before talking to Gillis. It's a big commitment to make, if teams aren't talking about it then those GMs should be fired on the spot. Obviously it's a consideration.
The only question is if it's an impediment. While I do tend to agree with Gillis that Luongo's contract isn't going to be what stops him from being traded, I do think it changes his value. Taking on a 10-year deal for one player at a good cap hit is asking a lot and that's not going to do much for Luongo's value. Meanwhile, Gillis isn't going to just give Luongo away.
I don't think this is a case of Gillis trying to sell his product -- in this case, his goaltender -- it was likely just a matter of answering a question, but it can't help to advertise. If you can sell your weakest part then you're in good shape.
For more hockey news, rumors and analysis, follow @EyeOnHockey and @StubitsCBS on Twitter and like us on Facebook.
Saturday's showdown will serve as a rematch of one of the NHL's first-ever regular season...

Stacia Robitaille says Donald Trump told her in an elevator that she was coming home with...

Vladislav Yeryomenko was the Teddy Bear Toss goal scorer for the Calgary Hitmen
The Golden Knights are finally getting their No. 1 goalie back after a 25-game absence

Washington has won four straight, and the Kings are also on a tear right behind the Lightn...

The NHL says it's only interested in expanding to Seattle, but here's a look at all the moving...