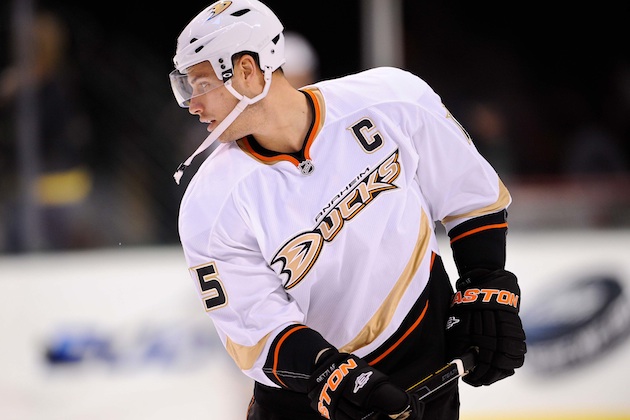 More NHL: Scores | Standings | Odds | Fight-O-Meter | League Leaders | Rumors
A player's shooting percentage in a given season has more to do with his luck as a shooter than his skill or the way he's actually playing.
Even the best players are going to struggle to consistently pick a corner on the net and hit it with any regularity. Not in a game played at lightning-quick speeds against the best goalies in the world's top hockey league.
A lot of things have to happen for a player to score a goal in the NHL.
Your team has to gain possession of the puck, navigate through the neutral zone, successfully enter the offensive zone, and then you have to put yourself in a position where you can get open long enough to get a clean shot off and actually hit the net. That's the skill. The players who can consistently do that are the ones that are usually the NHL's most skilled players, and even after all of it happens, it's still not a guarantee that they're going to find the back of the net with any regularlity. 
Sometimes you need a little luck, too. 
A player who has the highest shooting percentage isn't necessarily one of the best (or even most accurate) shooters in the league. It probably means he's one of the luckiest.
If there's one thing we know about shooting percentages, it's this: They're a wild roller coaster ride from year to year (and even during the season) that are always going up and down. Hot streaks and cold streaks, peaks and valleys, career years and disappointing years.
You can call it whatever you want, but in a single season there's a lot of luck involved.
This all came to mind again on Monday when I was reading the yearly "Evgeni Malkin needs to play better" column from Ron Cook of the Pittsburgh Post-Gazette (and it is a yearly column; seriously, it happens ... every ... single ... year) where he referenced Malkin's drop in shooting percentage this year as a part of the problem. (The "problem" being that Malkin is only averaging a point per game this season instead of a point-and-a-half. The horror.)
From Cook:
Malkin is converting just 7.5 percent of his shots, down from 14.7 last season. But that's only a part of the problem. His shots on goal per game are down to 3.1 from 4.5 last season. He is looking to pass too much. You can't score -- for the most part -- if you don't shoot the puck.
Actually, the second part of that would be a legitimate concern (though, in fairness, averaging more than three shots per game is still a pretty high number) and a big part of the reason he went from being a 50-goal scorer last year in just 75 games to a player who has just six goals in 26 games this season.
But when it comes to the shooting percentage, a drop not only shouldn't be a cause for major concern, it should have been expected. If anything, a low number this year should be a reason for optimism that he's probably due for a hot streak at some point in the very near future. When it comes to 5-on-5 play, his shooting percentage drops all the way down to 3 percent. There's no way a player as talented and as good as Malkin suddenly forgot how to score.
You just can't count on a player to repeat or maintain a consistent shooting percentage, especially one that's extremely high or, on the other end of the spectrum, extremely low.
Let's look at it another way.
I went back over the past two full seasons and pulled the top-50 forwards in shooting percentage (minimum of 50 games played in an effort to avoid small sample sizes) to see how they did the following year. Could they repeat it? No. No, they could not.
Of the top 50 forwards last season (which included Malkin), 42 have seen their shooting percentage drop so far this season by an average of over 5 percent. The higher in the rankings the player was last year, the bigger the drop this year. Players in the top 20 saw an average drop of more than 6 percent. Players in the top 10 dropped more than 7 percent.
Of the eight players in that group that have seen an increase this season, only three of them improved by more than two percent.
•  Calgary's Alex Tanguay went from 15.5 percent to a wildly unsustainable 24 percent.
•  Boston's Brad Marchand went from 16 percent to 20 percent.
•  Toronto's Tyler Bozak went from 16.5 percent to 19 percent.
All other increases in the top 50 were insignificant. And I'd guess the three guys listed above, and especially Tanguay, might be due for a regression next season.
A similar thing took place with the 2010-11 leaders. That season the top 50 forwards saw an average drop of more than 4 percent in 2011-12, and only 10 players were able to return to the list the following season. The players who made both lists: Sergei Kostitsyn, David Jones, Alex Tanguay, Milan Lucic, Steven Stamkos, Nik Antropov, Andrew Brunette, Dave Bolland, Valtteri Filppula and Brad Marchand.
The only players to appear in the top 50 in each of the past three seasons are Bolland, Stamkos, Marchand, Curtis Glencross and Tanguay.
Other than Stamkos, that's not exactly a who's who of the NHL's top goal-scorers, now is it?
It's just not a repeatable skill and the league-leaders board is always a jumbled mess with new names and a healthy mix of all-stars, second-liners, third-liners, and even the occassional fourth-liner.
Let's just look at two quick individual examples, starting with Anaheim Ducks forward Ryan Getzlaf.
Getzlaf has been one of the best players in the NHL almost from the day he entered the league, and he can usually be penciled in for 25 goals in a given season. But something happened last year. Despite playing with the same linemates (usually Corey Perry) and generating a similar number of shots on goal, his goal-scoring disappeared. He scored just 11 goals, a new career-low, and converted on fewer than 6 percent of his 185 shots.
That was a mark well below his normal career level and one of the worst shooting seasons in recent NHL history. Did he suddenly forget how to shoot? Did his shot rapidly decline and abandon him? Not at all. Back in August, I looked at Getzlaf's performance and found that nearly every player that had a shooting percentage as poor as his bounced back the following season in a big way.
So how's he doing this year? He's already topped his goal total from '11-12 in just 37 games and his shooting percentage has rebounded from 5.9 percent all the way up to 15 percent. That shouldn't have been a surprise.
Did he rediscover the magic that he suddenly lost last season out of nowhere? Or was the 2011 season just an outlier in an otherwise great career where an All-Star player was snakebitten when it came to scoring goals? I'd be inclinded to go with the latter, and it shouldn't have been hard to predict coming into the season.
One more example, and it takes us to St. Louis and center Patrik Berglund.
Throughout his career, Berglund's shooting percentage has bounced around between 10 and 14 percent. Over the past two seasons, he was one of the least accurate shooters in the NHL when it came to actually hitting the net and getting shots on goal, shooting wide on over 33 percent of his shot attempts despite taking shots from a relatively close range. Somehow, though, this season his shooting percentage has rocketed to the top of the league at over 26 percent, giving him 15 goals on 57 shots on goal. A guy that for two years was wildly putting dents on the end boards and firing shots off the glass is now the "most accurate" shooter in the league. Crazy, isn't it?
Did his shot suddenly improve from last season and become more accurate, turning him into one of the NHL's most lethal snipers? Or is he simply benefiting from a career year when it comes to his goal-scoring that is being driven by a change in his luck?
I went back and watched all 15 of his goals this season, and it's not hard to see which explanation makes more sense. He's had one goal scored on an empty net. One scored on a penalty shot. Three came by way of deflections. One was scored when a teammate shot a puck off of Berglund's body and into the net. Two of his goals were shots he fired through screens that the opposing goalie never saw. Sometimes those deflections and screens aren't there. Sometimes the puck isn't going to bounce off of your backside when you're not looking and go into the net.
Just like Getzlaf wasn't going to maintain a 6 percent mark, Berglund isn't going to maintain this one.
Of course, some players will shoot at higher levels than others based on position and/or style of play and talent (a player like Ilya Kovalchuk will have a higher shooting percentage than a random fourth-liner because he has a better shot).
A forward will usually have a higher shooting percentage than a defenseman because most shots from the defenseman are coming from out near the blue line where it's more difficult to score from (that's why I only looked at forwards for this post). A power forward like Mike Knuble who spends his entire career parked in front of the net, banging in rebounds and tipping shots in will shoot at a higher percentage than a guy like Phil Kessel who generates most of his shots off the rush or from inside the faceoff dot.
That doesn't mean Knuble is a better goal-scorer or more accurate shooter (because he isn't).
The percentages aren't worthless, but they're probably not telling you what you think they are.
You want to find the most skilled offensive players and shooters, look for the guys who are simply able to generate the most shots. You want to find guys who are benefiting from some good luck or being hurt by bad luck are due to bounce back or regress, look at the percentages.