T.J. Oshie was the Game 1 hero for the Washington Capitals on Thursday night recording a hat trick in a 4-3 victory against the Pittsburgh Penguins. 
He completed that hat trick in the overtime period when he beat Penguins rookie goalie Matt Murray on a wraparound. And wow was it close.
The initial call on the ice was that it was a good goal, and that would turn out to be an important development. The play had to be reviewed to see if it actually crossed the line.
Here is the play:
GAME OVER. #StanleyCup https://t.co/xIZKrfQxAR

— NBCSN (@NBCSN) April 29, 2016
Most of the replay angles, including the overhead view and the cameras inside of the goal posts do not actually show the puck going across the line. The only one that seems to indicate that it crossed the line was an off-center angle looking into the net that appears to show some white between the goal line and the puck.
This one: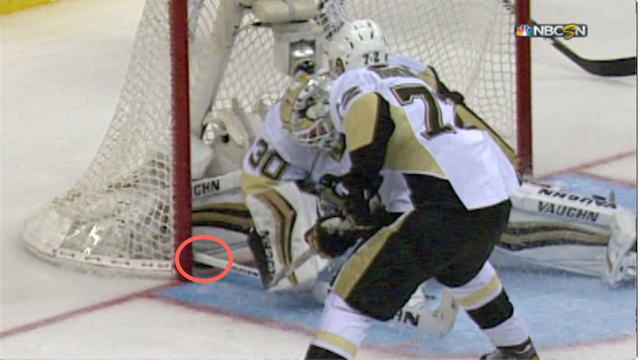 It is probably over the line, but that angle still is not the best. As we saw in last year's postseason in the Calgary Flames-Anaheim Ducks series, that angle can be deceiving depending on where the puck is because of something called "the parralax view" (you can watch the explanation of that here). The one key difference there is the play in Calgary involved a puck that was off the ice, while this play seemed to involve a play where the puck remained on the ice. But it is still ridiculously close.
Not overturning the call on the ice is the absolute right call in this situation. The call on the ice is goal, the NHL has to have conclusive evidence to overturn it, and there really isn't anything to do that.
The NHL has to stick with the referee's call in that situation. Whatever the referee called in that situation was going to stand. 
What is confusing about this is how the referee was able to make the call. Look at where he is when he signals goal: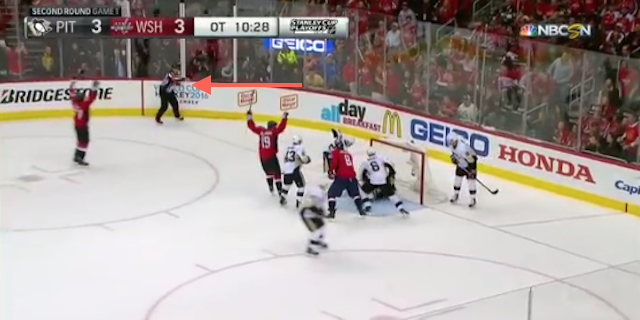 How could he have possibly seen that puck go across the line from that angle, and from that far away, when the best replay angles -- including those literally inside the net -- do not produce a clear answer as to whether it went in? The only angle that even somewhat shows the puck being in is the one looking in to the net from center ice.
Again: Whatever the referee called there was going to stand, and fortunately for the Capitals, it was called a goal.
In the end, it was a spectacular game that saw the Capitals dominate the first period and overtime and the Penguins carry the play in the second and third periods. It is the perfect set up for what is sure to be a great series.