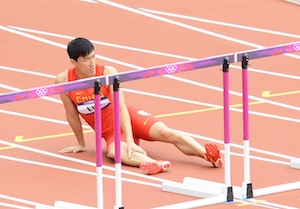 Liu Xiang is the Olympic record-holder in the 110 meter hurdles but injuries will force him out of his second straight Games after he hurt himself warming up on Tuesday.
According to reports, Xiang suffered a right-leg injury and limped off the track before eventually being carried out of Olympic Stadium in a wheelchair. He hit the initial hurdle once the heat started and, after slowly rising from the track, limped off in frustration. 
Courageously however, Xiang turned around in the tunnel and made it down to the final hurdle, which he kissed before standing with his competitors at the finish line amid glowing applause from the crowd before several of them helped carry him off.
The Chinese star burst onto the scene in Athens by capturing a gold medal in the 110 meter hurdles with a record time under 13 seconds in 2004. He was forced to withdraw from defending his medal in his home country after an Achilles injury prevented him from competing in Beijing.
Xiang was considered one of the favorites for a medal in London.
The American contingent of Jason Richardson, Jeff Porter and Aries Merritt all advanced to the semifinals, with Meritt being the fastest qualifier during the initial heats.