US women begin hockey tournament with 3-1 win over Finland
A goal in the opening minute from Hilary Knight helped send the American women's ice hockey team to a 3-1 in their preliminary round game over Finland in Sochi.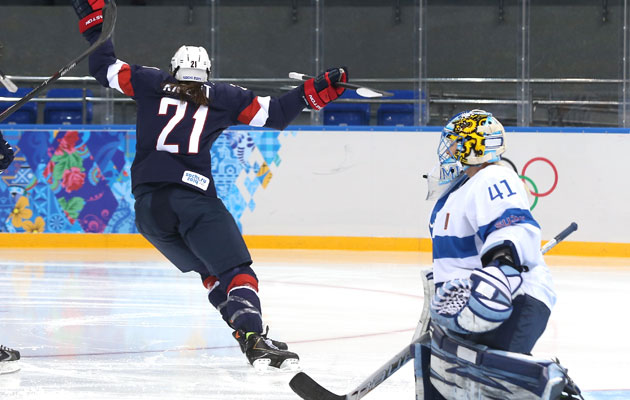 More NHL: Scores | Standings | League Leaders | Odds | Injuries | Power Rankings
It took the American women's ice hockey team all of 53 seconds to score on Saturday morning in Sochi, riding that early goal to a sound 3-1 defeat of Finland to open up the ice hockey competition at the Sochi Olympics.
In the opening minute, American forward Hilary Knight hopped on a neutral-zone turnover by Finland to spring loose on a breakaway. Her shot beat Noora Raty from the slot, one which the Finnish goaltender had little chance of stopping as Knight went top shelf.
The Americans didn't relent from there, severely outshooting the Finns and keeping the puck on their sticks. The Americans put 15 shots on net to Finland's three in the first period but only Knight's went in.
The barrage continued in the second period when the US fired 16 more shots on net that included goals from Kelli Stack and Alex Carpenter -- daughter of former NHLer Bobby Carpenter. All the while the US gave little flicker of hope to the Finns, using their superior speed to keep putting the pressure on.
In the third period the action was a bit more balanced and Finland scored a late tally on the power play to end the shutout bid for American netminder Jessie Vetter and give the game its 3-1 final. But it could have been worse with the USA outshooting Finland 43-15. The US couldn't have hoped for a much better start.
Raty did all that she could in the Finnish net and was as strong as advertised but the skaters in front of her just couldn't do enough to help the cause. The Americans showed why they (along with Canada) are strong favorites on the women's side. Remember, the Finns won bronze in 2010 and look like a strong contender to do so again this year.
To help keep the action as competitive as possible, the women's tournament changed the structure. The top four teams -- USA, Canada, Finland and Switzerland -- are all in Pool A where the top two will automatically make it to the semifinals. Then the bottom two will play the top two finishers from Pool B -- Japan, Sweden, Germany and host Russia -- to determine the other semifinalists.
Three women strive to be the best African representation 'the Winter Olympics have ever wi...

Team USA will be decked out in Spyder in PyeongChang

Dr. Larry Nassar is currently facing 22 state charges in Michigan
Putin says the United States is trying to 'discredit his government' with recent allegations...

The new USA and Canda hockey jerseys for the 2018 Winter Olympics leave plenty to be desir...

The torch was lit in ancient Olympia on Tuesday and has started its long journey