AAU coach identifies Duke as leader for Okafor/Jones package deal
Tyus Jones repeatedly insisted, when I talked to him last month, that he and Jahlil Okafor aren't leaning any particular way in regard to making a college decision. And that might've been true at the time. But Okafor's AAU coach, on Friday, publicly established Duke as the leader for the supposed package deal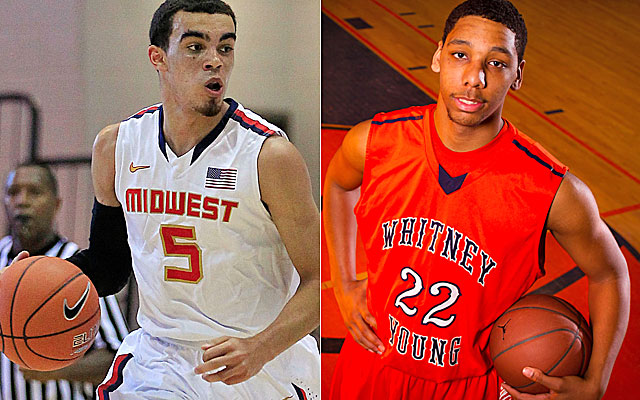 Tyus Jones repeatedly insisted, when I talked to him last month, that he and Jahlil Okafor aren't leaning any particular way in regard to making a college decision. And that might've been true at the time. But Okafor's AAU coach, on Friday, publicly established Duke as the leader for the supposed package deal.
"I believe there is a great chance that Tyus will go to Duke," said Mac Irvin Fire coach Mike Irvin, according to the @BlueDevils Twitter account. "If so, Jahlil and Tyus will probably be going to school together."
So congratulations, Mike Krzyzewski.
You are, at least according to someone close to Okafor, on the verge of securing what could reasonably be labeled as the best package deal in college basketball history. Okafor, a 6-foot-10 post player from Chicago, is the consensus top-ranked prospect in the Class of 2014. Jones, a 6-foot-1 point guard from suburban Minneapolis, is a consensus top-five prospect, one ranked as high as second by some scouting services. They've long sworn they'll become the first set of consensus top-five recruits who are unrelated and from different states to commit together, and now one of their coaches is on record stating that Duke is the school he believes they'll pick, meaning the Blue Devils just might end Kentucky's string of top-rated recruiting classes.
Arizona, for no good reason, doesn't have to play at USC or UCLA this season

We look at the 'Major 7' leagues and give you the best of what's to come in conference play...

Louisville's coach predicts a change is coming to the NBA's one-and-done rule by 2019
Multiple former players of Lonergan's alleged verbal abuse and inappropriate remarks

When Miller left for Indiana, there was cause for concern in Flyerland; a top-100 signee says...

The Hoyas will spend their non-league schedule playing mostly nobodies -- as will most big...