Hirings and firings: 2014 college basketball coaching changes
The coaching carousel is already in full motion and you can get the latest on all of the coaching hirings and firings here.
• 38 min read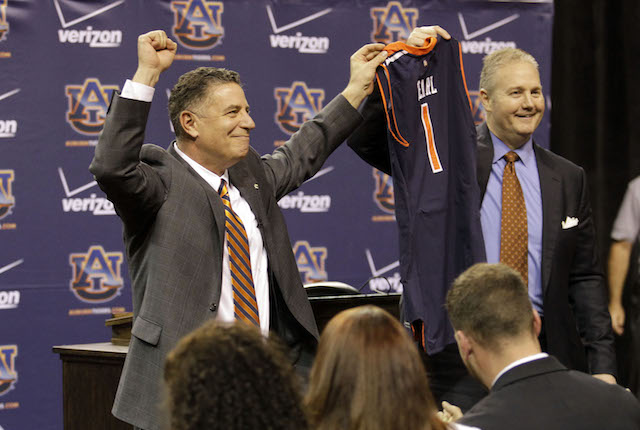 Latest in hoops: NBA Early Entries | Latest News | Coaching Changes
Which coaches have been fired, which jobs are opening up, and which coaches are being looked at as possible replacements? We've got everything you need to know about 2014 coaching hirings and firings.
With Charleston finally ending its search and hiring Clemson assistant Earl Grant, the coaching carousel has stopped spinning. As we know, though, in just a few months, the rumor mill will get going once again.
 Out: Doug Wojcik. After a process that lasted more than a month, Charleston finally announced they were firing Wojcik. In early July, it was reported that Wojcik had been investigated by the school for allegations verbal and physical abuse. After a second investigation was opened, it was clear the only likely result was Wojcik and Charleston parting ways. Wojcik went 38-29 in two seasons with the Cougars, following a 24-win season in 2012-13 with a 14-18 campaign last season. Charleston will be a coveted job due to its beautiful location, but our own Gary Parrish has reported that the school is facing pressure to hire a minority. With just a couple of months until practice starts, the process has to be relatively quick.
In: Earl Grant. What a process. There were several interviews in the weeks following Wojcik's firing, but it looked like Anthony Johnson and Mike Young were the finalists. Then Young withdrew from the search, and Johnson seemed like the guy. Then Johnson withdrew after a domestic dispute was found in his background check. Ritchie McKay and Karl Hobbs became the frontrunners -- and then Bobby Lutz interviewed over the weekend. But when the dust settled, Charleston went with a guy already in the state. The 37-year old Grant has been an assistant coach under Brad Brownell at Clemson for the past four seasons, after coaching under Gregg Marshall for six seasons, three at Winthrop and three at Wichita State. He also spent two seasons at The Citadel. Grant is a Charleston native.
 Out: Joseph Price. Just one week until the July recruiting period begins, and Grambling is without a head coach. Price was fired after two seasons as the head coach, getting relieved of his duties during interim athletic director Cynthia Warrick's first day on the job. Price went 0-28 in his first season at Grambling, and followed it up with a 5-24 campaign this past season. The school was ineligible for the postseason last season due to APR, but Price turned things around and had the ban lifted for the upcoming season.
In: Shawn Walker. Walker has been at Elizabeth City State, a Division-II college in North Carolina, for the past 12 seasons. He went 196-172 during his time at ECSU, winning the CIAA tournament in 2007. He was also the head coach of the women's program for one season in that stretch. There have been plenty of issues with the Grambling basketball program, and it won't be easy for Walker to win immediately. 
 Out: Jeff Bower. Bower is certainly taking a step up. After one season 12-19 season at Marist, Bower has been hired as the general manager of the Detroit Pistons. While the move seems strange on the surface, it's really not. Bower is a longtime NBA guy, spending 15 seasons in the Hornets organization, both Charlotte and New Orleans. He has been an NBA general manager, head coach, scout and pretty much everything else in the front office. Bower was hired last spring to replace Chuck Martin.
In: Mike Maker. The Red Foxes have closed the coaching carousel for the 2014 offseason, choosing to hire Maker away from Division-III Williams College. He was the head coach there for six seasons, going to two D-III title games and achieving a 147-32 record. Maker is no stranger to the Division-I level, though, spending time on the sidelines at Creighton, West Virginia, Samford and Dartmouth.
 Out: Clemon Johnson. Florida A&M recently hired a new school president and a new athletic director, and now it will be looking for a new basketball coach as well. Johnson spent three seasons with the Rattlers, going 32-64 during his tenure. This past season, FAMU went 14-18 -- Johnson's best season since taking over at the school.  
In: Byron Samuels. After spending last season as the operations guy at Georgia, Samuels makes the move back to head coach. He's previously been a head coach at Radford and Hampton, while also serving as an assistant coach at Tennessee, Washington State, UNC-Wilmington and others. 
 Out: Bennie Seltzer. After just two seasons with the program, Samford is parting ways with Seltzer. While he's gone just 24-31 in the two years, the bigger reasons for Seltzer's dismissal is the roster turnover. Fourteen players have transferred out of the program in the last two seasons, including All-SoCon forward Tim Williams and SoCon Freshman of the Year Isaiah Williams last month. ESPN immediately reported assistant coach Scott Padgett could be a candidate to replace Seltzer.
In: Scott Padgett. As initially expected, Padgett was elevated from assistant coach to the top spot, replacing Seltzer. He had been an assistant coach at Samford for two seasons, after spending time on the staffs of both Manhattan and Kentucky, his alma mater. Padgett won a national championship with Kentucky in 1998, and played under both Rick Pitino and Tubby Smith. He's a former first-round pick by the Utah Jazz, and played in the NBA for eight seasons before going into coaching. Expect Padgett to preach the pressing style he learned under Pitino at Kentucky.
 Out: Chico Potts. This was an interesting one. No one seemed to have this opening on their radar, but the school confirmed to CBSSports.com that Potts was reassigned in the athletic department back in March. Associate head coach Marcus Thomas was named the interim head coach, while the school looks for a permanent replacement. Potts was the head coach for two seasons, going 14-46.  
In: Andre Payne. According to Jeff Goodman of ESPN.com, the Delta Devils are planning to hire Payne. Payne is currently the head coach and associate athletic director at Wiley College (Texas). Wiley reportedly finished 19-11 last season, making their first appearance in the NAIA top 25 since 2008. Payne joined Wiley before the 2006-07 season, and in his first season, the Wildcats reached the national tournament for the first time in 37 years. He previously was the head coach at Texas College. Sources have indicated that an official announcement can't come until July 1.   
 Out: Wayne Tinkle. After keeping the Grizzlies near the top of the Big Sky for the past five seasons, Tinkle left for the vacancy at Oregon State. Under Tinkle, Montana was 158-89 in eight seasons, going to three NCAA Tournaments and one CIT. Last season, the Grizzlies had their worst overall record since 2008, but still managed to finish 17-13 overall and 12-8 in the league, which was good enough to tie for second in the conference. The Grizzlies never finished lower than fourth during Tinkle's tenure.
In: Travis DeCuire. The former California assistant is going back to his alma mater, where he played point guard in the early 1990s. When Mike Montgomery retired from California, he pushed for DeCuire to replace him with the Golden Bears. DeCuire didn't get the job, with Tennessee head coach Cuonzo Martin instead making the move. DeCuire has done a good job recruiting the West coast and with player development, spending the last six seasons at California, including the last two as associate head coach. He was reportedly involved with an assistant opening at Oregon, but will make the move to the Grizzlies. 
 Out: Craig Robinson. Strange timing for the Beavers, as the school waited until six weeks until after the season to fire Robinson. President Barack Obama's brother-in-law was at Oregon State for six seasons, finishing above .500 just once. They went 16-16 this past season, finishing 8-10 in the Pac-12. After the season, Eric Moreland (draft) and Hallice Cooke (transfer) both decided to leave, lessening the optimism in Corvallis for next season. It will be interesting to see where Oregon State goes from here. Does Ben Howland get involved?  
In: Wayne Tinkle. After a coaching search that seemed to focus on Ben Howland and Damon Stoudamire in the early stages, the Beavers went with Tinkle. He had been the head coach at Montana the past eight seasons, going to three NCAA Tournaments and winning at least 21 games on four separate occasions. Prior to being the head coach, Tinkle had been an assistant with the Grizzlies for five seasons. The biggest key for Tinkle will be recruiting high-major players to Corvallis -- but he has a good starting point in junior Tres Tinkle, a borderline top-100 prospect who also happens to be his son. 
 Out: Ted Woodward. After 10 seasons as the head coach of the Black Bears, Woodward is out. The school decided to buy out the final year of his contract, ending his 18-year career at the school. Woodward finished above .500 just once during his tenure, with the Black Bears going only 6-23 this past season. Under Woodward, Maine was 117-178 overall.
In: Bob Walsh. Walsh's name has been tied to several openings in the Northeast and New England over the past few years, and he's finally landed a D-I head coaching job. For the past nine seasons, he has been at D-III Rhode Island College, going to eight NCAA Tournaments and going 204-63 during his time there. Walsh was formerly an assistant coach at Providence for seven seasons.
 Out: Ron "Fang" Mitchell. After 28 seasons at the helm, Coppin State and its longtime head coach parted ways. Coppin State finished below .500 in nine of the past 10 seasons, going 20-44 in the past two seasons. The Eagles were 12-20 in 2013-14. Mitchell did have plenty of success in the 1990s, though, when he won a share of nine out of 10 MEAC regular-season titles. He also had an 11-season stretch of winning seasons from 1988-99, including a legendary upset of No. 2 seed South Carolina in the 1997 NCAA Tournament.
In: Michael Grant. Grant becomes the sixth coach in school history, after being the head coach at D-II Stillman College for the past six seasons. He was previously a Division-I coach at Southern, going 26-31 in two seasons -- but was fired after reports emerged that he interviewed for the Youngstown State position. Grant will focus on recruiting the city of Baltimore.
 Out: Donnie Tyndall. Tyndall had been mentioned with nearly every big job that opened this offseason, and he finally left the Golden Eagles for the opening at Tennessee. He was at Southern Miss for two seasons, going 56-17 despite not reaching the NCAA Tournament in either season. The Golden Eagles went 29-7 this season, winning a share of the Conference-USA regular-season title, and finished second last season after a 27-10 campaign. Two years ago, Tyndall replaced Larry Eustachy, who had three straight 20-win seasons at Southern Miss before leaving for Colorado State.  
In: Doc Sadler. The Golden Eagles initially offered the job to Stephen F. Austin's Brad Underwood, but Sadler had been in the mix since the job opened -- and he will be the next coach in Hattiesburg. Sadler spent the past season as an assistant coach at Iowa State after spending one season on Bill Self's staff at Kansas. Prior to that, he was the head coach at Nebraska for six seasons and at UTEP for two seasons. Recruiting will be the key for Sadler, but this is a solid hire. 
 Out: Frank Haith. After stumbling down the stretch and missing the NCAA Tournament, Haith was likely headed toward the hot seat entering next season. Instead, Haith took matters into his own hands and left Columbia for the vacancy at Tulsa. On the surface, it's somewhat surprising -- but considering Haith likely wanted to stay ahead of a potential firing next season, it might have been the best decision. Haith was with the Tigers for three seasons, going 76-28 and reaching two NCAA Tournaments. Missouri received a No. 2 seed in the NCAA Tournament after winning 30 games his first season, and the Tigers won 23 games in each of the past two seasons.  
In: Kim Anderson. The fan base has liked Anderson for a long time, and the administration is now giving him a chance -- essentially choosing him over former UCLA head coach Ben Howland. Anderson had been the head coach at Central Missouri for the past 12 seasons, leading the Division II school to seven NCAA Tournaments -- and capped with tenure there with a national title. Anderson played his college ball at Missouri, and was an assistant under Norm Stewart for two different stints totaling 11 seasons. He was also an assistant at Baylor. Anderson knows the area well, and has long-standing ties to the state. The big question will be how he recruits the area -- can he keep ace recruiter Tim Fuller on staff? 
 Out: Tom Herrion. After four seasons, the former Charleston head coach and Pittsburgh assistant was bought out by the Thundering Herd. He went to the CIT and NIT his first two seasons, but they were just 22-41 the past two seasons -- including 11-22 this season, setting a program record for losses in a season. Overall, he went 67-67 in his four seasons at Marshall. Dismissals and suspensions didn't help, either.  
In: Dan D'Antoni. After countless rumors that Los Angeles Lakers coach Mike D'Antoni was a legitimate candidate for the Thundering Herd, Marshall decided to hire his brother. D'Antoni is 66 years old and has been an assistant under his brother with the Suns, Knicks and Lakers since 2005. He's a Marshall alum who played ball for the Herd from 1966-1970. This is an interesting hire because of his age and his lack of familiarity with the current college basketball climate. D'Antoni will have to make solid hires with his staff.
 Out: Cuonzo Martin. Going into this past season, it wouldn't have been a surprise to see Martin on this list. However, after a Sweet 16 run and turning down Marquette in late March, Martin seemed likely to stay put in Knoxville for another season. Yet he's now gone, moving to California to replace Mike Montgomery. Martin went 63-41 overall in three seasons with the Volunteers, including this season's 24-13 record. The first call likely has to be to Gregg Marshall, while Mike White and Donnie Tyndall could be on the list.  
In: Donnie Tyndall. Louisiana Tech's Mike White looked like the guy over the weekend, but after talks fell apart, Tyndall jumped at the opportunity. And the Volunteers should be happy about it. Tyndall is a proven winner who has been consistently successful over the last several years. He won 56 games the past two seasons at Southern Miss, and went to two NCAA Tournaments in his last four seasons at Morehead State. He was 170-101 in his eight seasons at Morehead State and Southern Miss, and has also been an assistant coach at Middle Tennessee, Idaho and LSU. Tyndall has done well with under-the-radar players, getting transfers and junior college players. In the past, he has recruited tough, hard-playing guys, leaving no stone unturned to find his players. Tyndall will have to get some highly-recruited studs to keep the Tennessee fan base happy, but he should win games. 
 Out: Travis Williams. The Tigers only gave Williams two seasons before letting him go. He took over in 2012 after head coach John Cooper moved on to Miami (Ohio). However, after going 18-15 in his first season, Williams and Tennessee State struggled to a 5-25 record this season, failing to qualify for the Ohio Valley tournament.  
In: Dana Ford. He was the first name mentioned when the job opened, and although other candidates seemed to be in the mix, Ford ended up being the guy. He was an assistant at Tennessee State for three seasons until 2011, before spending one season at Wichita State as an assistant coach. For the past two seasons, he's been the associate head coach at Illinois State. Ford is an energetic recruiter who is also well-connected in the junior college ranks.
 Out: Danny Manning. Two seasons and one NCAA Tournament later, and Manning has moved on to coach Wake Forest. He went 38-29 in his time with the Golden Hurricane, going to the NCAA Tournament this season after winning the Conference USA tournament and sharing the regular-season title. Before Tulsa, Manning had been an assistant under Bill Self at Kansas for six seasons.  
In: Frank Haith. This one came out of nowhere on Thursday afternoon, and then was seemingly a done deal just a couple of hours later. Haith is obviously going a step down for this job, but he would have been on the hot seat next season. This relieves some pressure for his future. Haith had been at Missouri for three seasons, winning 30 games and earning a No. 2 seed his first season and then winning 23 games in each of his past two seasons. Prior to Missouri, Haith was a head coach at Miami for seven seasons. Haith gives his guards a lot of freedom and has been able to land quality talent at Missouri.
 Out: Greg Jackson. Jackson was fired in late January after 14 seasons with the Hornets. He left the school with 200 wins, one shy of the school record. Delaware State was 4-15 under Jackson this season, going winless in six MEAC games, but had won three MEAC regular-season championships in Jackson's tenure. He also led them to the school's first-ever NCAA tournament in 2005. Assistant coach Keith Walker was named the interim head coach while the school searched for a replacement. 
In: Keith Walker. It took two and a half months, but the Hornets moved Walker from the interim spot to the permanent head coaching position. While he was the interim, Delaware State went 5-5 in the MEAC (5-6 overall) -- after the team started 0-6 and 4-15 overall under Jackson. He first became an assistant at Delaware State in 2000, after being the head coach at  Division II Shaw University (N.C.) since 1993. 
 Out: Mike Montgomery. The 67-year old Montgomery retired after six seasons with the Golden Bears, and previous college stops at Stanford, Montana and with the Golden State Warriors in the NBA. Montgomery will end his career with 677 victories and a 130-73 record at California. He reached the postseason 24 times, including 16 appearances in the NCAA Tournament. This will be a popular job in the coming days and weeks. UC-Irvine's Russell Turner is one name mentioned, along with Arizona's Joe Pasternack and others. Current Cal assistant Travis DeCuire could also be in play. 
In: Cuonzo Martin. Martin seemed to be on the hot seat for much of the season, but a run to the Sweet 16 bought him some more time in Knoxville. He even turned down Marquette in late March. But now, Martin is heading West to replace Mike Montgomery. Martin was the head coach at Tennessee for three seasons, finishing at 63-41 overall after a 24-13 campaign this past season. Prior to the Volunteers, Martin was the head man for three seasons at Missouri State, where he won 50 games over his final two seasons.
 Out: Jim Molinari. Throughout Final Four week, Molinari was rumored to be under serious consideration for an assistant coach spot on Tim Miles' staff at Nebraska. The Leathernecks made it official a couple days after the title game. Molinari was at Western Illinois for six seasons, finishing with a 79-104 record. Associate head coach Wade Hokenson will serve as acting head coach.  
In: Billy Wright. Wright is heading back to the Leathernecks, where he spent five seasons as an assistant coach before heading to Ball State as an assistant last season. He was a long-time high school coach in the Indianapolis area, and he did a good job landing in-state guys during his short time at Ball State. 
 Out: Tony Jasick. After steadily improving the Mastadons for each of the past three seasons, Jasick is heading to Florida to be the head coach at Jacksonville. IPFW won a school-record 25 games this season, including a game in the CIT. Jasick has been at IPFW for three seasons, going 52-47 at the helm, but was an assistant with the Mastadons for six seasons.  
In: Jon Coffman. Within days of seeing Jasick leave for Jacksonville, the Mastadons made the decision to promote Coffman. Coffman has been at IPFW for three seasons, spending time at Colgate, Stetson, College of Charleston and Emory & Henry College. The Mastadons have done a good job promoting in-house before, going with Jasick to replace Dane Fife when Fife departed.
 Out: Jim Yarbrough. Finishing above .500 in five of his first six seasons with the Lions wasn't enough to save Yarbrough, as the team has racked up three straight losing campaigns. This season, SE Louisiana went 12-18 overall and 7-11 in the Southland Conference. Yarbrough was 133-135 in his nine seasons at the helm.  
In: Jay Ladner. He had been the rumored leader for most of the past month, and the Lions are finally ready to make it official. Ladner has been the head coach at Jones County Junior College the past two seasons, going 17-8 his first season and then winning the national championship after going 28-5 this past season. Prior to coaching at Jones County JC, he coached high school ball for 21 years. 
 Out: Cliff Warren. After nine seasons in Jacksonville, the combination of a new athletic director a 12-18 record this season cost Warren his job. The Dolphins finished in the top three of the league in five of his nine seasons, but they have gone just 34-58 in his last three seasons. Jacksonville hadn't finished above .500 in the league since 2011. Prior to arriving at Jacksonville, Warren was an assistant with Georgia Tech, Siena and Mount St. Mary's.  
In: Tony Jasick. Jasick makes the move from the Midwest to Florida, as he had been the head coach at IPFW for the past three seasons. He was 52-47 overall in Fort Wayne, winning a school-record 25 games this past season and a victory in the CIT. He had been an assistant coach at IPFW for six seasons before being promoted to the head job, after coaching at Middle Tennessee State, Newberry College and North Alabama.
 Out: Saul Phillips. After leading the Bison to the NCAA Tournament -- and then beating Oklahoma in the Round of 64 -- Phillips took over the head coaching vacancy at Ohio. Phillips spent seven seasons as the head coach of North Dakota State, going to two NCAA Tournaments and winning at least 24 games on three separate occasions. He finished with an overall record of 134-84 while at the helm.  
In: David Richman. It didn't take long for the Bison to find their replacement, keeping it in the family. Richman has been with North Dakota State for 11 seasons, spending two as an assistant coach before being promoted to the associate head coach spot for the past seven seasons. He has worked under Ray Giacoletti, Greg McDermott and Tim Miles, in addition to Saul Phillips.
 Out: Jason Capel. The former North Carolina Tar Heel was let go after four seasons with the Mountaineers. He went 53-70 in his four seasons at the helm, finishing 9-21 this season. Capel had been an assistant for just one season at Appalachian State before getting the head coaching job. Murray State assistant Matt McMahon -- a former assistant at App State for 10 years -- could be an option.  
In: Jim Fox. It took awhile for the Mountaineers to find their guy, but Fox should be a very good hire. He has been at Davidson for the past 13 seasons, helping the Wildcats go 288-131 under the direction of head coach Bob McKillop. Fox is a Long Island native who has done a little bit of everything at Davidson. His first order of business was to release Devonte Graham from his letter of intent -- which helped with his reputation nationally.
 Out: Frankie Allen. The Hawks let Allen go after six seasons, in which he compiled a 42-139 record and never won more than 11 games in a single season. This season, UMES went 6-24 overall, 4-12 in the MEAC, and was bounced in the opening round of the conference tournament. Allen was previously a head coach at Virginia Tech, Tennessee State and Howard.  
In: Bobby Collins. Collins is back in the MEAC. He comes to UMES from Winston-Salem State, where he guided the Rams to three straight D-II tournament appearances prior to this past season. He has a 181-171 overall record as a head coach, having spent 12 years at the helm of both Winston-Salem State and Hampton. 
 Out: Steve Masiello. After three seasons in Riverdale, Masiello leapt at the South Florida vacancy, but had the offer pulled after a background check revealed Masiello had not graduated from Kentucky as he claimed. He was 60-39 during his time at Manhattan, going to one NCAA Tournament and notching two 20-win seasons. If the Jaspers don't take Masiello back expect plenty of names to be thrown around as the next head coach of the Jaspers, from Robert Morris head coach Andy Toole to high-major assistants Darren Savino (Cincinnati), Rashon Burno (Florida) and Dan McHale (Minnesota). If current assistant Matt Grady doesn't follow Masiello to South Florida, he could be in play -- as could Kentucky assistant Orlando Antigua, although he could be aiming higher. 
Another thing to consider -- will Manhattan take back Masiello? 
In: Steve Masiello. Apparently the answer was yes. The Jaspers took back Masiello as their head coach -- under the condition he gets his undergraduate degree this summer. Associate head coach Matt Grady will be the interim until Masiello gets his degree, and Masiello will be on unpaid leave until then. He has been at Manhattan for three seasons, going to the NCAA Tournament this season.
 Out: Mike Jarvis. In late February, reports emerged that FAU was set to fire Jarvis at the end of the season, but he opted to resign instead. Jarvis had been with the Owls for six seasons, finishing below .500 in five of those seasons. He had just one year remaining on his contract. One name to keep an eye on for his job is Florida assistant Matt McCall, a former assistant at FAU.
In: Michael Curry. Interesting hire by the Owls. Curry was the head coach of the Detroit Pistons in 2008-09, the last coach to lead the Pistons to the playoffs. He was also an assistant with the Philadelphia 76ers. Curry played in the NBA for 11 seasons, while also playing overseas for a few seasons. He was the president of the NBPA for four years, and played his college ball at Georgia Southern.
 Out: Jeff Bzdelik. Wake Forest fans will be happy. Bzdelik resigned after four seasons in Winston-Salem, going 34-60 in his first three years followed by a 17-16 campaign this season. He never won more than six ACC games or finished better than ninth in the ACC standings. Bzdelik replaced Dino Gaudio. This job immediately becomes the most attractive vacancy on the coaching carousel, given its recruiting base, facilities, and ability to win. Expect names like Ben Howland and Jeff Capel to pop up.
In: Danny Manning. After two seasons at Tulsa, Manning is heading to Tobacco Road. He led the Golden Hurricane to the NCAA Tournament this season, going 38-29 overall during his time at Tulsa. Manning was a former star at Kansas, being selected No. 1 in the 1988 NBA draft. He's a big name in the basketball community, and should be able to recruit effectively. 
 Out: Jim Christian. After two seasons and 49 wins, Christian left the Bobcats to take the head coaching job at Boston College. Ohio didn't make the NCAA Tournament either of the past two seasons, but they did reach the postseason. When John Groce left for Illinois two seasons ago, Christian took over and kept the winning tradition going. Now, what will the Bobcats do? There are several hot assistants that could be rumored with the job, including Ohio State's Jeff Boals and Illinois' Dustin Ford. 
In: Saul Phillips. After winning a Round of 64 game over Oklahoma in the NCAA Tournament, Phillips rode it to a new job with the Bobcats. He spent seven seasons at North Dakota State, going to two NCAA Tournaments and winning at least 24 games on three separate occasions. He is terrific with the media, and should be able to win over the fans and writers very quickly. 
 Out: Steve Donahue. One week after reports surfaced saying that Donahue would return to the Eagles, Boston College announced that he was being fired. The Eagles were one of the biggest disappointments in college basketball this season, going 8-24 overall and 4-14 in the ACC. In four seasons at Boston College, Donahue made zero NCAA Tournament appearances. He went 21-13 in his first season after taking over for Al Skinner, but is just 33-63 since then.
In: Jim Christian. This one was met with mixed reactions. Christian has won 49 games at Ohio in two seasons and knows the area well, but there's a question of how consistently and effectively he can recruit the New England schools. Without a winning tradition, it could be difficult to land ACC-level recruits on a regular basis. Christian has also been a head coach at TCU and Kent State, while spending time as an assistant coach at Western Kentucky, St. Francis (Pa.), Miami (Ohio), Pittsburgh and Kent State. 
 Out: James Dickey. After four seasons, Dickey stepped down due to personal reasons. He went 64-62 during his tenure with the Cougars, reaching one CBI after winning 20 games in 2012-13. This season, in the first season of the American Athletic Conference, Houston was 17-16 overall and 8-10 in the league. Dickey had one year left on his deal. This could be an attractive job for people connected in the Texas area. There is a good amount of talent on the roster, and it's a hotbed for recruiting.  
In: Kelvin Sampson. A splash hire by the Cougars. Sampson was a college head coach at Oklahoma and Indiana, going to the Final Four in 2002 with Oklahoma. However, he was given a five-year show-cause order by the NCAA in 2008 for impermissible phone calls to recruits during his time at both Oklahoma and Indiana. Sampson then moved to the NBA and was an assistant coach with the Milwaukee Bucks before going to the Rockets. He was successful at the college level, and should be able to land recruits -- especially ones from the talent-heavy state of Texas.
 Out: Buzz Williams. Every offseason, it seemed that Buzz Williams was one of the names thrown around for jobs. And every offseason, the Golden Eagles managed to keep him. Until now -- when Williams departed to take the vacant head coaching position at Virginia Tech. Marquette only went 17-15 this season, but the Golden Eagles made the NCAA Tournament in each of Williams' first five seasons. He was 139-69 overall in his six seasons at the helm. Ben Howland will be a popular name in this search.  
In: Steve Wojciechowski. After seemingly coming close with Shaka Smart and then Cuonzo Martin, the Golden Eagles turned to Duke assistant coach Wojciechowski. "Wojo" had been at Duke since the 1999-2000 season, while also serving on staff for USA Basketball Men's Senior National Team. He played at Duke from 1994-98. This will be his first head coaching job, and his name recognition should help pay immediate dividends.  
 Out: Brad Huse. Four straight losing seasons caused Huse to resign after a 14-17 campaign in which Montana State lost its last three games to drop to 9-11 in the league. Huse never won more than 15 games during his eight seasons at the helm, finishing with a 107-133 overall record during his tenure. Huse had previously been an assistant coach at Montana and Montana State.
In: Brian Fish. Longtime college assistant finally gets his chance at a head job. Fish had been at Oregon four the past four seasons under Dana Altman, after six seasons as an assistant at Creighton when Altman was the head coach of the Bluejays. Prior to that, Fish had also been an assistant at both San Diego and TCU. He also spent time on staff at Marshall and Kansas State. Fish has plenty of experience in the business. 
 Out: Ken Bone. After five seasons of Bone in Pullman, Washington State is going in a different direction. He has two years left on his seven-year deal with the Cougars, with about $1.7 million remaining to be paid. Bone was 80-86 over his five seasons in Pullman, but just 23-40 the past two seasons. Washington State finished 10-21 this past season, going 3-15 in the Pac-12.
In: Ernie Kent. The former Oregon head coach is back in his old conference. Kent was rumored to be a frontrunner as soon as Bone was gone, and the Cougars made it official on Monday. Kent was at Oregon for 13 seasons, reaching five NCAA Tournaments and making two Elite Eight appearances. After going 16-16 in 2009-10, he and the Ducks parted ways. Kent has a 325-254 career record. 
 Out: Stan Heath. The second high-major job of the carousel to open was South Florida, as Heath was let go after six seasons with the Bulls. Heath went 97-128 during his tenure, going to one NCAA Tournament and one NIT. This season, South Florida went 12-19 overall and 3-13 in the first season of AAC play. Heath had spent five seasons at Arkansas before taking the South Florida job.
In then Out: Steve Masiello. The Manhattan head coach appeared to be heading down south. Masiello had been with the Jaspers for three seasons, leading them to a 25-8 record and an NCAA Tournament appearance this season. In three seasons, he was 60-39 overall. Prior to landing the Manhattan job, Masiello had been an assistant under Rick Pitino at Louisville after spending four seasons as an assistant at Manhattan. Masiello also played for Pitino (and Tubby Smith) at Kentucky. His relentlessness and recruiting acumen would have made for a successful tenure at South Florida. However, after a background check revealed Masiello had not graduated from Kentucky as he claimed, the deal was off and the Bulls' search was back on.
In: Orlando Antigua. After moving on from Masiello and being mentioned with a few other names, South Florida went out and got one of John Calipari's assistants. Antigua has been at Kentucky since 2009, and was also at Memphis for one season. He is also the head coach of the Dominican Republic national team, and brings excellent recruiting tactics to the Bulls. It was only a matter of time before Antigua got a head coaching job, and USF got him first.
 Out: Todd Howard. Howard has struggled since taking over the Jaguars three seasons ago. He went 6-26 in each of the past two seasons -- finishing in last place in the Summit in both years -- after going 14-18 in his debut season at the helm. Overall, he was just 26-70 in three seasons. Expect some high-major assistants in the Midwest to get some interest in this job.  
In: Jason Gardner. Reports on Friday night indicated that the Memphis assistant had agreed to become the next Jaguars' coach. Gardner is an Indianapolis native who made the move to Memphis before this season, following three seasons at Loyola-Chicago. At 33, Gardner will be one of the youngest head coaches in Division-I. He was also a former star at Arizona. 
 Out: Buzz Peterson. A hire that was surrounded by optimism turned sour after four straight losing seasons. Peterson went 42-82 in four seasons, never winning more than seven CAA games. This season, the Seahawks finished at the bottom of the league, going 9-23 overall and 3-13 in the conference. He had two years left on his contract, meaning the Seahawks had to eat more than $800K of his salary.  
In: Kevin Keatts. This should be a terrific hire for the Seahawks. Keatts is an ace recruiter who has been at Louisville for the past three seasons, landing players such as Montrezl Harrell, Luke Hancock, Chris Jones, and Anton Gill. He also was the lead on several players in next fall's crop of freshmen. Prior to Lousiville, Keatts was the head coach at Hargrave Military Academy (Va.), where he constantly had the school among the top prep programs in the country. 
 Out: Ben Braun. While there was some question regarding whether he was forced out or resigned, Rice will be looking for a new head coach next season. Braun compiled a 63-128 record in six seasons at the helm, with just one winning season. The former Eastern Michigan and California head coach led the Owls to a 12-49 record the last two seasons, going 2-14 in Conference USA this season.  
In: Mike Rhoades. The VCU assistant had been mentioned for a variety of head coaching jobs throughout the past few years, and now Rhoades jumped at the Owls' vacancy. Rhoades had been a head coach at D-III Randolph-Macon for 10 seasons, before going to VCU. He is a very good recruiter and knows the game. For a program that needs a rebuilding effort, Rhoades can certainly help.
 Out: Joey James. James was given the interim label after longtime head coach Dave Boots suddenly retired in early September. Boots had been at the school for 25 seasons. The Coyotes announced in mid-March that they would be hiring a search firm to help look for a permanent head coach. They went 6-8 in the league this season, finishing 12-18 overall.  
In: Craig Smith. Fresh off an NCAA Tournament appearance as an assistant coach at Nebraska, Smith is making the move. Smith has been a longtime assistant with Tim Miles, spending time on his staff at North Dakota State, Colorado State and Nebraska -- with head coaching experience at Maryville State mixed in from between 2004-07. 
 Out: Louis Orr. The former Siena and Seton Hall coach did not have his contract renewed after seven seasons with the Falcons. Orr finished above .500 just once during his career at Bowling Green, going 101-121 overall. He reached the NIT once and the CIT once. The Falcons went 12-20 this season, falling to Northern Illinois in the opening round of the Mid-American Conference tournament. 
In: Chris Jans. After six seasons as an assistant coach at Wichita State, Jans is making the step up to replace Orr. Jans has been part of tremendous success at Wichita State, reaching the Final Four last season and finishing 35-1 this season. He's a former junior college head coach, and will look to bring his program-building ability to Bowling Green -- a team that hasn't been to the NCAA Tournament since 1968.  
 Out: James Johnson. After just two seasons at the helm, the Hokies let Johnson go. He was an assistant under Seth Greenberg for five seasons, then took a job at Clemson -- before returning to Blacksburg two weeks later to replace Greenberg when he was fired. It's been a struggle for Johnson, who won just two ACC games this season. In two seasons with Tech, Johnson went 22-41 overall, 6-30 in the ACC.  
In: Buzz Williams. This certainly shakes up the coaching carousel. There had been talk that Buzz wanted to leave Marquette because he was concerned about the new Big East, but it seemed like he might wait for something closer to his old stomping grounds in the Texas area. But Virginia Tech came calling, and he listened. This is an absolutely monster hire for the Hokies, as Buzz has no problem recruiting players not ranked among the elite of the elites. It won't be an easy job in Blacksburg, but Buzz seems to relish being doubted or under the radar. What a massive move for new athletic director Whit Babcock.
 Out: Lewis Preston. Preston took a leave of absence in early January, and then it was extended until the end of the season in late January. And now Preston and Kennesaw State have parted ways. In Preston's three seasons at the helm, Kennesaw State went 12-80 overall and 5-49 in the Atlantic Sun. This season, the Owls finished at the bottom of the standings for the third straight seasons, going 6-25 overall, 3-15 in the league.
In: Jimmy Lallathin. He was the interim head coach while Preston took his leave of absence, and was given the permanent head job one day after Preston and Kennesaw State officially parted ways. Lallathin has been with the Owls since 2011, after spending four seasons in various roles on the staff at Miami (Ohio). 
 Out: Pat Knight. The son of Hall of Fame coach Bob Knight was fired in mid-February when the Cardinals were 3-22 overall and 2-11 in the Southland. Knight made the NCAA tournament in his first season at Lamar in 2012, but went just 6-50 the past two seasons. Lamar's interim head coach until the end of the season was Tic Price, who went 1-4.
In: Tic Price. He became the interim head coach when Knight was fired, and went 1-4 down the stretch of the season. Price has been in the coaching business for 32 years at the college level. He has been a head coach for 10 seasons at Memphis, McNeese State and New Orleans, going to nine NCAA or NITs. He will be familiar with the Southland Conference after spending six seasons (five as a head coach) at McNeese State.
 Out: Tony Barbee. The first high-major job to open this season happened less than two hours after Auburn was bounced from the SEC tournament. Barbee went 49-75 in four seasons with the Tigers, never winning more than six conference games in a single season. This season, Auburn finished 14-16. Expect a variety of names to get involved with this job, from former head coaches Bruce Pearl and Rick Stansbury to up-and-coming head coaches Mike White and Donnie Tyndall.  
In: Bruce Pearl. The former Tennessee head coach has been yearning to get back into coaching with his NCAA show-cause penalty expiring in August. And now he has, getting hired to turn around an Auburn program that hasn't won more than six SEC games in a season since 2009, when Jeff Lebo was at the helm. Pearl replaces Tony Barbee, who went 49-75 in four seasons with the Tigers. It's an absolute home run of a hire for Auburn. Pearl has proven he can win at different levels, he can recruit different areas, and he's a terrific promoter and marketer for a program. With the NCAA issues in his rear view, it won't be long before he's winning at Auburn.
 Out: Jason James. The Skyhawks' season ended on Saturday, March 1. James was fired on Monday, March 3. James had spent 12 seasons at UT-Martin, as the head coach for the last five seasons. He went 37-117 during his head coaching tenure, leading the Skyhawks to the Ohio Valley tournament twice during his five seasons in charge. The school has begun a national search for his replacement.
In: Heath Schroyer. Schroyer is expected to be named the head coach at UT-Martin later this week. The UNLV associate head coach has a relationship with UT-Martin athletic director Julio Freire from when Freire was at UNLV. Schroyer was the head coach at Wyoming and Portland State, and has been at UNLV since 2011.
 Out: Max Good. Good's contract wasn't renewed after 5 1/2 years as the head coach of the Lions. He took over three games into the 2008-09 season, when Bill Bayno was forced to resign due to health issues. Good went 77-117 during his time at Loyola Marymount, winning the WCC Coach of the Year award in 2012. This past season was filled with injuries. Former NBA head coach Mike Dunlap has been rumored with this job.
In: Mike Dunlap. It only took one day for the Lions to announce a new hire, and they went with Dunlap, who graduated from LMU. Dunlap most recently was the head coach of the Charlotte Bobcats in 2012-13, but has been an assistant with Arizona, Oregon, St. John's, as well as the Denver Nuggets. He's known as a basketball mind and a terrific Xs and Os guy, but recruiting will be a major factor on the West coast.   
 Out: Clarence Finley. Finley was named the interim head coach after Corliss Williamson left to become an assistant coach with the Sacramento Kings after spending three season as the associate head coach. The Bears are 8-19 this season with two regular-season games remaining.
In: Russ Pennell. According to ESPN.com, the former Arizona and Grand Canyon head coach has been named the permanent guy at Central Arkansas. Pennell spent three seasons at Grand Canyon before being fired last season, but was also on the Arizona staff and served as the interim head coach when Lute Olson was battling health problems in 2008-09.
CBS Sports HQ Daily Newsletter
Get the best highlights and stories - yeah, just the good stuff handpicked by our team to start your day.
Please check the opt-in box to acknowledge that you would like to subscribe.
Thanks for signing up!
Keep an eye on your inbox for the latest sports news.
Sorry!
There was an error processing your subscription.
Michigan State, Purdue and LSU should all feel great about their trusty ball-handlers as the...

The Blue Devils Hall of Famer believes the corruption trial is a 'blip'

The Kansas coach wanted Adidas' help, in part, because he believed Nike was helping Duke and...
The government's case has had its skeptics, but from inside the courtroom this trial very much...

Sister Jean was just inducted into the 2018 Illinois Senior Hall of Fame

The Red Storm should now be expected to make the NCAA Tournament