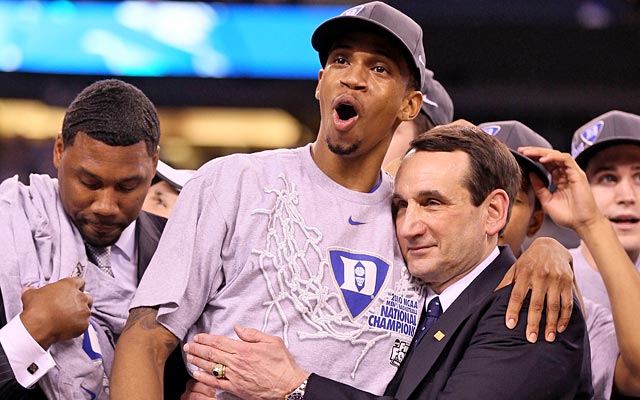 If you were wondering whether anything would come of Lance Thomas, Duke and all that jewelry, Tuesday brought an answer. Nothing.
Thomas, currently in the NBA, had his story/this case go public after jewelry that he was afforded back in December 2009 still hadn't been paid off. With the debts still outstanding, Thomas was sued by the jeweler, who then refused to cooperate with the NCAA once the case become known. Thomas followed in those steps and did not speak to the NCAA on the matter (as an NBA player with no connections to the NCAA, he was under no obligation to do so).
On Tuesday, the NCAA ruled Thomas and Duke were in the clear, given the evidence and interviews the organization had gone through since Duke alerted the NCAA to the transaction. With all the available information, the NCAA deemed there was no wrongdoing or benefits received in the case that featured Thomas purchasing nearly $100,000 from Manhattan's Rafaello and Co. while Thomas was a member of Duke's 2009-10 national title-winning team.
The lawsuit was settled on Sept. 18, 2012, a week after the story broke. The terms of that lawsuit settlement were never released.
The News & Observer of Raleigh, N.C., was the first to report Tuesday's news.
"The NCAA has found no evidence of a rules violation in this situation based on the information available, and both the NCAA and Duke consider the matter closed," said a university statement released by associate athletic director Jon Jackson. ...
Thomas, now with the New Orleans Hornets, did not return a call for comment. Duke head coach Mike Krzyzewski only publicly spoke once about the case, in October when Duke officially began practice. He said the school intended to cooperate fully with the NCAA's process.
"Before anything was made public, they started working together to go through a process of seeing what happened," Krzyzewski said of Duke and the NCAA then. "I have complete trust and confidence in all the parties involved and am very proud of our compliance record over the 33 years that we've been here."
The case had been on the public's backburner for the entirety of the 2012-13 college basketball season. Now that it's over, some might question the NCAA's intensity with this case. And, because it's Duke, the cynics won't be hiding, either. Our very own Gary Parrish predicted this was how it would end, all the way back in September.