Night Court: Boeheim wins 903rd, passes Knight for second all time
Now Jim Boeheim can really put away the "distraction" of being such a great coach, passing by all this historic marks -- and carry on with his team's season.
• 7 min read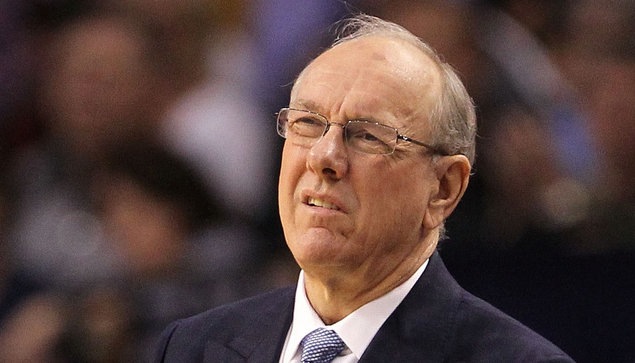 Jim Boeheim is now the second-winningest coach in men's D-I history. He has made this face in every game. (Getty Images)
Now Jim Boeheim can really put away the "distraction" of being such a great coach, passing by all those historic marks -- and carry on with his team's season.
Must be nice.
Two weeks after reaching the rare threshold of 900 victories, Boeheim notched another notable accomplishment into his legacy Wednesday night when, at home, his 13-1 Syracuse Orange defeated Rutgers (9-3) to give the man his 903rd victory. The final: 78-53. Senior Orange guard Brandon Triche had a game-high 25 points.
The new number means he's now usurped legendary Bob Knight and sits second on the all-time D-I men's coaching wins list. Boeheim's behind Knight's protege, Mike Krzyzewski, who coincidentally got win No. 940 Wednesday after undefeated Duke knocked off Davidson, 67-50.
Unlike win No. 900 for Boeheim, 903 came easy. Syracuse dominated from start to finish, the victory punctuated by a mid-game 24-0 run for the Orange. It was the first game back for Rutgers coach Mike Rice after serving a three-game suspension related to violation of school policies.
Here's the mindblowing stat related to Boeheim's latest victory. You ready? His 903 victories -- all as Syracuse coach -- match Rutgers' 903 wins ... since 1947. And in that span Rutgers has employed 12 coaches. So in the past 66 years, it's Jim Boeheim 903, Rutgers Scarlet Knights 903. Incredible.
The historic benchmarks signal no reason for SU to abate as its season moves forward, headfirst into Big East play. I've said before on the blog: This team could wind up being just as good a group, as a whole, as the that earned a No. 1 seed last season and won 34 out of 37 games. It's one thing to reach these records; it's quite another to do it and still clearly be coaching at the top of your game. Boeheim is.
Now, let's look at the rest of what happened Wednesday night in college hoops ...
Game of the Night: Purdue proves the old adage once again.
Few things harder in college hoops than winning in-league on the road. Illinois found that out in a hurry as it dropped to 0-1 in the Big Ten after falling in a dramatic game to the Boilers, 68-61. D.J. Byrd was the MVP of the game, putting up 15 points in addition to making some huge plays/baskets in the final two minutes that helped Purdue pull away.
Boilers are only a 7-6 team, one that's not going to the NCAAs, but a good W, and now Illinois is a 13-2 club with a quick elbow to the gut. Big Ten play will be rough and fun this year. Let's see if the Illini are up for the gantlet.
What else we'll be talking about in the morning: Duke wasn't the only undefeated that kept on winning.

Wyoming went on the road and won its fourth game away from the Equality State, beating SMU 59-56. The thing to remember with the now-13-0 Pokes: They're without a key player in Luke Martinez. So Leonard Washington, who played great late Wednesday night, is going to shoulder quite a load for the foreseeable future. Washington finished with 19 points and 11 boards. We'll have more on Wyo and the Mountain West in a piece going up on the blog Thursday.
That's a good win: Creighton now clearly the Valley's best.
We knew this to be the case, but the Bluejays had a tough one against the Redbirds Wednesday before it was to be down in ink. Illinois State's 79-72 loss to Creighton was a really thrilling one, almost as good as Illinois-Purdue. Grant Gibbs is the Creighton point guard who's such a joy to watch. Real patience to his game.
Most uplifting turn of events for Creighton is that Doug McDermott didn't have a big night (the quietest 15 and nine I've seen in some time) ... and yet the team one at the MVC's third-best team. Not a happy birthday for possible NBA draft pick, Illinois State's Jackie Carmichael, who finished with just 10 points.
But that's a bad loss: Florida State' falls to Auburn -- again.
Yep, for the second time in three seasons, FSU's gone out and gotten got against one of the SEC's worst teams, losing this time 78-72. I've got some casual disgust and confusion to toss the Noles' way, but Borzello's cooking up a bigger-picture post on Leonard Hamilton's team for Thursday, so you'll have to hang tight.
Players with impact
Senior Troy Daniels of VCU went bonkers and sank 11 3-pointers against East Tennessee State, breaking his own record -- from a game ago! -- against Fairleigh Dickinson. This is now a new Atlantic 10 record. In general, dude's on fire, has made 27 of his past 49 3s and 41 of 80 in the past seven games. VCU vs. Lehigh this Saturday could be lots of fun.
A double-double kind of double-double for Florida International's Tymell Murphy, who had 24 points and 20 rebounds in FIU's 88-72 win over Florida A&M.
Gorgui Dieng is playing his way back to full strength coming off the wrist injury. He went for a double-double in Louisville's 80-62 cruise-control win at home over Providence. An easy W made for a simple switch for Cards fans tonight, who then tuned into Florida-Louisville in the Sugar Bowl.
Credit to St. John's D'Angelo Harrison, who exploded for 36 points in the Red Storm's 98-86 overtime loss to Villanova. Ryan Arcidiacono of Nova had 32. He's a good young player. Both teams will play in the NIT this season.
Numbers to figure:
4-0

: Like Wyoming, that's UMass' record on the road this season after eking one out against Miami U tonight. 

24

: Duke has now defeated Davidson that many times in a row.

24

: We're getting all Jack Bauer with the numbers tonight. VCU had another ho-hum domination, forcing 24 turnovers in the 109-58 mollywhop of ETSU.

133

: It's the combined ages of Wyoming's Larry Shyatt and SMU's Larry Brown.
Other outcomes of note:
The Skip Prosser Classic happened Wednesday night, and Wake Forest got its first nice win of the year. The late Prosser's two schools, Xavier and Wake Forest, play each other each year in the honor of the one of the most beloved men in recent hoops history. Wake won 66-59 to drop X to 7-6 while improving its mark to 7-5. And then there's this, which came shortly after 11:30 p.m. ET
#Xavier finally is leaving the locker room. The game ended at 9:05 p.m.

— Shannon Russell (@slrussell) January 3, 2013
Thought La Salle, a decent A-10 team (I think), might have a shot against a Reggie Johnson-less Miami team Wednesday night. Was close, but ultimately Canes rolled 76-59.
Another battle in Florida with a little intrigue: South Florida-Central Florida. Central Florida can't make the postseason due to APR hindrances this year. South Florida was a surprise team of last March. The Bulls won 65-56 to get to 9-3. Interested to see what Stan Heath's team does in Big East play this season, after surprising plenty last year.
Loyola jump-started its Horizon campaign by knocking off last year's champ, Valpo. That's a shot to the league. 63-54, Ramblers, and here we go.
Notebook:
-- Check out this throwdown-oop from Sam Thompson tonight. How do you DO, sir?
-- At least Boise State took care of its business on the road against Texas-Arlington. Air Force going down 91-68 to an uneven Richmond team will undercut, just a bit, my piece going up tomorrow on the Mountain West.
-- Here's something you only see a few times a year: three players on one team going for double-doubles in the same game. Akron got it tonight from Nick Harney, Zeke Marshall and Jake Kretzer.
-- Wanted to say here: I do love what the the top half of the Valley can provide for the next eight weeks. The other really good Valley game Wednesday was between Indiana State and Northern Iowa.
-- Seton Hall barely beat DePaul, but it's now a 12-2 team. Just letting you know.
-- As I hate to do, but must point out: college hoops is slowing swirling deeper and darker into a hole of offensive ineptitude. Our latest evidence came from Western Illinois -- a good Summit team, I swear! -- only managing 39 freaking points ... in a victory. Poor little Savannah State tossed 32 into the books. Vomit. Eastern Michigan, Nebraska, UMBC, Hampton, Texas-Arlington were others who failed to crack 50 points. And a handful of teams just barely got there.
---
For more college basketball news, rumors and analysis, follow @EyeOnCBB on Twitter, like us on Facebook and subscribe to the thrice-a-week podcast on iTunes. You can follow Matt Norlander on Twitter here: @MattNorlander.
Marvin Bagley, if eligible at Duke this season, projects as the country's top power forwar...

The Big Ten Tournament is a week earlier than usual, so the regular-season schedule may look...

Arizona, Grand Canyon and Tulane are also in Barcelona and have reported to be accounted for...
The Kansas forward is no longer accused of walking out on an $88 tab

Cavaliers basketball coach tapes statement on behalf of his university and his city

Gary Parrish and Matt Norlander discuss all things Marvin Bagley and his immediate future