Observations: Temple's Quenton DeCosey should be AAC Player of Year
While other players are having good seasons, Quenton DeCosey is doing something special at Temple.
• 6 min read
Quenton DeCosey isn't getting the same attention as SMU's Nic Moore, but their teams currently have the same record in conference play (12-4) and that's something that nobody predicted prior to the season.
Temple's success has been a result of it's collective balance, but if the Owls were a snake, then DeCosey would be the head.
This just in
•

 Cincinnati's Farad Cobb (knee) and Shaquille Thomas (groin) are doubtful for tonight's game at Houston, Mick Cronin told CBS Sports.


•

  Towson's Pat Skerry has received a contract extension through the 2020-21 season, sources told CBS Sports.
Fran Dunphy's squad is 13-1 this season in games where DeCosey has scored 15 or more points and he's currently enjoying his best offensive season in terms of overall percentages.
The New Jersey native is averaging 15.9 points, 6.0 rebounds, and 2.5 assists while shooting 41.7 percent from the floor, 39.5 percent from 2-point range, and 79.6 percent from the foul line.
A year ago as a junior, DeCosey averaged 12.3 points, 4.6 rebounds, and 2.2 assists while shooting 37.7 percent from the floor, 35.9 percent from long distance, and 67.2 percent from the stripe.
Temple is currently 18-10 overall and hosts Memphis Thursday in North Philadelphia.
Will Wade is creating his own legacy at VCU
No athletic director in America is sleeping as well as Ed McLaughlin right now.
The head of VCU's athletic department had to make a pivotal hire last spring when Shaka Smart left Richmond to take the head coaching position at Texas and McLaughlin's decision to hire Wade now looks like a stroke of genius.
The Rams' clinched at least a share of the Atlantic 10 regular season title following Wednesday night's win over Davidson and that's something they had yet to achieve since joining the conference in 2012. VCU (22-8) can win the championship outright if they beat Dayton on the road Saturday night (8 p.m. ET, CBS Sports Network).
Things looked bleak for the Rams last April when Kenny Williams and Tevin Mack opted to follow Smart to Austin and Terry Larrier decided to transfer to UConn, but Wade never wavered.
The 33-year-old coach looks still like he's 23, but acts like he's 53 and his presence has allowed VCU to regain all the attributes that made them nationally relevant when it reached the Final Four in 2011.
The Rams are again playing with an edge, displaying toughness, and have a new found execution on offense that was evident in the final minutes of last Saturday's road victory at George Washington.
Many people thought VCU would fade in relevancy after McLaughlin hired Wade.
Instead, all the Rams have done is write a new chapter.
That chapter can have a story-book ending if the Rams come out victorious in their next game.
Cal officially becomes the hunted Thursday at Arizona
Not since early in the season have we seen the buzz as palpable as it currently is surrounding the Bears.
Cuonzo Martin's squad is arguably the hottest team in America not named Kansas or Michigan State and it will take a seven-game winning streak into Thursday's game at Arizona.
The Bears were expected to be one of the elite teams in the Pac-12 this season and now they're finally living up to that billing.
Arizona meanwhile is deceptively better than its 22-7 record and will enter Thursday's game with a little less air in its tires compared to its opponent because it's coming off two straight losses last week at Colorado and Utah.
It will be interesting to see how the Bears handle the conditions of being a marquee team on the rise against a hungry opponent that's been the Pac-12's flagship program the past two seasons.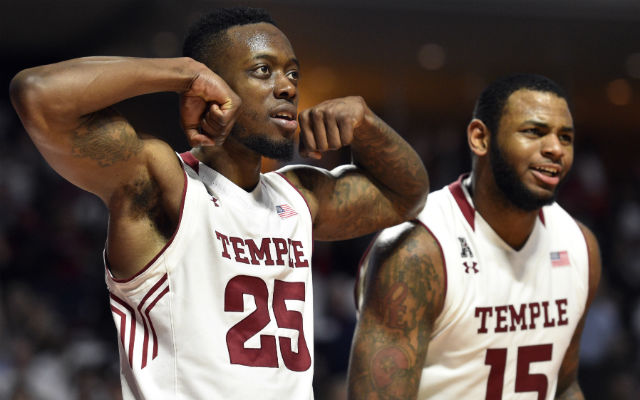 This and That
Oklahoma's Jordan Woodard is just 11-of-36 from the field and 5-of-16 from 3-point range over his last four games. One of the reasons why the Sooners have looked like a different team over the past few weeks? Woodard isn't producing at nearly the same offensive level that he was in January. The Sooners need this guy back on track fast.
Villanova's Kris Jenkins has made 70 3-point shots this season. He made 48 during all of last year. This has quietly been one of the more improved players in the Big East and one of the more under-the-radar pieces to the Wildcats' success over the past two seasons. If Jenkins can make shots, then Villanova can get to the second weekend of the NCAA Tournament for the first time in three years.
Kentucky's Alex Poythress is averaging 8.7 points and 4.7 rebounds in the three games he's played since returning from a knee injury. The 6-9 senior is the X-factor for the Wildcats and needs to be able to provide intangibles on 50-50 plays during the postseason.
Things you didn't think you'd write two weeks ago: Iowa needs to win its Big Ten regular season finale on Saturday against Michigan to equal its conference win total from a year ago. Fran McCaffery's squad is currently 11-6 in Big Ten play and has lost five of its last six games.
It's looking more and more like Florida is going to miss the NCAA Tournament for the second consecutive year. For the Gators to remain a top-tier SEC contender under Mike White, they need to have a big off-season where it matters most -- recruiting.
Sean Miller told CBS Sports this week that Arizona freshman Chance Comanche could see more minutes moving forward. The 6-10 big man had four points and two rebounds in 11 minutes in Saturday's loss at Utah, but is significantly fresher than other players in Arizona's rotation in this juncture of the season because he's played less.
Georgetown is officially the biggest disappointment in college basketball. The Hoyas are 14-16 overall heading into Saturday's regular season finale at Villanova and have lost eight of their last nine games. This might be pound-for-pound the toughest season that John Thompson III has endured at the Washington D.C. school.
Cincinnati is one of 11 teams in college basketball that have played in five straight NCAA Tournaments. Will the Bearcats play in a sixth? It's going to be awfully close. Mick Cronin's squad travels to Houston on Thursday (9 p.m. ET, CBS Sports Network) and hosts SMU on Sunday (Noon ET, CBS). A sweep of those two games will likely put Cincinnati (21-8, 11-5) in the field of 68.
Northern Iowa is the team to watch at Arch Madness. The Panthers have won nine of their past 10 games and have held back-to-back opponents to 52 points or less. Ben Jacobson's squad will face Southern Illinois Friday in the MVC Quarterfinals.
Anthony Collins' ball security is starting to get back to where it was early in the season for Texas A&M. The fifth-year senior has 19 assists to just four turnovers in his last four games. This is the key to the whole Aggies' operation.
CBS Sports HQ Daily Newsletter
Get the best highlights and stories - yeah, just the good stuff handpicked by our team to start your day.
Please check the opt-in box to acknowledge that you would like to subscribe.
Thanks for signing up!
Keep an eye on your inbox for the latest sports news.
Sorry!
There was an error processing your subscription.
Zion Williamson, Duke's versatile 285-pound beast-of-a-specimen, can apparently do it all

It's back! The most definitive list of the top talent in the sport is here

Mike Kryzewski claimed the things brought up in this trial were a 'blip,' but now one of his...
Michigan State, Purdue and LSU should all feel great about their trusty ball-handlers as the...

The Blue Devils Hall of Famer believes the corruption trial is a 'blip'

The Kansas coach wanted Adidas' help, in part, because he believed Nike was helping Duke and...