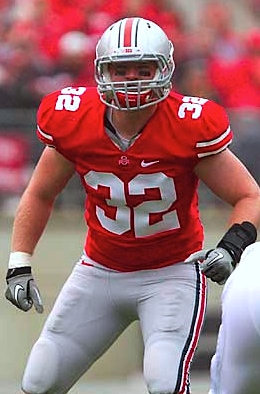 The attorney for now-former Ohio State linebacker Storm Klein, a returning starter who was dismissed from the team following his arrest last Friday night, told local reporters Monday that he expects Klein to be exonerated on misdemeanor domestic violence and assault charges and possibly reinstated.
According to Columbus police, Klein "violently and purposefully" grabbed an ex-girlfriend – the mother of his child – by the arms and threw her against his apartment door during an argument, resulting in an abrasion and swelling on her forehead and abrasions on both forearms.
Klein was held overnight without bail on Friday, and ordered at his arraignment on Saturday morning to stay away from the woman (as well as alcohol, drugs and firearms) per his bond conditions. In a statement, OSU coach Urban Meyer said the charges against Klein "violate the core values of the Ohio State Football Program," and "it has been made very clear that this type of charge will result in dismissal."
In the same statement, however, Meyer said he will "re-evaluate" Klein's status if those charges are dropped or reduced. On Monday, Klein's attorney, Larry James, worked to turn that thin ray of hope into a bright future for his client, telling a local television station, "I am pleased that the door remains open to return to the team and I believe it will work out in Storm's favor." To the local paper of record, the Columbus Dispatch, James was more emphatic: "I believe when this is said and done, this will be resolved in Storm's favor, with an exclamation mark."
Buckeye fans and other interested readers may remember James from his entertaining turn last summer in defense of another exiled starter, quarterback Terrelle Pryor, on whose behalf James threatened to sue ESPN over an especially damaging report and compared NCAA rules against compensating athletes to slavery. (James also claimed, contrary to all available evidence and Ohio State's own admission, that he was unaware of any NCAA violations by Pryor "over the last couple of years that we have uncovered.") Needless to say, Pryor was not exonerated or reinstated, and has not pursued any sort of legal action.
Klein, a senior, started 10 games last year at middle linebacker, finishing ninth on the team with 45 total tackles, but appeared to lose ground this spring under the new coaching staff; on the initial post-spring depth chart, he was listed as a backup at the Mike position behind touted sophomore Curtis Grant. Last month, Meyer suspended another pair of veterans, senior tight end Jake Stoneburner and junior offensive lineman Jack Mewhort, and temporarily removed both from their scholarships after they allegedly ran from police when spotted urinating outside a local restaurant. Stoneburner and Mewhort were both charged with obstructing official business, a misdemeanor. Both are expected back in full standing this fall.