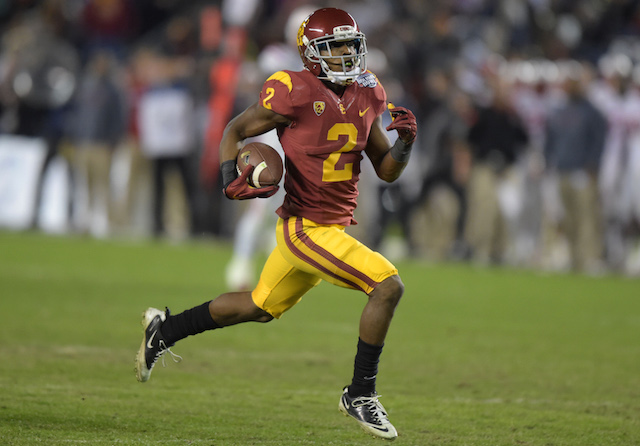 You can always count on the Holiday Bowl to provide a high-scoring, entertaining game, and this year's edition was no different. USC and Nebraska combined for 87 points and 1,030 yards of offense, as well as some special teams fireworks, but in the end it was the Trojans emerging with the 45-42 win.
Story of the game: Let's just say there wasn't a whole lot of defense played. Sure, there were some three-and-outs forced, but overall this was a game that felt like it was going to come down to the last possession, and it did. Nebraska attempted a Hail Mary on the final play of the game, but USC learned its lesson from its loss to Arizona State earlier this season, and Nelson Agholor swatted Tommy Armstrong's heave out of bounds.
Before that happened, though, the Cornhuskers battled back from a 45-27 deficit with 17 minutes left to play, making a game of what appeared to be headed towards a blowout. Unfortunately for Nebraska, a decision to go for it on 4th-and-3 in the final minutes did not pay off. The decision to was fine, as Nebraska was facing a 45-yard field goal that would have tied the game (certainly no guarantee), but the play call to send De'Mornay Pierson-El on a fly sweep was debatable. 
In the end, though, USC just made too many big plays. 
Player of the game: It could go to Cody Kessler, who threw for 321 yards and three touchdowns, or Buck Allen, who rushed for 152 yards and two scores of his own, but I'm giving it to freshman Adoree' Jackson. Jackson opened the scoring for the Trojans with a 98-yard kick return in the first quarter and followed that up by taking a short pass 71 yards down the field for a touchdown early in the third quarter. Jackson finished the game with 204 all-purpose yards, and if you don't know who he is yet, trust me, you'll hear his name often enough the next couple of years.
Highlight of the game: So many to choose from, but we'll go with Jackson's kick return.
He's gone! Freshman WR Adoree' Jackson catches it & runs 71 yds to the end zone. USC has 21 unanswered http://t.co/iaZU68LTJy #HolidayBowl

— ESPN CollegeFootball (@ESPNCFB) December 28, 2014
Tweets of the game: Remember five years ago when the Big 12 still had a title game and Nebraska was still in the Big 12? Well, that was the year that Nebraska was playing Texas for the conference title and the refs put another second on the clock at the end of the game that allowed Texas to kick a game-winning field goal.
Well, on Saturday night, Nebraska needed a second of its own after the clock expired following a short pass to Kenny Bell. After going to replay booth, the refs decided that there should still be a second left on the clock. Before they came to that decision, however, there were these two tweets.
Need a second, Nebraska? :)

— Santa Beebe (@DanBeebe) December 28, 2014
Nebraska and one second left. Seen this story before!

— Mack Brown (@ESPN_CoachMack) December 28, 2014
The final second did not work out as well for Nebraska as it did Texas in 2009.
Grade: A. Just an excellent game all around. Big plays, a couple of different comebacks, the outcome in doubt late in the fourth quarter. What else can you ask for from a bowl game than that?