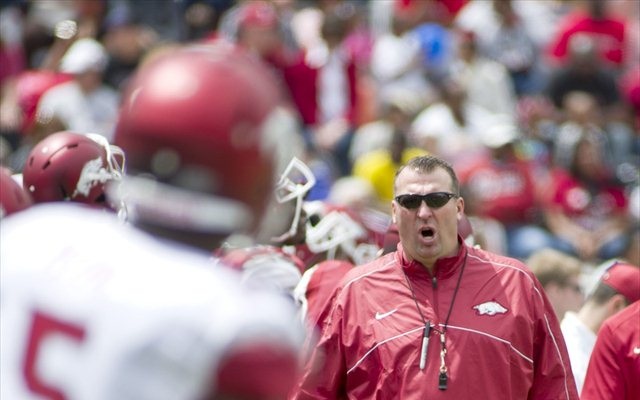 Arkansas coach Bret Bielema and Alabama coach Nick Saban might not be on the most friendly of terms after Bielema told Arkansas fans this past March to compare his (superior) Big Ten record to Saban's. (Are there coaches with which Saban is on the most friendly of terms?) But the SEC West's current coaching overlord and the division's new-kid-on-the-block will see eye-to-eye on at least one topic: the rise of the no-huddle, up-tempo offense.
AL.com reported Monday that Bielema, a former member of the NCAA's Football Rules Committee, proposed a rules change that would create "a 15-second substitution period" after each first down to allow defenses to substitute. At the recent SEC spring meetings, Bielema framed it as a player-safety issue -- just as Saban did when asking for similar rules changes last October. (Correction: An earlier version of this post stated, per al.com, that Bielema serves as a member of the Playing Rules Oversight Panel. He does not, nor has he been a member of the panel in the past.) 
"Not to get on the coattails of some of the other coaches, there is a lot of truth that the way offensive philosophies are driven now, there's times where you can't get a defensive substitution in for 8, 10, 12 play drives," Bielema said, per AL.com. "That has an effect on safety of that student-athlete, especially the bigger defensive linemen, that is really real."
Saban said in the wake of his team's (relative) struggles with Hugh Freeze's up-tempo Ole Miss offense in 2012 that defenders have "a much greater chance of getting hurt" in the late stages of a long no-huddle offense, calling it also an issue of "fairness" and asking, "Is this what we want football to be?"
So Bielema would have at least one prominent supporter if it comes to attempting to push his proposal through. (He'll likely have another in Florida coach Will Muschamp, who also said he believed the no-huddle could be a saftey hazard.) But such a rule might still be a long, long way from making the NCAA rulebook. Bielema told al.com there had only been preliminary "discussions" about the proposed change, and an NCAA official confirmed to CBSSports.com that while the rules committee had talked over possible issues with the no-huddle, no recommendations from those discussions had been forwarded out of committee.
There's also the not-so-minor issue that users of the up-tempo spread are just as empathic in their support of it as Bielema and the pro-style camp are in their opposition.
"If the offense doesn't sub, the defense shouldn't sub, and that's the way the rules are," Freeze told AL.com. "Offensive players are playing, too, the same number of snaps. Are they in danger also? ... They're having to play the same number of plays."
A (highly) cursory glance at injury numbers from the 2011 season would seem to back up Freeze's assertion. If Bielema's and Saban's theory is correct, teams that run no-huddle attacks (and face more extended-drive snaps not only in games, but throughout the season in practice) and play in spread-friendly conferences like the MAC or Conference USA should rank higher in starts lost to injury. But Phil Steele's tabulation of the 2011 injury numbers showed that the top-four most injury-stricken teams were all pro-style proponents, with clock-eating option team Army at No.  7. 
Meanwhile, prominent no-huddle spread teams Northern Illinois and Houston -- whose defenses played the third- and fourth-most snaps in the country that year, respectively -- both finished in the top 10 for fewest starts lost to injury, with Freeze's own go-go Arkansas State team finishing at No. 1. 
It's fair to say Steele's numbers only provide a rough estimate of actual injuries suffered, and that the common-sense dictum that tired athletes are more likely to suffer injury -- one held not just in football, but across the entire athletic spectrum -- likely has more than a little truth behind it. And no one's going to doubt Bielema's or Saban's sincerity when they say they want safer playing conditions for their players.
But when new Auburn defensive coordinator Ellis Johnson -- formerly every bit as sharp a critic of the no-huddle spread as Saban or Bielema -- just-so-happens to be A-OK with up-tempo attacks now that he's working for Gus Malzahn, it's also fair to assume that football concerns have at least as much to do with Bielema's and Saban's opposition as the injury issue. Until the day Chip Kelly comes out and agrees that no-huddle offenses are a safety problem, it's not going to be a coincidence that it's the slow-it-down pro-style coaches that want the rules changed to hurt the other guy's offense.