BYU will battle paltry payout in new revenue distribution plan
BYU, Army will receive approximately $200,000 per year when playoff begins in 2014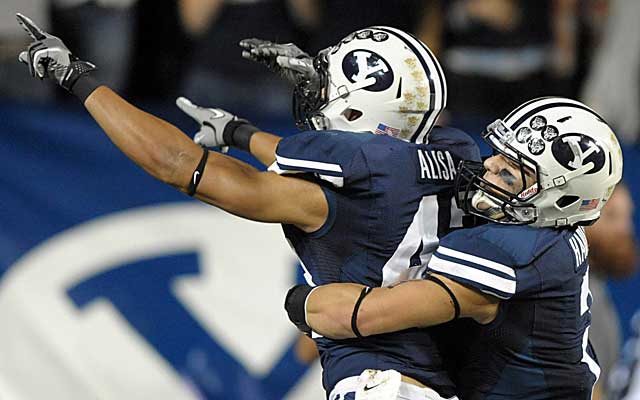 BYU will receive less than $500,000 from playoff revenue beginning in 2014. (US Presswire)
NEW YORK -- BYU's athletic director said his school would battle the new playoff distribution plan that has his school earning less than $500,000 per year in the new playoff era.
The BCS commissioners have settled on the framework for revenue distribution for the new playoff beginning in 2014, BCS executive director Bill Hancock said Wednesday at the IMG Intercollegiate Athletics Forum.  
Related Info
Analysis

More content
While few numbers have been attached, it can be assumed that the five power conferences going forward (ACC, Big Ten, Big 12, SEC, Pac-12) will receive most of the money from the projected $500 million per year worth of the playoff. BCS sources already announced that the four semifinalists will receive an extra bump for their accomplishment. Independent Notre Dame also has access to contract bowl money through its relationship with the ACC and the Orange Bowl.
BYU and Army, the only independents left by 2015, project to have the worst payout and worst access to playoff bowls.
BYU AD Tom Holmoe was reacting to a CBSSports.com report last month that detailed the payout for the only remaining independents going forward in 2015. Army and BYU are expected to double their BCS annual take from $100,000 to $200,000 per year.
That compares to the so-called contract bowls that will pay the Pac-12, Big Ten, SEC and Big 12 conferences $40 million each in years when their bowls -- Rose and Sugar -- are not national semifinals. Notre Dame, the only other independent, will split part of $55 million in years when it plays in the Orange Bowl. Because of a scheduling alliance with the ACC, Notre Dame also will receive access to the ACC lineup of secondary bowls.
"That's [payout] something that we'll battle," Holmoe told CBSSports.com during a break in the Forum. "We'll fight for that. … That's one of the cons about being an independent."
Asked if that fight might include a claim of antitrust, Holmoe said, "I didn't say that."
BYU just completed its second year of independence after leaving the Mountain West during the first wave of conference realignment. It is getting $4 million per year through 2018 from ESPN, which also arranges games for the school. ESPN.com reported last month that Boise State, San Diego State and BYU had discussions with their own conference (MWC) after the Big Ten's acquisition of Maryland and Rutgers destabilized the landscape again.
The MWC presidents meet Monday and Tuesday where a source said the membership situation "would be part of that." The meeting was previously scheduled.
"We watch and we listen carefully," said Holmoe, who was part of a panel discussing the economics of college sports. "It's not that we're just watching, but sometimes people will approach us and talk to us and we listen. But that doesn't necessarily mean we're going to engage."
Everyone, it seems, is waiting on the Big East's TV deal. Its worth will most likely decide whether those schools stay in their current situations. Boise and San Diego State are scheduled to join the league on July 1.
The loss of Louisville (ACC) and Rutgers (Big Ten) has impacted the value of that deal. Industry sources told CBSSports.com that league could be worth only $60 million per year. The Big East was thought to have hoped for a figure significantly more than $100 million per year.
In comparison, the Pac-12 is splitting approximately $250 million per year among its 12 institutions. Using the $60 million figure, the 15 newly reconfigured Big East teams, beginning in 2015, would earn an average $4 million. The Mountain West is believed to pay its schools between $2 million-$3 million per year.
Army, BYU, along with Navy, will have the poorest access to the playoff bowls beginning in 2014. However, Navy is joining the Big East in 2015. Beginning in 2014, the so-called Group of Five non-BCS schools (Big East, MAC, Conference USA, Sun Belt, Mountain West) will get an automatic spot for their highest-ranked champion. Army and BYU would be in the playoff rotation only if either finishes in the top four or is considered to fill an access bowl by the playoff committee.
"There's these earthquakes and tremors," Holmoe said. "Tremors generally lead to more tremors. Sometimes every so often, every so many years, there's going to be a big fissure and a lot of things are going to happen. I don't think anybody can say what that earth is going to be right now. One thing is for sure, the earth is not standing still right now."
McElwain will coach receivers and help coordinate the offense for the Wolverines

Nathaniel Watson Jr. was involved in a car accident that injured a passenger in early Febr...

The honorable Tom Fornelli presides over the ASU vs. UM case
Arkansas State is seeking $650,000 for a canceled home game last September due to Hurricane...

Friday Five is tackling the big questions this week

Two unnamed players are being investigated for an incident at an off-campus apartment