Florida DE Ronald Powell, former No. 1 recruit, declares for draft
The Gator career of former No. 1 overall recruit Ronald Powell is over after he officially declared for the 2014 NFL Draft.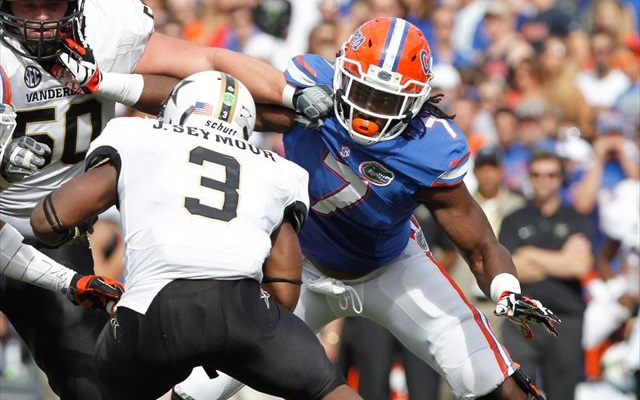 Former No. 1 overall recruit Ronald Powell's star-crossed Florida career has come to an end.
Powell officially declared for the 2014 NFL Draft on Monday, issuing a statement on the Gator website. A redshirt junior defensive end, Powell leaves Florida after four years, three seasons, and 11 sacks. His four sacks in 2013 led the team, with his seven tackles for loss placing him second.
"I want to thank the entire Gator Nation for making a kid from California a part of their family," Powell said. "This place has so many memories that I will carry forever and I will never forget my coaches, teammates, trainers, strength staff, professors and the entire support staff that helped me during my time here. ... It has been an honor to be a part of Gator history and I will always represent The Gator Nation and bleed Orange and Blue. Thanks again to everyone and much love for The Gator Nation. Once a Gator, Always a Gator! Go Gators!"
Though Powell was a consistently productive player when healthy, the expectations were substantially greater than "productive" when he came to Gainesville as the No. 1 overall recruit in the class of 2010, part of an Urban Meyer class tagged by many as arguably the strongest in college football's recent recruiting history. Powell started one game as a true freshman, collecting 25 tackles, and led the team with six sacks as a sophomore in 2011.
But just as Powell seemed primed for a huge junior season, he tore his ACL in 2012 spring camp, missing the entire season after a fall setback. He played in 11 games in 2013, making eight starts.
"It was important for him to come back and look me in the eye and tell me what he wanted to do and why he wanted to do it," Will Muschamp said of Powell's decision. "It's one of the great experiences as a coach to watch young players mature. It's been well documented the hardships he has had to overcome and he has always kept a positive attitude. I wish him the best of luck and, as I've said before, I encouraged him to return to get his degree."
A year-end wrap-up of college football statistics you need to know from 2017

Stanford produces apps and Super Bowl participants

The Alabama QB has a new look after the Tide claimed another national title
Young was injured during Miami's Orange Bowl loss to Wisconsin

The movie will zero in on former Penn State coach Joe Paterno during the Jerry Sandusky sc...

Bidding for Salaam's trophy, which the auction house says was obtained legally, ends Satur...