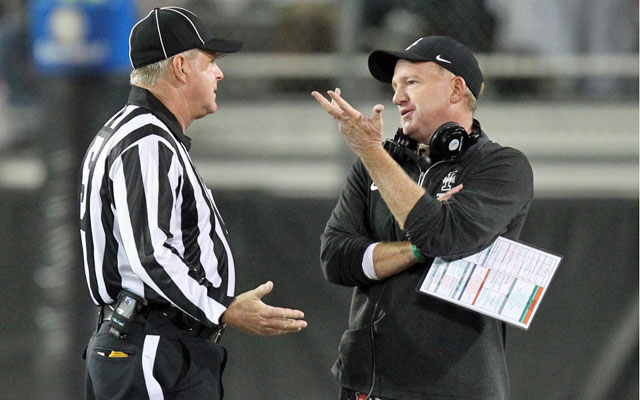 Idaho will become what is believed to be the first program in history to decide to move down from FBS to the lower-division FCS beginning in 2018, CBS Sports was told Wednesday afternoon by a source close to the situation.
The move comes after the Sun Belt Conference exercised an option on March 1 to drop Idaho and New Mexico State from the league and go with a 10-team conference beginning in 2018.
Idaho then had to make a choice where it wanted to continue playing football. The only FBS option was to compete as an independent where it had previously spent a season in 2013. Without a conference tie, that option is not financially viable for the school.
A source told CBS Sports on Wednesday that the deal is done: Idaho will begin playing football in the Big Sky Conference in 2018.
"You don't want to be the first school to do this," a source close to the situation told CBS Sports.
FootballScoop.com reported earlier Wednesday that Idaho "intends to move" to FCS with an official announcement on Thursday.
Idaho's fate seems to have been sealed when NCAA legislation passed allowing schools to stage championship games with only 10 teams. The Big 12 (with only 10 teams) had sought the legislation as an option if at some point it wanted to play a conference title game.
For the Sun Belt, splitting its revenue 10 ways instead of 12 -- and still entertaining the possibility of a conference championship game -- made it an easy decision to cut loose Idaho and New Mexico State.
Idaho president Chuck Staben made the final call.
Since moving up to FBS -- formally Division I-A -- in 1997, Idaho has had just three winning seasons. It was 4-8 in 2015. The program has enjoyed some success in FCS, winning at least nine games nine times between 1978-96 under coach John L. Smith in what was then Division I-AA.
While the move enjoys some support in the community, Idaho will lose its FBS branding -- playing at the highest level of college football. Idaho students fund football to the tune of $127 per semester in their tuition payments.
While that's not as costly as some student subsidies in other conferences, it's enough at Idaho. The athletic department will save money having to fund fewer scholarships (63 as opposed to 85), but a source told CBS Sports that the program will lose money overall.
Idaho will also give up access to College Football Playoff money and payouts from the Sun Belt's modest TV contract.
Both Idaho and New Mexico State will play in the Sun Belt through 2017. That's earliest the league could add a conference championship game, commissioner Karl Benson said.
Benson had previously indicated a 2013 decision by the Group of Five schools drove the move. That year, the American Athletic Conference, Conference USA, MAC, Mountain West and Sun Belt decided each of the leagues would receive up to $12 million in the College Football Playoff distribution.
The number later was shrunk to $10 million, making it easier for the Sun Belt to jettison Idaho and New Mexico State and split the shares 10 ways.