Manziel might get another Heisman; Bama might win another title
The worst defensive day in Alabama history results in a narrow win in the Cage Match in College Station.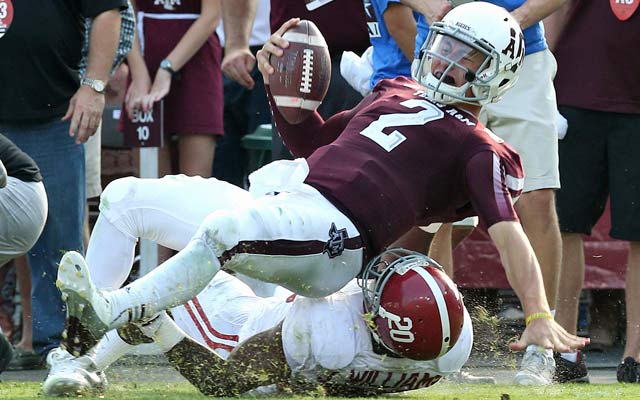 COLLEGE STATION, Texas -- Call him Johnny Incredible now. Call Archie Griffin and tell him to move over. He may have company. Johnny Manziel deserves another Heisman.
But along with that, in the blinding haze of points Saturday at Kyle Field, Alabama still deserves to be No. 1. Barely. Incredibly. Revenge morphed into sweaty survival in the SEC's latest Game of the Century. It took a recovered onside kick with 15 seconds left to finally drive a stake through the heart of Manziel and his band of undead Aggies.
Bama's 49-42 win will never be included in the SEC's how-to manual. The Tide may never play in a game like Saturday's again this season, maybe ever. They gave up the most yards (628) in their 119-year history. They might have made Manziel a bigger star than he has ever been.
And then they celebrated in a weird, wonderful way because this is the way football is these days folks. Has been for a while. Anyone watching Oregon? After one week Chip Kelly looks like he's going to revolutionize the NFL. The zone-read offensive germ that permeated college football more than a decade ago is now a widespread contagion.
Survive and advance ... the ball.
A&M just happens to have the best disco-dancing firestarter of a quarterback to make all of it go.
"I've never seen anything like that before," said Alabama's massive offensive tackle Cyrus Kouandjio.
Not even last year when Johnny and the Aggies surprised Alabama in Tuscaloosa. Bama -- as meat-and-potatoes as you can get as a college program -- got caught up in the vortex that is modern college football. Seven different players scored Alabama's touchdowns. The Tide early on scored on a flea flicker. It wasn't until the haze had cleared that after four years, pundits were finally considering AJ McCarron for the Heisman. Except that a large part of the story was on the other side of the ball: The nation's two-time defending national leaders in scoring defense were all at once shamed, embarrassed, encouraged and winners.
All because of one guy who made it close.
"It was our team against their team," Nick Saban countered. "Don't try to make it out against as a 61-year-old guy against that quarterback."
It's pretty hard not to. McCarron had a career game -- four touchdown passes to four different receivers --and was the second-best quarterback on the field by a longshot. Manziel threw for a school-record 464 yards. His 562 yards in total offense were second to his personal and SEC record of 576 record set last year.
Johnny Football essentially enhanced his legend by losing. Alabama enhanced history by hanging on. The 42 points were the most given up by the Tide in a victory in at least 50 years, dating back to the early Bear Bryant days.
With that barrier crossed, there can't be another test like this left for Bama can there? Its remaining road games are at Kentucky, Mississippi State and Auburn. There's that Nov. 9 game at home against LSU, but that's a dot on the horizon. The Tide have faced their biggest obstacle.
"We have all the potential," Kouandjio said. "We can do whatever we want. We have all the playmakers. We have the run game. We have the pass game. This week we kind of gave you guys a taste of our identity."
Bama safety Vinnie Sunseri came as close to a shutdown defender as there was Saturday. He may have had the play of the game when he returned a Manziel tipped pass 73 yards for touchdown in the third quarter. It was not lost on the Tide that Sunseri juked Johnny Football off his feet on the way to the end zone.
And that may have been the difference. Sunseri's score essentially "broke serve" in the shootout. The pick six put Bama up 21 after they had been down 14 to start the game. Twice, the Aggies cut the lead to seven in the fourth quarter before running out of Johnny Incredible.
"There's a reason he won the Heisman," Sunseri said. "He's an unbelievable player. I don't care what he does off the field."
"This isn't the end of our season," Manziel said in his first comments in a week. "This wasn't the Super Bowl. This wasn't the last game of the season."
There he was again, snatching attention from the jaws of defeat. In fact, as Manziel pointed out, Alabama lost the last two Novembers and still played for the national championship. Johnny Football is so good a – gulp! – rematch isn't out of the question.
When Alabama's T.J. Yeldon scored Alabama's 27th consecutive point in the second quarter he couldn't resist. Not with all the build-up and revenge and angst and highlights in a 24-hour loop of the other guy.
So at that point, the sophomore tailback acted out no better than the Heisman-winning quarterback he and his Alabama teammates had come to destroy.
Yeldon popped up from a four-yard scoring run near the end of the first half and, facing the students in the South stands, channeled Johnny Football. The heretofore sedate Yeldon rubbed his fingers together in now-infamous "cash money" sign made infamous by Manziel, adding what looked like a double throat-slash gesture.
Flag. Nick Saban was beside himself at the lack of decorum, forgetting for the moment that the only pantomime left was one that was already assumed. His two-time defending champions eventually applied a choke hold to perhaps a third consecutive championship.
"It's like warfare," Kouandjio said. "You never know what's going on. You keep fighting, keep fighting. Why would you not fight? Why would you not go as hard as you can? … It was actually pretty fun."
Not to go all hyperbolic, but on a historically bad defensive day, a lot of Alabama fans, players and coaches expunged more demons Saturday than a Harry Potter sequel.
The king was defeated, if not dead.
Long live … the kings.
Let's pay some respect to a couple of overlooked teams in this week's college football ran...

Jones has been with the program since its inception for the 2009 season

SportsLine's computer model simulated every Week 13 rivalry weekend game 10,000 times with...
Mayfield grabbed his crotch and shouted expletives at Kansas on Saturday

The statue will go up in 2019 after Illinois completes its new football performance center

The junior injured his finger diving for the pylon late in the first quarter of the loss to...