Michael Brewer another Texas Tech QB to announce transfer
The Red Raiders' quarterback depth chart has taken another blow after Michael Brewer announced his intention to transfer.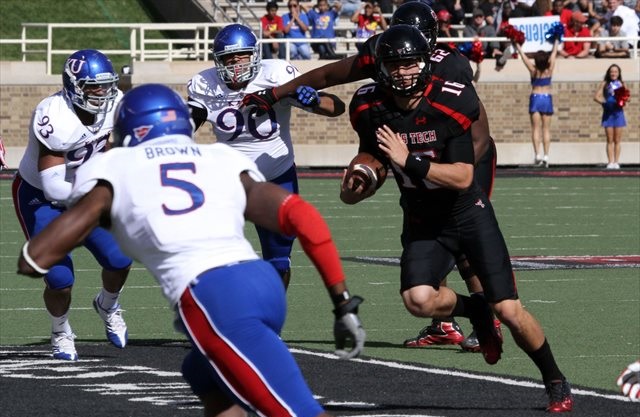 True freshman Davis Webb looked every bit the part of Texas Tech's long-term starting quarterback in the Red Raiders' Holiday Bowl upset of Arizona State, throwing for 403 yards and a bowl record-tying four touchdown passes. And as it turns out, he's likely going to have to look the part for much longer than that.
Per CBSSports.com's Bruce Feldman, Tech redshirt sophomore quarterback Michael Brewer announced Wednesday that he will transfer at the conclusion of the spring semester. Brewer will graduate in May and be eligible at his transfer destination for the 2014 season.
Brewer served as the Raiders' backup under Tommy Tuberville in 2012, when he completed 34-of-48 passes for 375 yards and four touchdowns. As the top returning quarterback on the roster, Brewer hoped to rise to the starter's job in 2013. But under Kliff Kingsbury he instead fell to third on the depth chart, behind freshmen Webb and Baker Mayfield. He finished the season attempting just 10 passes.
In a vacuum, the loss of a third-string, little-used quarterback is one a major program would be expected to weather -- particularly with a head coach with as much success in developing quarterbacks as Kingsbury. But Brewer's announcement comes on the heels of Mayfield's decision last month to transfer out as well, leaving Webb as the only one of the three Raider quarterbacks who played in 2013 still on the roster.
The Red Raiders have a commitment from Whitehouse, Texas three-star quarterback Patrick Mahomes, and still have time (though not much) to add a second QB to the class if Kingsbury feels necessary. It's worth remembering that Mayfield was a freshman walk-on, and went on to earn the opening-night start; if Webb stays healthy, it seems likely that Kingsbury can make something work at the backup position.
But after Brewer's and Mayfield's departures, there's no question the margin for error under center has gotten dramatically thinner in Lubbock.
A magic trick turned into a scholarship surprise for this Texas lineman

Michigan's notorious secrecy is getting called out again

Key was named a 2017 CBS Sports Preseason All-America selection this week
Our bowls expert looks at the toughest -- and weakest -- nonconference schedules in the na...

The new uniforms will be worn on Oct. 28 at Kyle Field vs. the Bulldogs

Kiffin's Owls have added myriad troubled players since he took over in Boca Raton