Outgoing Utah AG drops long-running legal crusade against outgoing BCS format
Here is how you know the BCS is really dead: Politicians have stopped complaining about it.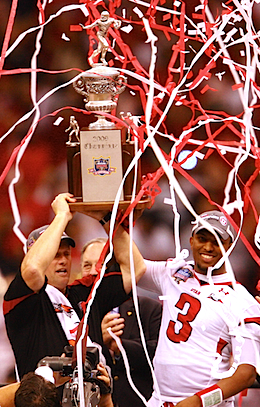 Construction is well underway for the four-team playoff set to replace the Bowl Championship Series as college football's default postseason setting after the 2014 season, from the format to the selection process to the host sites and everything in between. But here is how you know the BCS is really dead: Politicians have stopped complaining about it.
Of the many, many elected officials who have questioned, criticized and threatened the series' brief existence, none has been quite as loud about it as Utah Attorney General Mark Shurtleff. After the Utes finished off a 13-0 season by ambushing heavily favored Alabama in the 2009 Sugar Bowl, Shurtleff vowed to bring the system to its knees by way of an antitrust lawsuit that charged the BCS with operating as an illegal cartel designed to funnel profits to a handful of more powerful entities (the six major conferences) while excluding the less powerful. Shurtleff kept up the pursuit for three years, even after Utah accepted a promotion to one of the major conferences and BYU opted for independence. And even after the proposed suit failed to catch on among attorneys general from other states. As recently as March of this year, he was still soliciting law firms to assist with the case.
But given that the BCS will soon cease to exist and that Shurtleff will soon be leaving office, it sounds like he has finally prepared to give up the fight:
And although Shurtleff promised Monday that if necessary, the investigation into college football's postseason would continue, this much is clear: After he leaves office at the end of the year, the man who threatened to bring down the BCS with an antitrust lawsuit no longer will be involved in what some see as his most notorious case.

"We have a core group of four antitrust experts working in our office, and whether to pursue it will be the decision of the next attorney general," Shurtleff said. "I don't see any other way I'm involved at all. I'll still take a personal interest in it."
I guess "Down with playoffs!"doesn't have quite the same cachet on the stump.
For the record, Shurtleff was hardly the only stern-looking man in a suit to accuse the BCS of violating federal law: Last year, 21 law and economics professors from around the country -- a couple of whom even work at SEC schools -- signed a letter urging the Justice Department to investigate the BCS as an illegal cartel, echoing public complaints by Shurtleff and Utah Senator Orrin Hatch. In fact, the Justice Department itself has taken some occasional interest in the subject, as has a small but feisty lobbying group in Washington, which might have influenced the powers-that-be in their decision to overhaul the process.
From that perspective, maybe the fact that Shurtleff's crusade is no longer relevant is proof of its smashing success. Three years later, the BCS is dead and Utah's dream of equal access alongside the sport's heavy hitters is very much alive. Sounds like a winning record to me.
SportsLine's computer model simulated every Week 12 game 10,000 times with surprising resu...

Though a marriage between the Vols and Gruden has been rumored for a while, it seems unlik...

Barrett Sallee is cashing on 67 percent of his best bets and gives 3 strong picks for Week...
The No. 16 Bulldogs will travel to Arkansas Saturday afternoon on CBS

The Owls are 7-3 overall and 6-0 in the Conference USA East division

Wisconsin has a chance to impress the College Football Playoff Selection Committee