Penn State, of all teams, should have avoided James Franklin
James Franklin has done wonders at Vanderbilt, but a rape case involving some of his former players should have Penn State running the other way.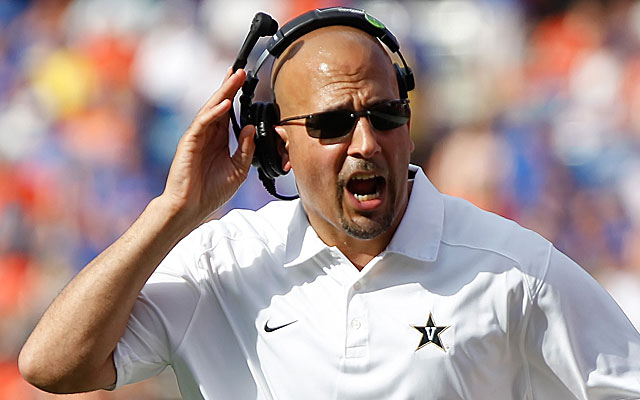 Penn State cannot hire James Franklin. Can't even begin to think about it, actually.
The fact there is "baggage" in the background of Vanderbilt's talented, affable, accomplished coach is enough. All you need to know is that Franklin was Vanderbilt's coach last June 23 when police say four of his players raped an unconscious 21-year-old student in a dorm room.
Each was charged with five counts of aggravated rape and two counts of aggravated sexual battery. They all were subsequently kicked off the team. They later pleaded not guilty. A fifth player pleaded guilty to attempting to cover up the assault.
Franklin has not been tied to the case, at all. But he was the coach when it happened and that should be enough -- especially at Penn State.
Do you need to know why?
Penn State doesn't need a winning football coach that bad to risk its moral comeback from NCAA hell.
The FBS presidents have failed, if you only count their lack of financial oversight. (Doesn't everyone need Brazilian wood in the football facility?) The ADs have proved that all politics are local.
AD Tom Jurich was able to sell the return of Bobby Petrino to Louisville.
Franklin is expected to be named the next coach at Penn State, per CBSSports.com's Bruce Feldman.
Both coaches will have been sold to the locals as properly vetted. If not, the presidents at both schools would have pushed back.
Right? If all politics are local, then presidents are political animals. They don't want to push back in these sort situations or they don't care. Remember Gordon Gee's blind loyalty to Jim Tressel?
Because of situations like this, the nation's most powerful presidents have lost credibility -- in the national NCAA discussion and perhaps on campus.
Petrino is a known serial job hopper, an admitted philanderer and -- by several accounts -- a tough guy to work for. He's going home again where Louisville at least knows what it's getting.
Franklin is one of the hottest coaches in the country, for good reason. Great guy, great teacher. He has won at an unprecedented level at Vanderbilt.
Penn State, though, cannot hire James Franklin.
Penn State will be hiring a coach who oversaw a program when four players were accused of rape. That's really all you have to say at this point. It's Penn State and it would be hiring a coach with that in his background.
This in no way indicts Franklin for anything. He should be given every benefit of the doubt. But sometimes life isn't fair. Greater men than James Franklin have missed out on better jobs because of appearances.
Defense attorneys for one of the players were reportedly seeking texts between Vanderbilt coaches and players. Seven months after the alleged attack, we don't know much about the case.
Penn State has to have a higher standard than any school at this point. The institution is still digging its moral reputation out of the mud. The NCAA has seen fit to restore some scholarships because the program had conducted itself so well under Bill O'Brien. I fully expect one or both of the bowl bans to be rescinded if that exemplary conduct continues.
But Penn State cannot hire James Franklin.
Not if it wants to send the right message to the NCAA, its critics -- to the victims.
Perhaps to the alleged victim in the Vanderbilt case.
At this point, Franklin is guilty of nothing more than overseeing a program with that stain. But at Penn State that should be more than enough. It's not like the school can't find a suitable replacement for O'Brien. By most accounts, Al Golden would crawl back to Happy Valley to take over his alma mater.
You want to talk reputation? Golden stuck with the Hurricanes to dig them out of a crippling NCAA probation.
Franklin would be a football hire more than anything else. Most of them are.
At least Jurich was honest on Thursday.
"I just want the best coach for the University of Louisville," the Cardinals' AD said, "that's all I care about."
Winning percentage trumps all. We've known that for decades. It's big business. It's about filling the stadium, rallying the boosters. Franklin will do those things. He also might be called to testify in the trial of one of his former players in six months.
How is Dave Joyner going to spin that? The Penn State AD may not have to. Both he and president Rodney Erickson may be retired by the time the 2014 season kicks off. No matter who gets the Penn State job, the new coach could face the prospect of inheriting new bosses.
But that's another discussion. Remember the accusation that the football culture had gotten out of control at Penn State? That was Mark Emmert's assertion when the NCAA burned the program to the ground 1½ years ago.
Yes, Emmert and the association went off the reservation in penalizing Penn State. It fostered a national debate that Paterno knew or should have known about Jerry Sandusky's despicable acts. Penn State administrators were accused of looking the other way.
Now Penn State is going to hire a coach who was in charge when four of his players were accused of similar despicable conduct.
We were reminded from the Jameis Winston case that "accused" doesn't mean guilty, but this is different. This is about sending a message that Penn State values some things over football -- like the reputation of the program, like the cleansing of the football culture.
Being Penn State the school can hire just about anyone it wants. It's still Penn State.
But it cannot hire James Franklin.
College football bowl games were all announced on Sunday, and you can check out the entire...

SportsLine simulated every bowl game 10,000 times for pick'em leagues and confidence pools

Everything you need to know to watch and pick the Las Vegas Bowl on Saturday
Everything you need to know to watch and pick the Camellia Bowl on Dec. 16

Everything you need to know to watch and pick the New Mexico Bowl on Dec. 16

Everything you need to know to watch and pick the Cure Bowl on Saturday