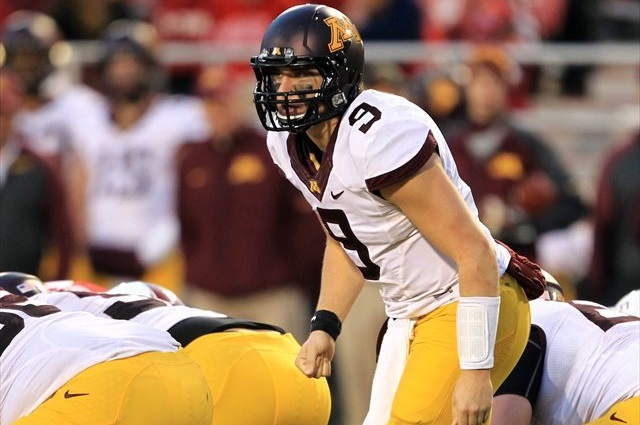 Former Minnesota Gopher and Rutgers transfer quarterback Philip Nelson was arrested early Sunday morning and has been charged with one count of first degree assault and one count of third degree assault after an altercation left a bouncer in critical condition, according to NJ.com. 
The two charges, announced Monday, are considered felonies in Minnesota, and a first degree assault assumes the party caused "great bodily harm," with the maximum penalty of 20 years in prison. 
Nelson allegedly kicked an unconscious man in the head because he was upset that the bouncer had kissed his girlfriend on the hand, per a criminal complaint obtained by NJ.com that detailed the incident. Doctors aren't sure whether the bouncer, Isaac Kolstad, will survive.
Nelson's girlfriend told police that he's extremely protective of her, which may have triggered the incident. 
Video surveillance, according to police, shows Kolstad throw a punch at Nelson's back, which made him fall to the ground. Kolstad began to back away from Nelson when another unidentified male ran after Kolstad and hit him in the head. Police are still searching for the second assailant. 
"The unknown male delivered a punch to Kolstad's head/face. Kolstad immediately went limp and collapsed to the pavement. Witnesses told the Minneapolis Star Tribune that Kolstad was out on his feet after the first punch, then fell back and smacked his head on the pavement before Nelson allegedly kicked him."
"Nelson's girlfriend was observed trying to hold him back, but he pushed past and approached Kolstad. Nelson then delivered at least one kick to the left side of Kolstad's head. The police officer said the video shows that Kolstad was clearly defenseless as Nelson delivered the kick(s)."
Police interviewed Nelson, who said he saw the man first punch Kolstad but claims he doesn't know who he is. He also told police that he doesn't remember kicking Kolstad in the head. The complaint noted that police smelled alchohol on Nelson.
More details in the complaint noted that Kolstad suffered significant injuries, including bleeding from the brain, skull fracture and brain swelling. Police noted that Kolstad's skull fracture is consistent with where Nelson allegedly kicked him.
Per a police statement cited by the Associated Press, officers in Mankato, Minn. found Kolstad, a former Minnesota State-Mankato football player, injured following an apparent assault in the city's entertainment district at approximately 2 a.m. Sunday. Kolstad was sent to the hospital in critical condition, per the AP, and Nelson was arrested at the scene shortly thereafter and booked into Blue Earth County Jail.
"He is currently in critical condition and fighting for his life," Blaine Kolstad, Isaac's father, wrote on caringbridge.org Sunday night. "He is young and strong, but the battle he has in front of him is enormous. ... We do know that his brain did sustain permanent damage. We do not yet know to what extent and won't for many days. He is very sick. Please pray for Isaac and all of those involved."
A candlelight vigil for Kolstad was held at Minnesota State University in Mankato on Sunday night.
A Mankato native and 2012 graduate of Mankato West High School, Nelson appeared in 12 games for Minnesota in his 2013 sophomore season, starting 9 and throwing for 1,306 yards. Citing a desire to play in a more pass-friendly system, he announced his transfer in January and later chose to play for Rutgers.
"We are in the process of gathering information on the situation and reserve comment until the legal process is complete," Rutgers athletic department spokesman Jason Baum said in a statement published by the Star-Ledger.